Status and new developments with WirelessHART technology
As the times change, control system integration is becoming more vital to industrial organizations looking to successfully navigate the turbulent seas of new and ever-evolving disruptive technologies. A new survey looks at the current challenges and future of industrial controls integration and automation networking.
THE WAY COMPANIES ARE LOOKING at instrumenting plants, wells, pipelines, and a wide variety of automation applications all around the world is changing because of IEC62591 WirelessHART instruments and devices. There are over 30,000 WirelessHART networks in operation today, in a variety of plants and facilities, monitoring a wide variety of process variables, in countries on every continent. The technology is proven-in-use, has well over 8 billion operating hours, and is easy to install and use.
One key technology development is it′s not just for flow, level, pressure and temperature control applications any more.
"We have been able to obtain temperature and flow data in areas that have never been possible," said Rob Kearney, Sr. an Electrical Technician at Northstar Bluescope Steel. "We continue to expand our view of the mill with wireless technology. The reliability and performance of WirelessHART has made our steel mill more efficient, and has improved the safety and productivity of our workers."
Originally, it was thought that WirelessHART would be used to obtain flow, temperature, pressure and level data from locations in the plant where it was very difficult or impossible to connect a wired instrument. But quickly, it has been discovered that WirelessHART devices could also be used for measuring values that no one had thought worth measuring.
"Inexpensive but rugged, devices like the Rosemount WirelessHART 708 acoustic sensor have unleashed the imaginations of operators who can deploy them with a screwdriver and a hose clamp. Catalyst transfer, kickback flow of fouling / polymerizing fluids, and valve leakage are just a sampling of the applications that incrementally improve the insight of curious operators into otherwise inscrutable process conditions," said John Rezabek, Process Control Specialist at Ashland Inc.′s Lima BDO Manufacturing. "Once deployed, WirelessHART measurements are viewed by engineers, operators, and process specialists with the same credibility as wired instruments."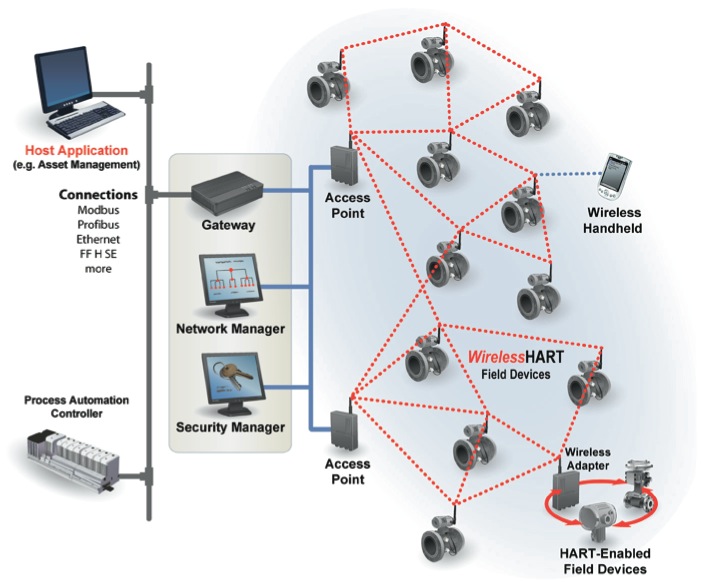 Designing a WirelessHART network.
Saving energy with WirelessHART
One of the novel new variables WirelessHART sensors like the 708 acoustic sensor measures is steam leakage from steam traps. Steam leakage is one of the most common losses of energy in plant operations, and it is costly. A relatively inexpensive sensor combined with a WirelessHART plant wireless network has made it possible not only to find those damaged or defective steam traps, but also to proactively sense leakage as it occurs and identify the steam traps that need service or replacement.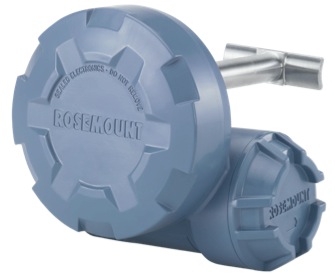 WirelessHART 708 acoustic transmitter.
Simplified system setup
Michael Fischback, Facilities Engineer, Plains Exploration & Production Company, reported that "users can set up WirelessHART instrument mesh networks quickly. Out of a project cost of $750,000, only $10,000 was spent on installation."
When deployed using the FieldComm Group engineering guidelines, WirelessHART works in almost any environment including upstream or downstream, Arctic or Sahara, indoors or outdoors, with or without interferers or obstacles.
WirelessHART technology is based on the Highway Addressable Remote Transmitter (HART) protocol that more than 30 million installed field devices use for programming, diagnostics and reporting secondary process variables. So there′s nothing radical about the transmitters. The difference is that the WirelessHART transmitter uses radio (the IEEE 802.15.4 standard) to communicate. Even conventional HART transmitters can join a WirelessHART network using a WirelessHART adapter. Nearly all major suppliers have WirelessHART adapters.
WirelessHART field devices self-configure into a mesh network that includes an access point connected to a WirelessHART gateway. The gateway contains network management and security management software. Because of the self-configuring mesh, and the simple network management and security management functions, a WirelessHART network is both easy to manage and also extremely secure.
The WirelessHART gateway connects to the plant LAN. Data can be routed to any number of applications such as asset management, or a process controller, or to historians, or to the Cloud for Big Data aggregation and analysis. The gateway can be supplied in various form factors, and with various digital communications outputs such as Ethernet, Modbus, and others. Just as multiple suppliers manufacture WirelessHART field devices and adapters, there are more than a half-dozen suppliers of WirelessHART gateways. The Microcyber gateway is typical, providing conventional Ethernet, OPC, Modbus TCP/ IP, Modbus RTU, TCP/IP and HART IP. Some gateways offer the MQTT protocol, which is often used to connect field data to the cloud.
ABB autonomous energy scavenging WirelessHART temperature transmitter.
Competition drives innovation
WirelessHART field devices include field transmitters for the most common variables, valve positioners and controllers, and other devices, such as personnel locators, emergency shower alarms, and other non-process variables like gas and steam leakage. Most WirelessHART field devices are designed for long-term battery operation, but can be run on AC or DC power when needed.
Because the issue of whether WirelessHART works or not was decided in its favor long ago, suppliers are now producing devices that are only capable of functioning because they are WirelessHART. These are novel and useful devices only possible because of the IEC62591 WirelessHART standard.
ABB has developed a WirelessHART temperature transmitter that operates on an energy harvester. It uses a measured temperature differential to generate enough electricity to be able to operate, measure process temperature, and report its variables via WirelessHART.
Another supplier, United Electric Controls, of Watertown, Mass., has developed a WirelessHART gas detector, available with either an NDIR methane sensor or with an electrochemical hydrogen sulfide detector. Using WirelessHART, the company′s "Vanguard" transmitter can be located where it needs to be, and not where there are power and signal cables. This means that it has become extremely economical to provide high quality gas detection wherever there is a reason.
Several companies make WirelessHART adapters that can transform an existing HART transmitter into a WirelessHART device. This means that your existing transmitters can be enabled to transmit all of their diagnostics and secondary process variables by simply connecting an adapter. The "trapped data" in your existing HART transmitters no longer has to remain trapped.
And most recently, Adaptive Wireless Solutions, of Hudson, Mass., has released a novel interpretation of a WirelessHART subnetwork. That is, they have a Instrument Area Network consisting of a Central Controller, which is a WirelessHART device, that can accept information from up to eight End Nodes (field devices, such as flow, temperature, level, etc.) which connect to the Central Controller using Bluetooth Low Energy. This network architecture enables all of the literally thousands of BLE sensors to be adapted into the WirelessHART architecture easily and simply.
United Electric Controls WirelessHART gas detector.
New WirelessHART applications
WirelessHART is easy and inexpensive to setup in comparison with wired transmitters, and there are unique devices that only work with WirelessHART. But what remains to be seen is what companies and operators and engineers have been doing with WirelessHART.
Plains Exploration and Production Company′s Michael Fischback said, "This technology has opened up new possibilities for us. We plan to continue utilizing wireless technology to improve our oil production, improve our cost position, and make our people more productive."
"We significantly reduced operator rounds, as operators were going out 24 times a day to record these flow measurements. We eliminated paperwork for recording of the instantaneous and total flows, and also eliminated manual flow totalization. We have much more accurate reporting now, and have better odor control," said Jeff Hefler, Instrument Technician, Monroe County Pure Waters, Rochester and Hilton, NY.
Greg Bremer, Engineering Supervisor, Lubrizol Deer Park added, "we have greatly improved operator productivity by eliminating up to four hours per shift on manual trips to the tank farms. We have automated our reports and eliminated reporting errors. We have timely information for operators to respond to issues like falling temperatures, to reduce the risk of the products solidifying. We have improved operator safety, and make better use of our labor resource as they can spend time on higher value tasks."
"Wireless gives us a much better picture of what is going on at the well. This has enabled us to improve compliance reporting, improve operator productivity, optimize well bore cleaning, improve well efficiency and optimize future development," said Eric Dhanens, Production Engineer, Linn Energy, Bakersfield, CA.
Wayne Wauson, I&E and Field Supervisor, Atlas Pipeline Partners L.P., stated that "the wireless application gave us a centralized location to view our total plant process. Our operators do not have to make rounds to learn about potential problems. They can more efficiently operate the plant by seeing changes and problems when they occur."
All over the world, and in every industrial vertical, WirelessHART is changing the way engineers and operators look at their plants. Whether it is a paint and coatings plant in Europe, a silicone manufacturer in the United States, a global plastics maker in Germany, a tank farm in Sweden, a pharmaceuticals manufacturer in Puerto Rico, an oil refinery in Hungary, or any number of facilities in India, Southeast Asia, Australia, China, and the rest of the world, WirelessHART technology is making plants work better, safer, and with better control of energy.
For control over rotating machinery, closer temperature control on a fermenter or a fractionation column, or monitoring flow and steam leakage all over a plant, WirelessHART is offering a powerful alternative to conventional wired transmitters.
Technology report by Fieldcomm Group.