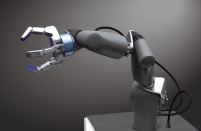 Robot control systems
On the ETG (EtherCAT Technology Group) booth at Hannover Messe, Synapticon will present its hardware and software for the efficient development and production of robotic systems.
"The guiding theme of this year´s Hannover Fair Integrated Industry - Creating Value fits in perfectly with our understanding of a technology that focuses on integration, automation, networking and decentralization. Everyone is talking about industry 4.0, networking and intelligent robotics, but in fact we are still moving in a world full of insula solutions that unnecessarily complicate many processes," says Nikolai Ensslen, founder and managing director of Synapticon GmbH. "Our strong growth over the past few years shows that we are solving a fundamental problem with our new approach. Through our recent capital increase with the help of various investors, we are given even more opportunities to invest more in research & development, but also in new employees and new locations."
The SOMANET modules are a central component of the Synapticon portfolio. These are hardware and software components are used to implement steering and control systems for robot applications. The focus is on powerful and at the same time cost-effective motor and motion control, as well as comfortable retrieval and integrated processing of sensor data. A SOMANET stack can be individually configured and consists of three modules: a motor controller, which can be selected from different performance classes, a processor and a communication interface for industrial real-time protocols loke EtherCAT. At this year´s Hannover Fair, Synapticon will present three new SOMANET modules suitable for micro robots, industrial robot arms and mobile robotics systems.