Communication options enable oil & gas digitalization
Industrial networking communication is the key enabler of digitalization that is improving operations in the oil and gas industry. New networking solutions are vital, as these innovations are instrumental in ensuring a reliable, secure and constant flow of information along the complete oil and gas value chain.
VOLATILE MARKET CONDITIONS CONTINUE to impose big challenges on the oil and gas industry, where business uncertainty and reduced investment is becoming the norm. At the same time, this gives opportunity for oil and gas operators, to identify and implement new technologies that enable them to overcome their biggest challenges and reach long term goals.
This article examines and describes the benefits that a properly implemented industrial communication system, can offer to oil and gas operators. Furthermore, this document provides a brief overview about the role that industrial communication plays, as an enabler of digitalization in oil and gas. Also included is a brief overview of successfully implemented, real-world projects.
Available, reliable & maintainable
Historically, the oil and gas market has been normally characterized for being conservative when adopting new technologies. This is brought by concerns of availability, reliability and maintainability of the systems that ensure a continuous exploration, production, transportation or refining of hydrocarbons. And through years of lessons learned, the implementation of cost-containment measures has taken the spotlight for oil and gas operators, as they aim to maintain a healthy balance sheet.
Together this provides the opportunity to assess existing processes and identify areas of improvement. Through the implementation of new technologies, capital and operational expenditures are optimized while adhering to important HSSE (Health, Safety, Security and Environmental) regulations.
Additionally, other challenges have been lack of cross-domain, improvement of global collaboration and need to ensure data analysis. All this based mostly on the need to take more reliable decisions in a shorter time and tighter budgets.
These challenges lay the foundation for digitalization in the oil and gas industry, dramatically increasing the importance of secure and reliable data communication networks. These networks must ensure a constant flow of critical data, where a single communication failure can have a profound monetary or even human and environmental impact. For this reason, it is paramount to differentiate between conventional and industrial communication technologies.
Conventional network technologies and components are designed to support office IT networks, used in the daily business of a company. They are the backbone of any office environment enabling shared office printers, e-mail, external internet access, and VoIP services. A service interruption may have financial implications, but not in terms of health, safety or the environment.
In stark contrast, industrial communication technologies and components are designed to be used in extreme harsh environments and support critical applications. Clear examples are drilling operations, DCS, SCADA, ESD, F&G, substation automation or even rotating equipment, which are typical use cases in Oil & Gas deployments. In this case, a service interruption in an industrial network can have severe financial implications and bring an entire operation to a grinding halt.
Within the industrial communication landscape, it is possible to find several technologies that are able to fulfill the unique requirements demanded by the oil and gas industry. A clear example is WiMAX (IEEE 802.16e), which has gained acceptance in the industry, as a versatile technology that can be deployed in many applications within the complete oil and gas value chain.
Balance of price-performance ratio
Since the days of "easy oil" in shallow waters are gone, it is now common for offshore oil and gas operators to drill at depths up to 3 km. At these depths, deepwater exploration and production is required and introduces a new set of challenges.
Offshore exploration in deepwater is a high-risk business, that increases system complexity and leaves little or no room for error. Even with the key elements present such as sealing cap rock, porosity and permeability, there is no guarantee that the expense of an exploration well, will justify the millions of investment for its development.
A clear example is a project where a leading natural resources company in North America, faced several challenges while striving to improve its offshore exploration activities. In this application, Ruggedcom Win based on WiMAX technology enabled the company to overcome these challenges and increase their deepwater assets in North America.
For this project, exploration vessels were equipped with geophysical sensing devices that collect information from subsurface structures. This information is analyzed to determine if oil and gas deposits are present. Reliable communication was a key component in reaching project milestones such as data acquisition, mapping sub-surfaces, identification of potential deposits and formation evaluation.
The Ruggedcom Win solution facilitated to improve productivity, by enabling secure and reliable long haul wireless communication (up to 40 km) for moving vessels. Moreover, it allowed them to maintain a better balance between price and performance compared to costly satellite communications. Bandwidth and latency both improved and more importantly, operational costs were optimized.
Exploration vessels with geophysical devices obtain information from subsurface structures that can be used to determine whether potential oil and gas deposits are present or not.
CAPEX and OPEX optimization
A leading National Oil Company (NOC) in central Asia, with over 120 years of experience and control of more than 90% of the oil and gas reserves in its country, identified clear benefits in implementing industrial wireless technology, to improve its onshore gas processing operations.
Gas processing plays a key role within the hydrocarbons value chain, since they must be extracted from a raw mixture of gas, oil water solids and other impurities. A specialized process is required to separate these hydrocarbons from non-hydrocarbons, to produce a dry natural gas, with the highest possible calorific value and commercial pipeline quality.
In this scenario, gas compressors are necessary to ensure the reliable extraction, production and distribution of natural gas. As example, when the natural reservoir pressure declines, the compressors are used to preserve the gas pressure and continue with production. Additionally, gas compressors are used to ensure a reliable distribution of this high valuable hydrocarbon, via surface or underground pipelines.
With one of the NOC′s largest oilfields, the main challenge was to increase the productivity of the gas compression systems, within the gas processing plant (GPP). To achieve this goal, it was necessary to provide a secure backup link for connectivity at distances up to 65 km away from the GPP. At the beginning of the project, there were no initial plans to incorporate wireless broadband solutions based on WiMAX. While assessing the network design with the aid of Siemens technical consultancies, clear benefits were identified making WiMAX the preferred choice.
Compared to a fully wired network design, CAPEX and OPEX were optimized, commissioning time and troubleshooting were dramatically reduced and an additional level of redundancy was provided through the use of a wireless backup link. Since the WiMAX system supports true mobility, the NOC was additionally able to benefit with increased flexibility, brought by a mobile workforce. Their repair and monitoring team vehicles, are now able to access the network within the complete GPP, making "connectivity on the move" possible.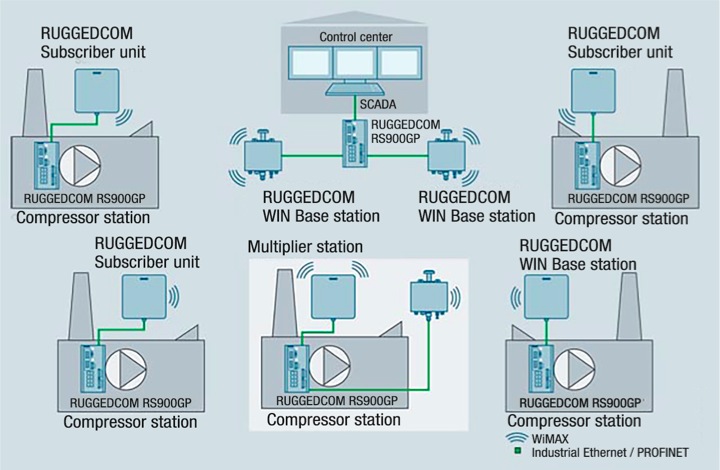 Secure backup data connectivity for distances up to 65 km away from the GPP.
Conclusions
Industrial communication equipment differs from conventional devices, as they are designed to be used in harsh and industrial environments to support OT (operational technology) networks, which are the backbone of critical applications in oil and gas. Industrial communication is a key enabler of digitalization in the oil and gas industry, as it is required to ensure a reliable, secure and constant flow of information along the complete oil and gas value chain.
In order to define which technology is the most appropriate to rely on a reliable communication network, it is necessary to analyze the diverse operational paradigms and requirements of each application. It means, counting with a professional planning and support, to reduce the probability to run into difficulties during installation, commissioning and operation.
Olmo Castaneira Rios, Siemens AG, Process Industries and Drives / Process Automation.