Industrial Ethernet: The past, the present and the future
For our 100th edition we asked leading Industrial Ethernet experts how the technology has evolved and what the future may bring. Read the opinions of John Browett (CC-Link IE), Klaus-Peter Lindner (PROFINET), Peter Lutz (Sercos), Martin Rosten (EtherCAT), Stefan Schoenegger (POWERLINK), and Katharine Voss (EtherNet/IP).
THE VARIOUS USER GROUPS HAVE always have and still do playa major role in promoting the acceptance of Ethernet as an industrial fieldbus. For this issue we have talked to representatives of the organisations that cover the vast majority of all Industrial Ethernet solutions installed today.

Industrial Ethernet Book issue 1, 1999


CC-Link Partner Association
The CC-Link Partner Association (CLPA) was established in 2000 to advance the global acceptance of the CC-Link fieldbus and later the world's first and only open gigabit Ethernet for automation, CC-Link IE. Having started with just six members, it now has thousands of partners located all over the world.
As open network solutions, CC-Link IE and CC-Link allow devices from different manufacturers to be used together on the same network. This enables users to specify bestin-class products and overcome the previous restriction of having to create networks using equipment from a single or small group of manufacturers.
Within six months of its founding the CLPA set up bases in Europe, North America, Singapore, China. South Korea and Taiwan, reflecting the worldwide importance of open solutions. This was rapidly followed by the establishment of conformance testing centres around the world.
The CC-Link fieldbus became a world standard open field network in the semiconductor/FPD industries in 2001. Other early milestones included the number of compatible devices installed exceeding one million, growing membership and the launch of the open safety fieldbus, CC-Link Safety.
By its fifth anniversary in 2005, CLPA had reached its stated goal of 700 partners, 700 products and 3 million devices. Soon after, IS015745-5 certification confirmed CC-Link as a global standard.
2007 saw the launch of the ground-breaking CC-Link IE, the world's first open gigabit Ethernet for automation. Today, CC-Link IE remains the only choice for open Ethernet gigabit performance. Since the rise of Industry 4.0, this unmatched bandwidth has further reinforced the need for CC-Link IE. More recent developments included a continuing global expansion, steady increase in membership and compatible devices and the support for 100Mbit Ethernet devices with CC-Link IE Field Basic.
Today the CLPA has almost 3,000 members, more than 1,600 compatible products, around 17 million installed nodes and a worldwide presence.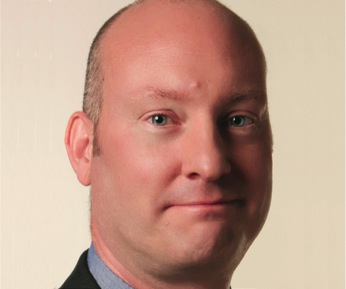 John Browett, General Manager CC-Link Partner Association Europe
EtherCAT Technology Group
Starting from zero and becoming, in just over 13 years, one of the market-leading industrial Ethernet technologies, reaching 4200 members from 65 countries - this is the story of the EtherCAT Technology Group (ETG) in short form. If anyone had predicted this outcome back in 2003, they would have been called a dreamer...

EtherCAT at 18,000 ft on the Thorong-La, Himalaya



When we launched the ETG in November 2003, we knew we had "captured lightning in a bottle" for industrial Ethernet technology. With a unique and truly convincing functional principle, we found rapid acceptance among tech savvy engineers: processing data frames on the fly had already worked very well with Lightbus, the fiber optic fieldbus Beckhoff had introduced in 1989. However, while many people were blown away by the outstanding performance and simplicity EtherCAT provided, others cautiously reminded us of previous technology competitions - such as the infamous videotape format war - where the best technology did not succeed, but actually disappeared.

In actuality, the industrial Ethernet war was not fought quite as viciously as the war between VHS and Betamax. Industrial buyers care about product variety, global distribution and market share. With 1900 officially registered EtherCAT vendors and a membership distribution that includes 2000 European, 1600 Asian and 600 North American ETG members, EtherCAT decisively leads in the first two categories - variety and distribution. Also, if we evaluate the number of industrial Ethernet nodes deployed over the last year, we believe that EtherCAT now has the second largest market share in that time period.

Beyond its outstanding performance, EtherCAT is predominantly used for its low costs, ease of use - no need for IT experts - and its flexible topology. With this moment in time as the latest example, the Industrial Ethernet Book has professionally supported the industrial Ethernet community with expert knowledge. I am confident that EtherCAT will continue to playa prominent role in this ongoing story for many years to come.
Martin Rostan, Executive Director, EtherCAT Technology Group
Ethernet POWERLINK Standardization Group
The Ethernet POWERLINK Standardization Group (EPSG) was formed in 2003 to safeguard the vendor-independent openness of POWERLINK and openSAFETY and promote its use around the world. Since then, the user organization has grown to include more than 3,700 equipment manufacturers from all areas of industrial automation.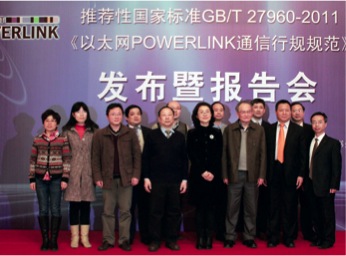 In 2012, POWERLINK became the first Industrial Ethernet National Standard in China



The POWERLINK protocol was introduced at the SPS/IPC/Drives trade show in 2000 as the first system for industrial hard real-time communication. By the following year, it was already being used in series-produced machinery.

In 2003 the POWERLINK protocol was extended to include CANopen. This provided several benefits for users, as it enabled POWERLINK to use proven CANopen profiles that are supported by countless manufacturers.

In 2006, openSAFETY was introduced as the first completely bus-independent safety protocol that can be transported via any bus or industrial Ethernet network.

The POWERLINK stack was published as opensource software in 2009, kicking off another growth spurt for the advanced communication standard that has continued ever since. So far, the stack has been downloaded from Source Forge more than 50,000 times.

Between 2010 and 2015, the POWERLINK standard was adopted by the IEC. GB/IT and KS. Since 2015, EPSG has been cooperating closely with the OPC Foundation. The most important result of this partnership is a companion specification for POWERLINK and OPC UA that enables interface-free communication from the sensor layer to the ERP layer and into the cloud - fulfilling the main precondition for the Industrial Internet of Things.
Stefan Schoenegger, General Manager, Ethernet POWERLINK Standardization Group
ODVA
ODVA was founded in 1995 to promote adoption of the industrial network DeviceNet. ODVA pioneered the adaptation of commercial, off-the-shelf (COTS) technology to networks for industrial control systems (ICS) because DeviceNet adapted the Controller Area Network which has been used ubiquitously in in-vehicle control systems.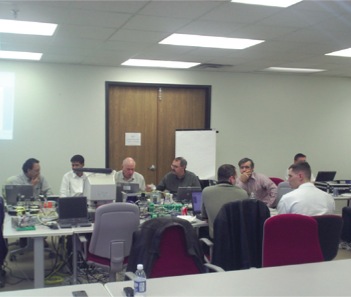 EtherNet/IP PlugFest #3, held in March 2005



In 2001, ODVA again pioneered efforts to adapt COTS to ICS networks with the adaptation of Ethernet (IEEE 802.3) and Internet (TCP/IP) technology to a new industrial Ethernet network, EtherNet/IP. By 2003, ODVA had published the first edition of The EtherNet/IP Specification and established conformance testing for EtherNet/IP devices. Today EtherNet/IP has the largest installed base, among the industrial Ethernet variants.

EtherNet/IP's basis on COTS contributed significantly to its adoption but also presented challenges. EtherNet/IP proved that standard Ethernet could be used for real-time applications but the IEEE 802.3 standard did not always guarantee interoperability and performance. To meet this challenge, ODVA continued to enhance The EtherNet/IP Specification and initiated workshops and plugfests to facilitate consensus around best practices for EtherNet/IP devices.

Along the way, publicists such as the Industrial Ethernet Book advanced the understanding of industrial Ethernet. The result is that. today, industrial Ethernet is broadly adopted for real-time ICS applications.

Next. industrial Ethernet will provide the foundation for the Industrial Internet of Things. It will enable the simple, safe and secure movement of data from the device, to the ICS and other systems and then back again. For this purpose, EtherNet/IP already provides a comprehensive set of differentiated services.

As emerging technologies, such as time sensitive networking and higher speed data rates, close the few remaining real-time performance gaps, ODVA expects that the industry will completely converge on standard industrial Ethernet solutions, such as EtherNet/IP. ODVA also expects that industrial Ethernet will continue to grow, replace most remaining non-Ethernet networks and connect devices all the way to the "edge."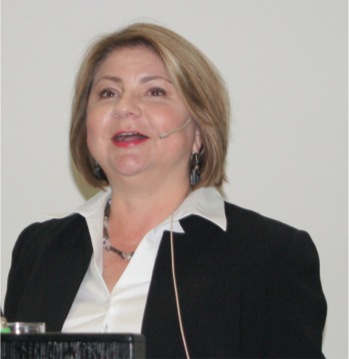 Katherine Voss, President and Executive Director, ODVA
PROFINET & PROFIBUS International
Back in the mid-1980s, several users expressed the desire to utilize the nascent digital technology also for the transmission of data between automation components. This idea was picked up and promoted by national research projects, ultimately resulting in the development of PROFIBUS. Interestingly, serial bus systems were known from computer technology at the time, but these systems were not suitable for rough industrial environments. In this respect. the contrast to today's Ethernet situation is not that large at all.
Whereas at the time there were a large number of approaches to solve the problem and lots of discussion needed until PROFIBUS tech nology could be established, things were easier for PROFINET. This was primarily due to the fact that PI (PROFIBUS & PROFINET International) had continued developing fieldbus technology consistently over the years. During this time, PI was always in close contact with users. Naturally, there were also technological reasons. On the one hand, migration paths to PROFIBUS were pointed out from the very beginning. On the other hand, rapid further development for motion control applications occurred, which was quickly carried over to a real-time concept (IRT). This enabled PROFIN ET to quickly become established as a leading industrial Ethernet protocol.

1000th PROFIBUS/PROFINET certificate awarded to Phoenix Contact, 2004



The critical thrust. however, was the use of standard Ethernet modules to enable the cost-effective establishment of a PROFINET infrastructure. The next task before us is to establish PROFINET for the process industry. Up until now, it hasn't been possible to transfer the protocol with 2-wire technology using auxiliary energy, optionally in explosion-protected environments as well. Today, we are on the verge of a breakthrough with the APL (advanced physical layer) project. A physical layer for "Ethernet-in-the-field communication" is currently being standardized in process automation for field devices.

Our organization always has its "ear to the customer," both domestically and abroad. No other automation user organization in the world is currently networked better then PI. which is able to act very quickly around the world thanks to its organizational structure. This enables offering maximum support and expertise, directly on site. Establishment of world-wide presence is the most important reason why PI technologies are accepted and used across the globe.

The Industrial Ethernet Book has accompanied and always supported the rapid rise of PROFINET by always reporting on the Ethernet technologies objectively. Congratulations on your 100th edition!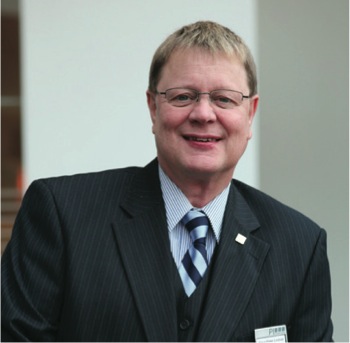 Klaus-Peter Lindner, Board of Directors, PROFINET & PROFIBUS International
Sercos International
Sercos has been using time-triggered and time-slot based communication since the introduction of the technology in the late 1980s. Initially Sercos was designed as a digital drive interface for machine tools but later it was successfully applied in all kind of production machines and automation applications. Sercos was based on fiber optics to ensure a maximum immunity against noise in the production environment.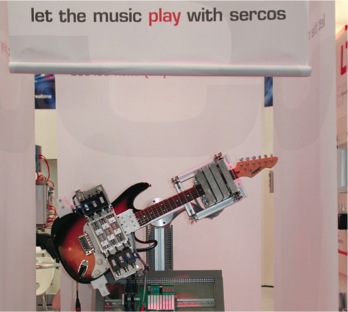 Sercos plays electric guitar, 2001



In 1990, Sercos International was founded as a user organization to further develop, standardize and promote Sercos as an independent and open communication technology.

Ethernet had a significant impact on the further evolution of Sercos, because back in 2003 the Sercos user organization decided to use Ethernet as a basis for the third generation of the technology. Sercos III was designed in such a way that it achieves a high performance (short runtimes, short cycle times, high protocol efficiency, sub-microsecond synchronicity) but maintain the feature to transmit any other Ethernet protocols over the same network infrastructure (Ethernet co-existence, no tunneling!). Over the years Ethernet-based Sercos III has become a universal, worldwide-accepted automation bus supporting all kind of automation applications in the field of motion, safety, I/O and vision.

Ethernet TSN now makes time-controlled and deterministic transmission of real-timecritical messages possible for the first time in the 43-year history of unmodified Ethernet. Ethernet TSN uses the principle of time-triggered and time-slot based communication, which Sercos has already used for more than 25 years.

The advantages of using Ethernet TSN in an automation system are obvious: instead of special hardware, standard Ethernet components with integrated real-time capabilities can be used. The cross-industry support (automotive, multimedia, automation) of the TSN technology results not only in low costs, but also the availability of a wide range of manufacturers and products. At the same time, manufacturers and users benefit from the newest technical developments such as higher transmission rates. With TSN, the convergence of production and IT networks can be advanced, i.e. real-time communication and normal Ethernet communication can be transmitted via a uniform network standard. This constitutes an ideal basis for the implementation of Industry 4.0 and IIo T concepts. With a first proof of concept in November 2016, it could be shown that Sercos III and other Ethernet devices can coexist in a common TSN network infrastructure without affecting the real-time performance and synchronization accuracy of the connected Sercos devices.

Congratulations to the anniversary edition and all the best for following the exciting evolution of Industrial Communication in the future!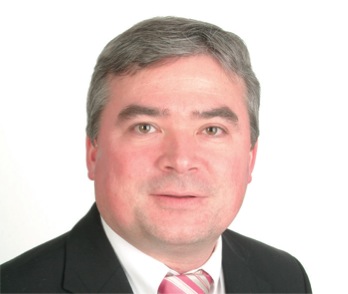 Peter Lutz, Managing Director, Sercos International