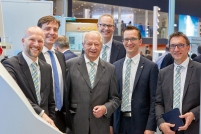 Joint development of Smart Grid platform
Renewable energies and adherence to climate objectives present new challenges to energy distribution networks. The increasing feed-in from renewable energy generation plants leads to higher network volatility. Furthermore, the required energy storage and charging infrastructure for electric vehicles must be integrated. To ensure network stability, improved system coordination is required, as well as corresponding services from the distribution network.
In this context, SAG GmbH and Mauell GmbH have developed the scalable Smart Grid platform iNES. The intelligent distribution grid network management system solution for distributed grid control and automation combines network components such as variable local grid transformers, voltage regulators, and reactive and active power while taking into account the grid storage into one overall system. iNES continuously monitors the current network state, troubleshoots critical situations using targeted control interventions, and thereby ensures optimum utilization of the equipment.
After Phoenix Contact became involved in Mauell Netzleittechnik, a new subsidiary under the name Phoenix Contact Energy Automation GmbH was founded on April 1, 2017. This division is continuing to work closely together with SAG in the development of the iNES system solution. Thanks to this collaboration, both companies are expecting increased innovation while simultaneously reducing the development efforts required in the field of distributed energy systems. The aim is the interoperability of iNES when it comes to existing devices, as well as those to be integrated in the future. Here, Phoenix Contact offers a comprehensive portfolio of innovative components and systems such as controllers and network technology, I/O systems, as well as remote control and visualization solutions, that are already being used in many applications in energy generation and distribution.
Photo: (From left to right) Stephan Frigge, Phoenix Contact Deutschland GmbH, Sven Behrend, SAG GmbH, Klaus Eisert, Phoenix Contact shareholder, Axel Eberhardt, Phoenix Contact Combinations, Stephan Volgmann, Vertical Market Management Energy Phoenix Contact, Dirk Riesenberg, Phoenix Contact Energy Automation GmbH