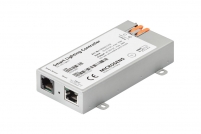 Controller for IP lighting solutions
The Microsens Smart Lighting System offers a decentralised lighting solution for intelligent buildings. Standard network cables simultaneously supply electricity and data to energy-saving, dimmable LED lighting. The new controller regulates the LED light, provides up to 28 W of power (PoE+), and features a a new, space-saving design. Unlike conventional networked lighting solutions, this does not require the time-consuming and cost-intensive installation of a separate bus system.
The Smart Lighting Controller represents the link between the LED lights and the Smart Engine, a decentralised control unit in the room. It incorporates the lighting into the IP network and controls data traffic intelligently between the network, sensors, and lights. The controller ensures the correct power supply by transforming the operating voltage provided via PoE into an adaptive energy supply for the lights. There is also the option to connect smart sensors to the controller, to collect and transmit environmental parameter data - such as brightness, temperature, motion, or moisture - to the Smart Engine. The Smart Director app evaluates these environmental parameters, sends commands back to the relevant controller unit, and adjusts the lighting accordingly. Standard functions like motion control or automatic dimming under direct sunlight are pre-installed and easily configured.
Each room can have different behaviours or so-called scenarios defined. As soon as the sensor detects certain environmental conditions, the system reacts autonomously. Alternatively, a gateway provides users with several options to regulate lighting as required, also via PC or mobile devices. The system is scalable from individual rooms to whole office buildings. Sensors and actuators can be flexibly linked via wired or wireless connections, creating a flexible and future-proof automation solution for modern buildings.