19.06.2019


Industrial switch for high-speed communication

With the new MSM60 module, the Belden MSP40 Full Gigabit Ethernet Layer 3 switch now features the option for 10 Gigabit uplink ports to meet increasing bandwidth needs.
Read more...

18.06.2019


Simplified Profibus integration

The new version 1.20 of Softing's Modbus to Profibus gateways adds redundancy for critical process control applications and XML import for simplified integration into Schneider Electric engineering systems.
Read more...

14.06.2019


TSN discussion at ARC Industry Forum Europe

At the ARC Industry Forum Europe 2019, the CC-Link Partner Association hosted a forum discussion on how to drive the digital transformation of businesses with Time Sensitive Networking (TSN).
Read more...

13.06.2019


5G-ready cellular module

A new 5G-ready cellular module from u-blox offers end-to-end device and data security, and is designed for mission-critical or long life cycle IoT applications.
Read more...

24.05.2019


Focus on intelligent manufacturing

The positioning and concept of the exhibition "Intelligent Manufacturing & Integrated Solutions" (iManufacturing) in Shanghai, China has gained more and more attention and recognition.
Read more...

23.05.2019


European EtherCAT Plug Fest

The Spring 2019 EtherCAT Plug Fest in Ravensburg, Germany was attended by fifty-seven participants from eight different countries on four continents.
Read more...

21.05.2019


SoM IoT / Industry 4.0 modules

New SoM (System on Module) IoT / Industry 4.0 modules from Port now offer Profinet CCB and EtherNetIP on board, and can be easily integrated into Linux environments.
Read more...

15.05.2019


Modular proxy for Profinet connection

The Axioline P modular proxy from Phoenix Contact connects Profibus PA segments directly to a Profinet network.
Read more...

14.05.2019


Connecting serial devices to the cloud

New cloud connectivity features in the Moxa serial device servers and protocol gateways allow users to easily connect their serial devices to cloud systems.
Read more...

10.05.2019


Bluetooth market update

Supported by forecasts from ABI Research, the Bluetooth Market Update examines trends for each of the key Bluetooth solution areas.
Read more...

Sponsors: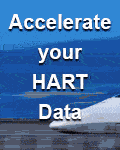 Get Social with us: