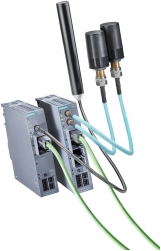 Modems ensure reliable electric power delivery
The geographical terrain of the Sultanate of Oman varies from coastal regions through mountain ranges to extensive deserts.Mazoon Electricity Company (MZEC) supplies around 1.5 million users with electric power across this region. Successful power distribution relies on the operation of a large number of substations over an area covering around 81,000 square kilometers, which are controlled from MZEC's company headquarters in Muscat.
"We needed communication with our substations to see the behavior of our system and to ensure a reliable supply of electricity to all our customers," explains Jasim Al Rawahi, Head of control systems for MZEC. The existing infrastructure from the solution provider was no longer able to cope with the volume of data or guarantee the permanent availability required. Particularly important for MZEC was that every one of the 90 substations should be equipped with efficient, reliable and secure modems complete with antennas. "The modem is at the heart of our communications technology," explains Al Rawahi. Working in association with system integrator Silver Focus LLC, MZEC took the decision to install the Scalance M 3G modem and the ANT794-4MR antenna alongside Sitop power supply for 0.375 A to keep the modems supplied with power.
"The security features in the Scalance modems were absolutely important," recalls Al Rawahi. "Because we are a live system, we need to make sure that our communications are completely secured." Another factor which tipped the balance in favor of the Scalance modems is its rugged design. As well as being insensitive to high electromagnetic interference (EMI), the modem is also fully functional at a temperature range of between -40 and +75 degrees Celsius. Quite apart from these key benefits, MZEC was also impressed by the extensive services and broad-based support provided by Siemens during the project. And as expected, the components are proving to be highly resilient: Since the system was implemented, communication between the control center and the substations has operated with 100 percent reliability. Over the next few years, MZEC and Siemens plan to fit additional stations with equipment such as the new LTE (Long Term Evolution) components from the Scalance M portfolio.