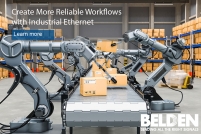 Promoted content: Ethernet Trends in the Industrial OT Environment
Ethernet has become the communications protocol of choice for machine, robot and other factory automation applications in the industrial/operational technology (OT) environment.
Read the Belden white paper to learn about how industrial operators are making use of Ethernet technology to increase productivity, improve process reliability and secure other valuable gains on the plant floor. It will also consider trends from the perspective of the robot and machine builders and how they can take advantage of these trends to develop more creative ways to incorporate new technologies into work processes, to increase yields and reduce downtime. Furthermore they can differentiate their products and services, gain competitive edge by being well-versed on these trends from their customers' perspectives and create even stronger long-term, mutually beneficial ongoing partnerships.