Hannover Messe 2011 Show Report
Hannover Messe 2011 – a focus on energy efficiency
Show Report - Live News - Product Highlights
Within Industrial Ethernet's remit, Hannover Messe 2011 featured process automation, industrial IT, energy efficiency in industrial processes, industrial embedded, MES – efficient production, wireless automation and metropolitan solutions. The talking points at the fair – smart grids, safety, renewable energy and energy efficiency, plus wireless connectivity - broadly reflected these categories, as James Hunt reports.
The 64th Hannover Messe (Hannover, Germany 4th – 8th April) took place for the first time in three years without the proverbial storm clouds hanging overhead. In 2011, there was no volcanic dust cloud to keep visitors away (including the editor of this magazine). Nor were we in the depths of the recession. Indeed, the German economy is booming, even if that is not so for other EU countries. Moreover, this year, China had a very significant presence at this huge show with many companies exhibiting in several halls.
This year's event boasted 13 individual fairs covering virtually all industrial sectors with exhibitors from 65 countries; over half from outside Germany. The keynote theme for 2011 was 'Smart Efficiency', which was reflected in the wide range of exhibits, special displays, panel discussions and workshops on the use of the latest technologies to reduce energy wastage. There are many applications in upcoming 'Smart Grid' technologies, another major theme at this year's show.

The rather spectacular hannover Messe fairground
France was the official Partner Country at Hannover Messe 2011, as was made clear on the morning of the first day as French president Nicolas Sarkozy swept up to the Conference Centre in a massive cavalcade of black limousines and police motorcycle outriders – all lights flashing. Reflecting the theme 'Innovation for sustainable growth', the French exhibits focused on the energy sector, sustainable mobility and energy efficiency.
Energy efficiency, therefore, played a central role in the exhibits on many company stands. For example, Harting Technology Group highlighted its new Smart Power Network Unit and network. The Smart Energy Network allows intelligent conventional power distribution management using active network components. Standard Ethernet to provides open network transparency, and the Smart Energy Network can be integrated into existing network structures, which are monitored by the Smart Power Network Units to control power consumption. This brings advantages in the planning, commissioning and plant availability - the key to improving energy efficiency. Therefore, by automatically recognising the topology concerned, monitoring functionality and allowing power to be used efficiently, significant energy savings are realised.

John Witt explains Harting's new smart power networks concept
www.harting.com
Significant announcements
There was major news at Hannover Messe 2011. Siemens Industry, which had probably the largest stand at the show, announced that it is to focus its growth strategy on industrial customers. The company's intention is to strengthen its vertical market and service businesses, as well as expand its industrial software business.
Commented Siemens Industry sector CEO Siegfried Russwurm: "Software for industrial processes, in depth vertical expertise and technology-based service are crucial to expanding our customer's productivity, and are also important factors in driving the growth of our own business."
He claimed that by optimising sales responsibilities in specific vertical businesses, Siemens can take advantage of growth potentials across all technologies and at all levels of the value-added chain.
Siemens Industry, which said that the global manufacturing and process industries market relevant to it is expected to grow to well over 200bn Euros by 2016, will start this massive reorganisation at the beginning of October. This is likely to be a major task for such a large and complex organisation.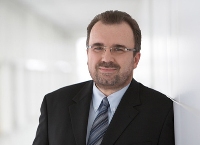 Siegfried Russwurm: "We are the only supplier able to cut our customers time-to-market for certain products in half by using software and automation technology, while significantly reducing the costs associated with energy or waste water for a manufacturing company. "
www.siemens.com/industryautomation
In another development, labelled a 'milestone' by EtherCAT Technology Group, Texas Instruments (TI) has become the first semiconductor company to license EtherCAT technology for standard microcontroller and microprocessor families. This development, which was announced at Hannover, makes EtherCAT a mainstream technology beyond the automation market. TI is the first semiconductor company to license EtherCAT for its ARM-based embedded processors. This industrial Ethernet technology will be featured in TI's upcoming Sitara ARM MPUs planned for later this year and in further processor platforms beginning in 2012.
Commented EtherCAT's Executive Director Martin Rostan: "This development will open entirely new markets for EtherCAT. I am convinced that this will help EtherCAT to establish a strong position in a wide range of embedded applications and further accelerate the adoption of EtherCAT in the automation market."
www.ti.com
www.ethercat.org
More news - B&R and the Ethernet POWERLINK Standardisation Group (EPSG) are to partner with Altera to significantly increase interest and improve cost-effectiveness for Industrial Ethernet solutions. Based on POWERLINK, the partnership enables use of this technology even with low-cost sensors. Stated Stefan Schönegger, Manager of B&R's business unit for Open Automation: "Our FPGA-based POWERLINK solution is an attractive offer for component manufacturers. Our partnership with Altera enables us to reduce POWERLINK solutions pricing to as low as €4, clearly beating conventional ASIC solutions with respect to overall costs. No other real-time system can offer such an attractive price into the world of Industrial Ethernet performance for component manufacturers."

Stefan Schönegger: "Our partnership with Altera enables us to reduce POWERLINK solutions pricing to as low as €4 "
www.ethernet-powerlink.org
www.altera.com
Of significant interest was the announcement by Fieldbus Foundation that it has registered the first FOUNDATION fieldbus devices incorporating advanced field diagnostics technology. The new registration requirements help to standardise how fieldbus devices communicate their diagnostic data to the host and asset management tools within a plant automation system.
As reported by Frank Ogden in the last issue of the Industrial Ethernet Book (issue 63), the ODVA made several important announcements at Hannover Messe, including a Machinery Initiative to promote best practises in information and communication technology, a strategy for the optimisation of energy usage in the industrial sector, the formation of a vertical market SIG for rail transport, and a new energy initiative in cooperation with major suppliers Cisco Systems, Rockwell Automation and Schneider Electric. The latter aims to transform the industrial energy resource allocation model. Important too is the announcement that Bosch Rexroth is to become one of ODVA's principal member companies. Users will, it is hoped, benefit from increased availability of ODVA complaint products under the Rexroth brand, especially those implementing Ethernet/IP. Commented ODVA executive director Katherine Voss: "This drives a holistic and integrated view of the industrial ecosystem on an even greater global scale." For full details, see issue 63.
At the show, the Fieldbus Foundation joined the FDT Group, HART Communication Foundation and PI (Profibus and Profibus International), to host the first-ever co-sponsored Field Communication Lounge in Hall 9. The aim was to create a single area for visitors to see the latest in field communication technology. The key feature of was the common display area and presentation forum in which experts from the four organisations presented the latest field device communication technology solutions. Participating members included APAT, Dresser Masoneilan, Emerson Process Management, Endress+Hauser, Fieldbus International, Heinrichs Messtechnik, Leoni, Pepperl+Fuchs, Phoenix Contact, R. Stahl, Siemens, Softing and Yokogawa.
www.fieldbus.org
www.fdtgroup.org
www.hartcomm.org
www.profibus.com

Smart Grids
Apart from 'Smart Efficiency', another theme in clear evidence at the show was 'Smart Grids', which are being developed to deliver electricity from suppliers to consumers using two-way digital communications to control appliances and machines in factories, retail outlets, public buildings, offices and homes. Such digital control can save energy, reduce costs and increase reliability and transparency if the risks inherent in executing massive information technology projects are avoided. Many companies displayed their various approaches to providing the network connectivity that smart grids will require.
In terms of economic growth estimated to more than double the demand for energy between 2010 and 2030, and with CO2 emissions projected to accelerate even faster, power grid networks must become smarter and far more efficient – so need embedded control and telecommunications capabilities. Industrial networks and industrial Ethernet will find major new business in this sector.
In a key announcement, Alstom has completed its acquisition of Psymetrix, the UK-based Smart Grid applications company with international Wide Area Monitoring Systems (WAMS) expertise, which is a crucial technology segment in the electrical grid control room sector. The two companies working together plan to launch new software applications for advanced control, sub-station automation, grid self-healing and more, targeting grid utilities and power plant operators.
Energy and renewables
The Energy Efficiency in Industrial Processes exhibition area and forum showcased the importance of energy efficiency to industry and commerce for both cost savings and climate protection. The many companies in this area also emphasised the feasibility and cost effectiveness of energy efficiency projects.
Hannover Messe also focused on wind energy with the Wind Trade Fair. Beckhoff, which had stands in the Industrial Automation and Wind parts of the show, displayed its PC- and EtherCAT-based automation solutions for the wind power sector. Over 6,000 wind turbines were equipped with Beckhoff control technology in 2010. Control systems are reflecting the trend towards ever-larger turbines, which becoming more complex. PC-based automation engineering from Beckhoff is aimed at meeting such requirements, and the scalable CPU solutions on display make 'almost unlimited' computer capacity available. EtherCAT provides both the necessary speed and the granularity at field level. Also on display were wind power-specific software libraries and the implementation of the IEC 61400-25 telecontrol protocol for plant communication in wind farms.
Beckhoff showed an extension of its range of power measurement terminals for the EtherCAT Terminal system. The voltage inputs of the new EL3413 power measurement terminal for grid monitoring and analysis are optimised, in particular, for the generation of regenerative energy. Electrically isolated current inputs permit use in all normal earthed current transformer circuits. This makes simple network analyses possible using integrated harmonic analysis. The voltage inputs have been designed for the direct monitoring of high-power generators, as used in the wind power industry. Simple network analysis is also possible.
Safety
Safety, as exemplified – for example – by PI's PROFIsafe industrial networking safety standard that is independent of the communication method and which provides cost-effective functional safety with flexibility, was also much in evidence – another strong trend.
In another news announcement from Hannover, Sercos is expanding its cooperation with ODVA. This will benefit user companies by helping to optimise control networking and improve continuity. Sercos already uses the CIP safety protocol from ODVA for secure communication to IEC 61508.
Following the introduction of openSAFETY solutions for Sercos III, Modbus TCP, EtherNet TCP/IP and POWERLINK at last year's Hannover Messe, the openSAFETY standard is now also available for PROFINET. Therefore, openSAFETY is now available for all major real-time Ethernet protocols, covering 91% of the Industrial Ethernet sector. POWERLINK was again at the show for 2011 and showed the latest iterations of openSAFETY.
www.open-safety.com
www.sercos.org

Wireless systems
The exchange of data between devices via public wireless networks or user networks streamlines business processes and resource management. For 2011, the focus at Wireless Automation was primarily on telemetry, telecontrol, telemonitoring and M2M applications.
In the Wireless Pavilion in Hall 8 a number of companies displayed their wireless network communication systems. For example, Conel, a Czech specialist in wireless data communication, showed its AGNES system for data transfer between different technologies and different type of devices. This includes data protocols, services and supported systems for creating wireless data networks. The AGNES data system is a communication system involving radio data modems, GPRS modems and IP communication.
The same company's EDGE router ER75i interconnects a wide range of equipment into the Internet or intranet - computers, control systems and LAN networks. It connects with any equipment having an Ethernet interface, and this device will interface RS232/RS485/MBUS (ATM, industrial metering devices, GPS etc). MACTek has launched its WirelessHART adapter, a universal communication device for use with both analog and HART-enabled devices. The very neat Bullet WirelessHART Adapter, as it is called, provides a cost-effective way of accessing process measurements and communicating process variables without wires. It can connect to wired HART devices up to 235m away. The device will also be available later this year for IS and Ex applications.
www.conel.cz
www.mactekcorp.com

Metropolitan Solutions
The Metropolitan Solutions Forum at Hannover was a new exhibition about the next generation of infrastructures. These will need intelligent urban grids, decentralised energy, charging infrastructures for electromobility applications, plus the networking and integration of previously separate building systems. Away from its vast Hall 9 stand in Hall 8, Siemens displayed its new Metropolitan Solutions exhibits of efficient, environmentally friendly products and technologies for air and water pollution control, that are already playing a key role in reducing energy consumption in urban infrastructures. All this means advanced networking solutions, which figured prominently at Metropolitan Solutions and on Siemens' main stand. Electric power, water and gas distribution systems – metropolitan or otherwise - all need efficient communication systems, with Ethernet connectivity devices distributing communications to the many end points that perform measuring control and monitoring functions.
EtherWAN showed many examples of its products and systems for such field automation, including solutions for renewable energy with fibre optic backbone using the company's hardened Ethernet switches in a ring topology that provides network redundancy. EtherWAN serial device servers connect with sensors and transfer their signals to IP format for data transmission. Among new products on stand were hardened switches for use on board rail vehicles.
www.industry.siemens.com
www.etherwan.com

---
Live News
---
Industrial automation rocks!
Many people wondered who was the DJane who laid down the cool beats for the multimedia presentaions on the Siemens booth. Her name is Anna Reusch. Here is a video of her rocking the New Basement club in Wiesbaden.


---
Product Highlights
Here are some of the new products and solutions introduced at Hannover Messe 2011.
Automation for wind turbines
At the trade fair Wind at Hannover Messe Beckhoff is presenting its open automation solutions for wind turbines in Hall 27, Booth H60. With PC- and EtherCAT-based control technology, Beckhoff offers a universal solution, from pitch control and operational management of the tower and nacelle to the wind farm networking and control room. Apart from TwinCAT 3, the latest version of the automation software, the main focus at Wind 2011 includes Condition Monitoring and the new measuring terminals for the Beckhoff EtherCAT I/O system. Further new items are wind power-specific software libraries and the implementation of the IEC 61400-25 telecontrol protocol for plant communication in wind farms. In the I/O systems segment, Bus Terminals for the extended temperature range and a new power measuring terminal for advanced network analysis further extend the range of applications of the Beckhoff technology.
Control technology from Beckhoff is in use worldwide in wind turbines up to a size of 5 MW – both onshore and offshore.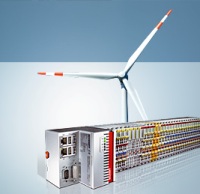 In 2010 Beckhoff has equipped more than 6,000 wind turbines with Beckhoff control components.
---
Smart power networks turn power distribution into intelligent energy networks
Harting has developed intelligent energy distributors which automatically detect the structure of the distribution network, as well as measuring and recording consumption levels. This enabes condition monitoring of the network segment without the need for any additional installation or programming. An industrial computer is used for visualization and collection of measurement data as well as acting as a communication interface to the Ethernet. The structure of a network in a system is detected and displayed by means of intelligent distributors. The development of consumption levels is analyzed and stored for economy measures and progression analysis.
Selective activation points can be placed at the energy distributors to avoid peaks or to save energy during production breaks or at weekends, for example. This allows saving potential detected at command level to be implemented at field level.

Harting at the TectoYou stand, an initiative aimed at getting young people interested in technology and encouraging them to pursue careers in engineering.
---
Wireless sensors push smart machines Into green revolution
STMicroelectronics, ARaymond and Micropelt are jointly presenting thermal-energy harvesting-based solutions to power "smart sensors" and "smart microsystems" at the Hannover Fair under the common theme of "Green Solutions ". The three companies are partnering to exhibit the entire value chain of self-sustaining wireless systems in a joint booth (Hall 8, D26).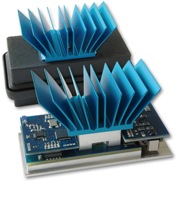 Micropelt thermal-energy harvesting-based solution
---
Ethernet Switch for harsh environments
Phoenix Contact is demonstrating a new five-port Ethernet switch with IP67 protection for use in harsh industrial environments. This switch is designed for the machine construction sector, offering compact design and ease of installation. Its housing is only 30 mm wide so that it can be installed on a standard structural element without any protrusion.
With its IP67 protection and wide temperature range from -40 °C up to +70 °C, this switch is designed to address a wide range of applications. It can be quickly and simply installed using the axial symmetrically arranged retaining points that can accept M6 screws. Its integrated priority handling of data packets according to IEEE 802.1p allows the switch to be used in Profinet or heterogeneous environments, in which certain services – such as IP telephony – are to be handled with the highest priority.

Five-port Ethernet switch with IP67 protection
---
Enhancing the security of industrial networks
New components with integrated security functions from the Siemens Division Industry Automation allow companies to enhance the security of their networks in process automation and production automation. The new versions of the Simatic NET CP 341-1 Advanced and Simatic NET CP 443-1 Advanced communications processors contain a firewall as well as a VPN function (Virtual Private Network) and therefore establish secure access to controllers of the Simatic S7-300 and S7-400 series. Industrial PCs can also be equipped with a firewall and VPN client by means of the Simatic NET CP 1628 module. The security module Scalance S623 is also new; with an additional DMZ port for service access, as is the UMTS router Scalance M875 for secure access to plant units via the UMTS mobile network.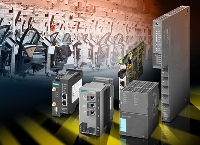 The Simatic NET CP 341-1 Advanced and Simatic NET CP 443-1 Advanced communications processors, the Simatic NET CP 1628 module, and the UMTS router Scalance M875.
www.siemens.com/industryautomation
---
Telecontrol module for fault detection and position monitoring
A new To-Pass Mobile module from Wago will be available in two versions (761-314 and 761-316). Both utilize a GSM quad-band modem for both data transmission and usage in multiple countries. The modules can send messages via SMS, e-mail, fax or phone call, while switching outputs via SMS. The integrated data memory stores up to 4096 process images in an adjustable cycle time. Each module features 4 digital inputs, 4 analog inputs and 2 digital outputs. They receive GPS position data via integrated GSM modem. The 761-316 To-Pass Mobile features extended functionality, enabling both process image and GPS position data to be transmitted in an adjustable cycle to a user-selected Internet address. Additional process values from other MODBUS devices can also be transmitted via RS-232 interface. The modules are designed for applications in distributed stations subjected to temperatures ranging from -20°C to +70°C.

To-Pass Mobile monitors machines, vehicles and movable goods via GPS. The modules send fault messages and position data over the GSM network.
---
Profinet POF Repeater for diagnosing light signals
With its 'FreeCon Active Repeater' Weidmüller offers a POF repeater with an integrated diagnostic function for deployment in Profinet networks. Polymer optical fibres (POF) are subject to a natural aging process, which successively increases fibre attenuation. That in turn increases the need for exact diagnostics of the transmission path. Weidmüller developed the 'FreeCon Active Repeater' in response to this need: to guarantee reliable transmission of the Ethernet data being transmitted the 'FreeCon Active' checks the entire transmission path in real time with regard to its optical budget – for example, from the electrical cabinet to the head of the robot. The device sends an alarm signal to a higher-level controller if a defined tolerance level is exceeded and the user needs to replace the cable set. The Profinet POF repeater complies with AIDA specifications (Automation Initiative of the German Automotive Industry).

To guarantee reliable transmission of the Ethernet data being transmitted the 'FreeCon Active' checks the entire transmission path in real time with regard to its optical budget – for example, from the electrical cabinet to the head of the robot.
---