Digital architecture helps tank farm meet safety requirements
Wireless level and pressure transmitters and a plant-wide wireless network have been used to automate tank storage level monitoring in Sweden, improving safety and reducing costs.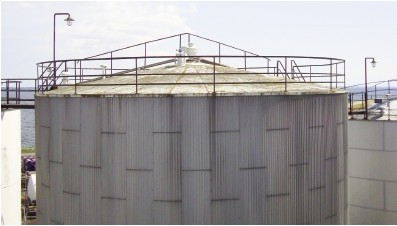 SITED ON THE EAST COAST of Sweden is FH Tank Storage AB's Kalmar storage terminal, which is now using Emerson Process Management's Rosemount wireless level and pressure transmitters to provide overspill protection for greater safety.
The company has installed a plant-wide wireless network, digital automation system, and predictive maintenance software to automate tank storage level monitoring. This is enabling FH Tank Storage to meet the latest environmental and safety requirements, while improving the efficiency, accuracy and reliability of level monitoring. This installation has also enabled measurement data to be processed without installing new cabling, which would have needed extensive groundwork, disrupting operations and fuel tanker traffic around the site. The result has been a cost saving estimated to be in the region of €50k to €100k.
The FH Tank Storage terminal has a capacity of around 13,000m3. The 68 tanks store solvents, petrol and a range of chemicals. Increasingly tight environmental regulations required overspill protection to be added to all existing tanks, with new level switches needed to trigger an alarm should levels rise above preset levels.
Checking was dangerous
Previously, tank level measurements were performed manually, so operators had to climb to the tank tops, often in winter, which was potentially dangerous. The monthly checks took a whole day and involved the use of dipping ropes, calculating volumes, and updating a white board in the main control room. Although a rigid set of procedures was in place to ensure accuracy and reliability of measurements, FH Tank Storage wanted to automate these measurements to reduce risk and remove any potential human error when recording, calculating and listing tank levels.
Emerson proposed the implementation of a continuous automated measurement solution using the PlantWeb digital architecture and Smart Wireless technology to transmit accurate and up to date tank level measurements that could also be used to provide overspill protection. Rosemount devices fitted on 29 tanks transmit level and temperature data back to the latest versions of the DeltaV digital automation system and AMS Suite software installed in the main control room. A large screen provides operators with visualisation of all the tanks, tank levels and any high level alarms or instrumentation failures. The solution was presented to and accepted by Länsstyrelsen, the Swedish local environment and safety authority.
In this storage terminal application, the wireless transmitters are deployed on the storage tanks and transmit measurement data to the DeltaV system installed in the main control room. The AMS Suite predictive maintenance software helps operators monitor the wireless network and individual transmitters, and improves maintenance staff efficiency by identifying faults and reducing the need for trips into the field.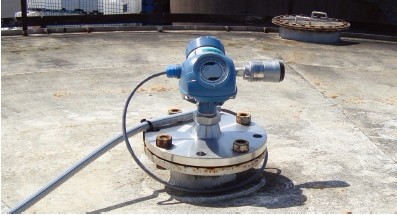 Improving plant performance
Emerson's PlantWeb is a digital architecture that uses predictive intelligence to improve plant performance. Capital and engineering costs can be reduced compared with traditional DCS-centred architectures, but users can also improve throughput, availability and quality, reduce conversion costs, and sustain the resulting performance gains, it is claimed. Users typically report at least 2% improvements in plant efficiency.
Smart Wireless, an extension of PlantWeb, uses wireless flexibility for easy project deployment. Field networks can be established by installing wireless gateways, then mounting up to 100 wireless instruments/gateway. Devices configured with the same network and join keys will connect to their IEC 62591 WirelessHART field network. This unified wireless architecture uses multiple field networks to connect up to thousands of devices. Late design changes are eased, says Emerson, since measurements can be added or moved without the major effect that wiring presents for engineering, documentation and installation.
There have been no overfill alarms at the site so far, and the historical information provided by the radar measurements has enabled quick and accurate answers to customer queries. Based on this success, FH Tank Storage has placed a further order.
Case study from Emerson Process Management