Hannover Messe 2013 Show Report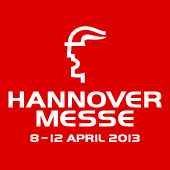 Networks for an integrated industry were a major theme at Hannover Messe (Photo: Deutsche Messe)
The phrase that captures the theme of the recent Hannover Messe 2013 is undoubtedly the German initiative called "Industry 4.0". Among automation suppliers, there is a uniform optimism that increasing digitization and networking will create the ability for manufacturers to leverage productivity advances.
The idea is that a "fourth industrial revolution" has the potential to completely redesign and shape worldwide industrial production but the change will take place gradually with numerous projects of all sizes being carried out over several years.


Huge crowds in the \'Industrial Automation\' section of the show (Photo: Deutsche Messe)



Related stories



The Internet - the basis for Industry 4.0
The Internet already has 340 sextillion (that\'s 340 followed by 36 zeros!) unique IP addresses available for identifying networked machines, work pieces and parts. Industrial experts are predicting that less than ten years from now there will be more than 50 billion devices networked with each other via the Internet. This forms the basic communication platform for Industry 4.0 as well as for the smart factory where machines are connected together to form an intelligent networked production process, and where machines independently communicate with each other and with the products that are to be produced.
With the "Self X Pro" joint project developed in cooperation with the Fraunhofer Institute, for example, Weidmüller is developing a self-correcting punching-bending tool for its production.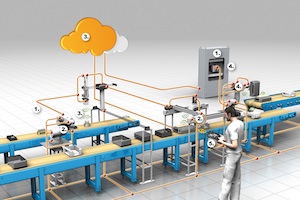 A basic goal of Industry 4.0 is that the factory of the future will organise itself based on a network of communication-capable components and various key technologies.
1. Networked systems provide connectivity for local decentralised information processing.
2. Progressive miniaturisation allows for small, low-cost and high-performance sensors and actuators.
3. Auto-ID for customised product manufacturing creates unique identification and links to the virtual world.
4. Intelligent field devices using software that allows for the global dynamic distribution of functionality is an integral part of the system integration.
5. Mobile Device Management (MDM): man-machine interfaces for intuitive operation of complex systems without special training.
(Source: Weidmuller)
Emergence of cyber-physical systems
At a press conference during the Fair, Siegfried Russwurm, CEO of the Industry Sector and Siemens AG board member, said that Industry 4.0 is already here in its infancy, and industry is laying the essential foundations for its implementation.
"Never before has the world of manufacturing and production technology been changing as rapidly and fundamentally as today," Russwurm said. "The increasing penetration of IT and the growing integration of all industrial technologies are taking place in evolutionary steps from today's perspective. However, looking back, the completely IT-based interaction between human being, product and machine could prove to be a real industrial revolution."
Russwurm said the heart of Industry 4.0 is the use of algorithms within cyber-physical systems which provide a way to select the best path for optimizing production. The product to be manufactured contains all of the necessary information on its production requirements, so that integrated production installations can consider the requirements of the entire value chain. Decentralized cyber-physical systems (CPS) then interact via embedded Internet-based technologies to create flexible decisions within the production process on the basis of this information.
During his presentation, Russwurm referenced the advanced algorithms required as enabling a "chess computer" which guides the production process and will need to be expanded to communicate more and more complex parameters. Humans will conceptualize and design products, and determine the production rules and parameters. The CPS then simulates and compares production options on the basis of instructions, and proposes compliant, optimal production paths which results in the selection of an optimal implementation.
During the show, a visitor could barely move from booth to booth without hearing more on this topic, in part because Industry 4.0 has a central place in the German government\'s high-tech strategy. But it is also part of a larger global discussion about the Internet of Things, and how innovative software systems and the use of "Big Data" will lead to an optimization of the entire production process.
Clearly for Siemens some of the push is toward use of simulation technology to create a virtual optimization of the production process and an ability to integrate product and production lifecycles. But it is also clear, in the overview, that there will continue to be a strong push to use intelligent networking to link digital product planning with physical production and create seamless data integration from field-level devices all the way up to enterprise computing systems. The undeniable trend is that the IT and industrial control worlds are becoming more closely united behind the need for tighter integration between factory data and machine networks.
Exhibitors
The stand of Siemens at Hannover Messe is so huge that the company offers an iPhone App to help visitors navigate the exhibition area. The Siemens Industry booth in hall 9 shows how competitiveness can be increased in the entire production process: from product design through production planning and engineering to production execution and services. Siemens wants to demonstrate that connecting productivity and efficiency is the key formula to make progress and start making things right today. Key elements of this are the engineering framework TIA Portal and the Profinet communication network that connects controllers, I/Os, HMI, and drives.


Siemens Industry at Hannover Messe 2013

The presentation of B&R follows the show's leitmotif of "Integrated Industry" with a whole array of automation solutions ranging from a new generation of its engineering environment, Automation Studio 4, through industrial box PCs of the PC 910 line, to the energy data management solution APROL EnMon. PLC redundancy for the B&R X20 System integrated in the Automation Studio 4 software environment provides a cost-effective failsafe solution, making it also attractive for smaller applications in machine automation. This efficient redundancy solution uses the high-performance Powerlink real-time fieldbus as a communication, which provides extremely short response times. B&R has also been busy further developing its ACOPOSmulti drive system. The motor-mounted servo drive, ACOPOSmotor, melds with the motor to form a configurable and easy-to-connect mechatronic servo drive unit with integrated safe motion functions via the open safety protocol openSAFETY. This saves valuable space in the control cabinet and advances the development of decentralized machine architectures.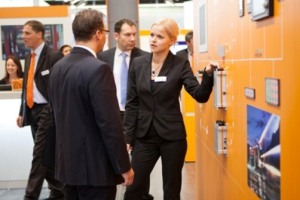 The stand of B&R Automation is always worth a visit

The bus-independent openSAFETY communication protocol is also used for SafeLOGIC-X, a software-based safety controller whose safety functionality is distributed across safe I/O modules, a standard controller and the HMI application. This solution is designed to allow cost-sensitive safety applications to enjoy the benefits of an integrated safety solution with full-fledged support for all safe motion functions.
As a pioneer of PC-based control technology, Beckhoff has pursued the convergence of IT and automation technology from early on and has introduced numerous innovative. The open, universal control architectures enabled by PC Control and EtherCAT are the technological basis for Beckhoff's current and future developments. These include the new EK1960 TwinSAFE Controller that integrates a complete safety controller including I/O level in a compact design. It combines EtherCAT Coupler, TwinSAFE PLC, 20 digital inputs and 10 digital outputs. Primarily designed for safety applications of a small to medium scope, the EK1960 can be used either as an autonomous controller or as a decentralised controller. Further EtherCAT Terminals can be flexibly added via the integrated E-bus interface.


Beckhoff servomotors with One Cable Technology

EtherCAT is also at the heart of the EL7201 servo terminals series, which integrates a complete servo drive in a standard terminal housing. The new EL7201-0010 variant supports the One Cable Technology (OCT) of the AM81xx servomotor series instead of the traditional resolver interface, enabling absolute positions to be measured and stored without batteries.
At the Fair, KW-Software presented its new solution for isochronous Profinet communication (Isochronous Real-Time, IRT). Profinet communication stacks have been successfully used in demanding automation solutions for years, but this new Profinet stack uses the special features of Intel's Ethernet Controller I210 for the isochronous communication via Profinet. According to Peter Fuchs, Head of Marketing Communications at KW Software, "In the field of Profinet controllers, complex hardware like special ASICs, FPGAs or expensive plug-in boards had to be used for synchronizing Profinet communication. With the Intel Ethernet Controller I210 family and our Profinet stacks, very cost-efficient and space-saving IRT-capable Profinet interfaces can be realized, particularly for PC-based controls and automation devices." Like the Profinet RT stacks, this solution is available for different CPU architectures and real-time operating systems including Wind River VxWorks which allows a step-by-step migration from Profinet RT to IRT communication.
Another key innovation announced at the Fair from Control Techniques demonstrated the open Ethernet capabilities of its Unidrive M. The presentation highlighted an open system in which the drive is controlling the synchronisation between two Unimotor HD servomotors monitored by a standard IP network camera – all linked by an open IEEE 1588 Ethernet network.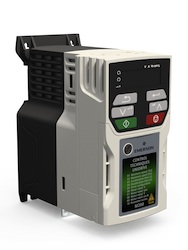 The Unidrive M uses standard Ethernet for communication across drives, I/O, HMIs, PLCs and other industrial devices.
Unidrive M supports connectivity with PROFINET RT, EtherNet/IP, Modbus TCP/IP and EtherCAT devices. The new drives also have implemented a high bandwidth motor control algorithm with up to 3,300 Hz current loop and 250 Hz speed loop bandwidth for extremely stable, high performance applications.
The EtherCAT Technology Group (ETG) announced the Safety over EtherCAT (FSoE) Conformance Test Tool certified and qualified by TÜV Süd, which enables automatic verification of the implementation for the safe transmission protocol. FSoE is designed for the transmission of safety-relevant data. It is an international standard (IEC 61784-3 Ed. 2) and is used to transfer input information from different safety sensors, e.g. light curtains or emergency stop buttons, to safety logic. This logic combines the information from the input commands for the safe outputs, such as power protectors or safety drives, and thus controls the safety function of the machine.
The test cases which are implemented in the tool have been defined by the EtherCAT Technology Group and were reviewed in advance by TÜV Süd regarding their integrity. TÜV Süd now confirmed the qualification of the tool for validation and compliance to test FSoE slave devices in accordance with the FSoE specification. The tool is available for all users of Safety over EtherCAT technology and will also be used for the official FSoE conformance tests in the future. Dr. Guido Beckmann, safety expert at the ETG, emphasized the practical benefits of the tool: "The FSoE Conformance Test Tool helps manufacturers identify implementation errors during device development at an early stage. For the official certification of safety devices the evidence of conformity of the implementation is required too. Without the FSoE Conformance Test Tool device manufacturers would be compelled to implement this proof by themselves."
sercos international (SI), supplier of the sercos automation bus, shows new safety concepts, products, and a conceptual approach designed to simplify the integration of machinery in manufacturing. Under the slogan "Fewer cables, less complexity, easier machine integration," sercos developed this approach in collaboration with ODVA and the OPC Foundation. A common network infrastructure where sercos telegrams, CIP messages and TCP/IP telegrams run on one single cable allows mechanical engineers and users to reduce the costs and complexity involved in machine integration. At the same time, they are able to continue using their preferred product suppliers and automation devices and can benefit from more than 1,000 connection options.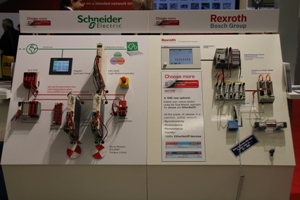 sercos III and EtherNet/IP devices – prototypes from Bosch Rexroth and Schneider Electric

sercos also offers tools for developing, testing and error diagnosis of sercos networks. This includes the sercos Easy Slave, the sercos Monitor and the sercos MultiSlave Emulator, which was introduced during the 2012 SPS/IPC/Drives exhibition in Nuremberg, Germany. This PC-based development tool for highly diverse applications enables mechanical engineers, controller manufacturers, and system integrators to emulate a sercos network with multiple slave devices and can be used for support during the development and testing of various sercos network configurations. Machine and system configurations can be reproduced at the customer\'s in-house laboratory with minimum hardware expenditure in order to perform troubleshooting and diagnosis.
At the Fair, ODVA announced initiatives to create a new Industrial Ethernet standard for process automation, plus the formation of a working group to look at exchanging information between machines and optimizing machine integration. ODVA members including Cisco Systems, Endress+Hauser, Rockwell Automation and Schneider are collaborating to evolve and accelerate adoption of EtherNet/IP in process systems. The immediate goal is to provide end users with a solution starting with connectivity down to field level devices. Longer range plans include expanding standards into what would result in a more complete portfolio to address safety, explosion protection, long distances and extensive diagnostic coverage. A special interest group is also being formed to look at new standards for the exchange of information between machines, and between machines and supervisory systems. The goal is new data models and network services to address areas such as production, energy, condition monitoring, business intelligence, batch and recipe management and multi-line machine control.
One focus is models for logically grouping machines attributes and the services required for effective data exchange. This would allow heterogeneous systems using EtherNet/IP and CIP, servos III and/or OPC UA to use a technology neutral approach to developing reporting methods and tools. Voss stated that the output of the working group will further the vision of how optimization of machinery standards (OMI) can define open and interoperable standards for integration of machinery assets into the production domain. The first step is to study information and communication technology needs for use cases related to machine-to-supervisory communication. Future work will address the use cases related to machine-to-machine communication.
---
Live News
---
Hannover Messe Product Highlights
Here are some of the new products and solutions introduced at Hannover Messe 2013.
Low-cost switch for fast automation networks

eks Engel (Hall 9, Stand A33) presents a new version of the e-light2 Gigabit switch. This unmanaged DIN rail mounted switch has two optical uplinks (1000 BASE-FX) and five twisted-pair ports (10/100/1000 BASE-TX). Since it can be cascaded, it allows to set up decentralized infrastructures with short distances to the respective terminals, and connect via fiber optic cables to the host network. The two uplinks are available for single or multi-mode fibers that can be connected either with ST, SC or E-2000 connectors in fiber-saving BiDi technology.


e-light2 Gigabit: An unmanaged switch with two optical uplinks and five twisted-pair ports.
---
Trailing cable for Industrial Ethernet CAT 6

The Leoni (Hall 9, Stand D06) Business Unit Industrial Solutions has added a new cable to their range of products for industrial customers: an Industrial Ethernet Cat. 6 cable that withstands more than 1 million bending cycles without complaint.
The new cable solution features a star-shaped filler that lends the cable ideal stability and flexibility for highly mobile drag-chain operation, while at the same time separating the four strand pairs in order to ensure compliance with the demanding Cat. 6 data-transfer specifications. This also means that the strands do not require additional foil sheathing which would heavily impede the cables\' flexibility. Leonis high-speed data cable easily survives more than 1 million bending cycles at a maximum radius of 58.50 mm (7.5 x D) and a speed of 4 m/s. Operating temperature ranges from -40°C to 80°C for fixed installation, and 30°C to 70°C in drag chains.


The new addition to Leonis FieldLink range of bus cables is non-flammable, oil-resistant to CSA specifications, UV-resistant, abrasion-proof and halogen-free.
---
Resilience for fiber optic networks

How many single points of failure can you afford? This question is asked more and more by those responsible for risk and change management with regard to growing conformity requirements. The MICROSENS (Hall 9, Stand A16) Fiber Protection Switch is designed to cost effectively assure the availability of the fiber optic infrastructures used and their associated mission critical systems. Through optical bypasses, the switch increases the tolerance of fiber optic networks regarding both single and multi point failures and limits the effects of a brownout or complete system outage. If, for example, a failure at one network junction should occur, then MICROSENS Fiber Protection Switch will bypass the active network components and optically maintain the communication beyond the non-operational junction.


MICROSENS Fiber Protection Switch maintains the operation of a ring topology even when more than one networking node is failing.
---
Binary I/O terminal for Substation Automation

ISIO 200 from Omicron (Hall 12, Stand A65) adds binary I/Os to Substation Automation Systems (SAS). As a SAS component, it integrates arbitrary binary signals that are not handled by other SAS devices. It communicates via GOOSE messages as per IEC 61850, and thus interoperates with a wide range of devices. Its compact design allows you to put it wherever you need additional I/O terminals. The device can be configured via a built-in web interface and download its description in SCL format. The Power over Ethernet supply of ISIO 200 minimizes wiring efforts.
By using two ISIO 200 devices "back-to-back", binary status information can be tunneled through the substation Ethernet network. If ordered in pairs, the ISIO 200 devices are preconfigured to subscribe to each other. In addition, ISIO 200 enables CMC test sets for testing complex protection schemes with a large number of binary I/Os.


By using two ISIO 200 devices binary status information can be tunneled through the substation Ethernet network.
---
Computing platform for security and software applications

RuggedCom\'s (Hall 12, Stand E30) RX1500 Application Processing Engine (APE) is designed to increase performance and functionality of the RX1500 multi-service platform. Leveraging the built in switching and routing platform of the RX1500, the APE is a utility grade computing platform that plugs directly into any member of the RX1500 family and enables customers to load and execute security and software applications directly on a RuggedBackbone (trademark) device. From substation gateway, remote analytics and firewall to monitoring and control applications, the APE provides the computing power and reliability for mission critical applications.The RX1500 APE is designed to the RuggedRated specification, which provides a high level of immunity to electromagnetic interference (EMI) and electrical surges. With an operating temperature range of -40° to +70°C (-40° to +158°F), the APE can operate in harsh environments.


The APE is designed to increase performance and functionality of the RX1500 multi-service platform.
---
Easy Connect Suite 3.0 now with built-in OPC UA server

Softing (Hall 9, Stand 33) presents version 3.0 of its OPC Easy Connect Suite, which now has a built-in server functionality for OPC and OPC UA and thus enables communication to Classic OPC and OPC UA clients via a common interface. Security mechanisms that were newly integrated for the OPC UA communication and that are based on the exchange of authentication features between server and client, protect the OPC communication against unauthorized access. Another new feature of the OPC Easy Connect Suite 3.0 is the integration of Softing's Multi-Protocol OPC Server into the middleware. A joint setup of Easy Connect Suite and Multi-Protocol OPC Server allows the definition of the PLC protocols (e.g. Siemens, Rockwell, Mitsubishi) during the installation process.


With the integration of existing control systems in an OPC UA network, the OPC Easy Connect Suite 3.0 is designed for the mixed operation of Classic OPC and OPC UA clients.
---
Cost-effective M2M router

With the IGW/922-G, SSV (Hall 13, Stand C45) is offering a cost-effective M2M router for DIN rail mounting that is immediately ready for operation. The Internet connection takes place via an internal GSM/GPRS interface and the public cell phone networks. In addition, the IGW/922-G has two 10/100 mbps Ethernet LAN interfaces, 1x RS232 as sub-d plug connection, 1x RS232/RS485 on a terminal strip and an alarm or switching output.


The IGW/922-G Remote Access Gateway features an internal GSM/GPRS interface and two Ethernet ports.
---
PROFINET for high speed automation

The Vipa (Hall 9, Stand F18) Ethernet CP is a real time class 1 capable PROFINET I/O controller, which is programmable with STEP7 from Siemens. The instruction set of S7-300 or S7-400 from Siemens is adjustable. The PLC supports the PU/OP communication for programming, installation, diagnosis and the connection to HMI and SCADA. The projection of the PROFINET bus system is made completely compatible with SIMATIC S7 from Siemens. This enables the user to access directly from the S7 world to the PROFINET bus components. Beside the PROFINET I/O controller functionality there are also Ethernet and TCP/IP based communication like S7, RFC1006 and open communication available for the user.
The PLC is designed for time critical applications and fulfils the increasing demand on constantly growing memory capacity at the same time. The memory can be adjusted to the demands of the plant and application and afterwards also without the need of exchanging the existing hardware.


With the Ethernet interface, the integrated master for PROFIBUS DP, MPI connection and PROFINET I/O controller the CPU 317PN supports all important interfaces in one system.
---
New performance class controller

Based on a real-time Linux operating system, the PFC200 joins WAGO\'s (Hall 11, Stand C64) versatile automation platform. This new controller is designed to meet the growing need for space-saving controllers, allowing communication with lower- and higher-level systems in addition to standard PLC applications. The PFC200 with Cortex-A8 processor architecture is compatible with all controllers and modules within the WAGO-I/O-SYSTEM 750. Featuring SDHC memory, the fan-less and battery-free controller is maintenance-free and extremely robust.
WAGO\'s PFC200 can be configured either via embedded Web server (Web-based Management), CODESYS programming environment (IEC 61131-3), or the configuration dialog (Linux console). No specific operating system knowledge is required. The new controller has two Ethernet ports and - depending on the model - features different communication interfaces: RS-232/RS-485, CAN, CANopen or Profibus DP Slave. The PFC200 supports DHCP, DNS, SNTP, FTP, TELNET, HTTP and Modbus TCP/UDP protocols for communication with higher-level systems. Furthermore, SSH and SSL/TLS protocols are provided as standard features, enabling secure connections via HTTPS or FTPS.


All WAGO PFC200 Controllers have two Ethernet ports and - depending on the model - feature different communication interfaces.
---
Modular safety control now with Ethernet interface

The modular safety control samos PRO from Wieland Electric (Hall 9, Stand C80) now can be integrated into higher-level control and automation systems. The gateways SP-EN-PN, SP-EN-IP and SP-EN-MOD support the corresponding Ethernet protocols Profinet, Ethernet/IP or Modbus/TCP and have an integrated switch for bidirectional data exchange. It is not only possible to make the process and diagnostics data from samos PRO available for a higher-level control, but also to have the commands from the higher-level system processed in the logic editor of the safety control.
The safety control samos PRO includes a CPU and is expanded by daisy-chaining modules and gateways on a TS35 mounting rail. The control can process up to 96 safe inputs and 48 safe outputs at a time. The expansion modules enable integration of various safety sensors such as emergency stop switch, safety switches and locks, light grids and locking facilities on protective doors, as well as contact-free safety switches and protection facilities such as laser scanners, camera systems, light curtains, etc. The short reaction and power-off times of only a few milliseconds make it possible to install the protection facilities close to the dangerous zones of a machine.


The safety control samos PRO can process up to 96 safe inputs and 48 safe outputs at a time.
---
Hannover beyond Messe
The city certainly doesn\'t have the glamour of Berlin, Hamburg or Munich, but for centuries it has stood at the forefront of German government and politics. Much of the historic city centre has been rebuilt due to war damage during World War II. If you want to know what the city looked like before, in the lobby of the Neue Rathaus are four scale models showing how Hannover changed since the middle ages. For the best panoramic view of the city today, just take the elevator up to the dome of the Neue Rathaus, where there are several viewing platforms. From here you will see a huge fountain, showing the way to the famous Royal Gardens of Herrenhausen.

Herrenhausen Gardens – a beautiful place to take a stroll
Herrenhausen Gardens
The Royal Herrenhausen Gardens are a unique ensemble of parks and gardens, whose history goes back to the year 1666. Criss-crossing its 50 hectares, geometrically precise paths lead to many charming features. Around the Great Parterre with its ornamental box hedges and flowerbeds you can admire baroque garden art, or wander among the orange trees in the Orangery Parterre. There are special thematic gardens that show the development of the garden arts through the centuries.

If you have done enough walking, you can take a refreshment in the Schlossküche Caférestaurant, set in the old kitchen garden of the palace. From here you have a view of the Grotto. Built in 1676, its three rooms were originally ornamented with shells, crystals and minerals to create a place of enchantment. However, the decorations were removed in the 18th century and for many years the building was used as a store. In 2003 the interior was refurbished with ornamentation to designs by the artist Niki de Saint Phalle, turning it into a walk-in work of art with brightly-coloured figures, dazzling glass mosaics and polished pebbles.
Hannover Trivia. Did you know that...
...Hannover born Georg Ludwig, as George I became King of Great Britain and Ireland in 1714.
...the local football team Hannover 96 won the German championship in 1938 and 1954, and the Cup in 1992.
...there is a flea market every Saturday at the Leibnizufer along the river Leine.
...the logo of the fair depicts Hermes, the Greek god of travellers and roads, patron saint of merchants and – thieves.
...When Niki De Saint Phalle\'s earth-mama sculptures were first installed in 1974, the city received over 20,000 letters of complaint.
...on the top floor of the Anzeiger Hochhaus is a pretty good arthouse cinema (Hochhaus Lichtspiele, Goseriede 9).

The all-wooden roof structure of the "Expo Dach" on the exhibition area between halls
Expo
The city was chosen as the site of Expo 2000. The national expo pavilions were erected on and around the fairground areas. Most of these buildings were demolished after the Expo, some were dismantled and found new use elsewhere. The pavillon of Buthan was sold to a Buddhist community in French Burgundy, the Icelandic pavillon was bought by Danfoss and moved to Denmark, and the Vatikan pavilion is now in Latvia.
One structure from the Expo that is still there is the huge wooden Expo-Dach (Expo-Roof). The 10 upturned umbrellas, over 20m high, each consist of a central four-legged tapering pylon of timber and steel supporting a 40x40m square crown, which is further divided into four identical square leaves. At the base of each pylon, steel feet are anchored in a 15m deep concrete ring foundation. The leaves of the crown are double curved surfaces made up of a skeletal net of laminated timber struts and clad in a weatherproof membrane. Precipitation is conducted to the centre of each umbrella, down a rainwater pipe in the centre of each pylon, and feeds into a grid of 5m wide canals on the piazza which complement the roof geometry. The illusion is of pontoons and pavilions, floating on water, under a substantial billowing cloud.
In the evening
What to do after a day at the Hannover Messe. Depending as to how your day went, here are some suggestions. If the day was successful, you have reason to celebrate (and the necessary budget) and are looking for some real fine dining, try the Titus (Wiehbergstr. 98). They describe themselves as cozy, classy, creative, contemporary. Gault Millau guide awarded the cuisine 17 points.

If on the other hand you had a terrible day, Harry\'s New-York Bar at the Arabella Sheraton (Pelikanplatz 31) can help you to forget what a bad place this world is.

One of Niki De Saint Phalle\'s "Nanas". Highly controversial when they were first in 1974, but today one of the city\'s most loved landmarks.
If you have seen more than enough industrial equipment and sales people, the Basil (Dragonerstraße 30, www.basil.de) is the place to go. Formerly a royal stable, this restaurant is now a place of top design, novel food and a colourful crowd.
If you have seen enough of the Industrial Ethernet Book staff at the show and don\'t want to run into us in the evening, avoid the Neue Zeiten (Jakobistraße 24, www.restaurantneuezeiten.de). A personal favourite of ours for its relaxed atmosphere and good food.
Finally, if you are young and hyperactive (or spent the day in bed and not at the show) and looking for action, you will find it at 3Raum (Ballhofstr. 5, 30161, www.3raum-ballhof.de). On weeknights its a bar and live music venue and on weekends DJ\'s fill the room with NuJazz and soul grooves