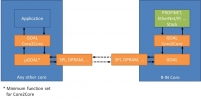 Middleware for IoT real-time communication
The new GOAL (Generic Open Abstraction Layer) middleware from port GmbH supports the popular industrial communication protocols PROFINET, EtherNet/IP, EtherCAT, POWERLINK and CANopen.
Dietmar Franke, CEO port GmbH, said: " We see many small- and mid-sized companies not being able to handle the effort and know-how requirement of IoT and Industrie 4.0. We want to enable such companies to access the market and to serve their customers. Our customers keep the focus on their core-competency, our GOAL middleware takes care of the communication."
GOAL offers a sophisticated "Network Management" with PHY management, Ethernet frame sending/receiving, switch management with CLI, interface management, IP address management, HTTP server and more. The integrated "Configuration Management" offers convenient configuration options like central management of configuration variables, variables identified by module and id, callbacks for value validation and when values change, or loading/saving of variables. Extensions, such as DLR, IEEE1588, RSTP, 802.x, Profibus DP are also available. All options are available for the Renesas MCU platforms RZN, RZT and RIN32M3.
www.port.de/en/products/applications/goal-rzn.html