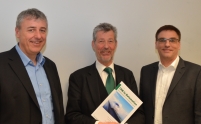 New CiA board-of-directors
At the annual CiA General Assembly, the members re-elected the three members of the board: Uwe Koppe (Technical Director), Christian Schlegel (Business Director), and Holger Zeltwanger (Managing Director).
In addition to the board-of-directors, the General Assembly elected the members of the CiA Technical Committee (TC) and of the CiA Business Committee (BC). Bosch, Emsa, Emtas, ESD Electronics, and HMS Networks are the elected members of the CiA Technical Committee. Additionally, the TC comprises representatives of the Interest Groups CANopen, CANopen FD, CAN layer-1/2, CiA profiles, security and safety as well as J1939 (commercial vehicles). The BC is build by representatives of the Marketing Groups Lift and CANopen FD as well as the elected members (Emtas, ESD Electronics, Janz Tec, Microcontrol, and Vector).
In the annual meeting the proposed budget for 2019 was accepted. This year, CiA will exhibit at Bauma, Interlift, and SPS (all in Germany) as well as at Itap (Singapore).
Photo: Christian Schlegel (HMS), Holger Zeltwanger, and Uwe Koppe (Microcontrol)