Running Gigabit Ethernet on legacy infrastructure
Legacy networks handling bandwidth intensive applications can get a performance boost by moving to Gigabit Ethernet (1000Base-T) technology running on Cat-5 and 5e copper cabling. Gigabit Ethernet may be able to deliver a network performance boost without a forced move to optical fibre. This paper was originally prepared jointly by Intel and Anixter in the Office Automation context, but has been revised for industrial Ethernet users.
Gigabit Ethernet standards have been ratified for a number of years and experience now shows that its use might not require the total rebuilding of an established infrastructure. Gigabit Ethernet over copper may provide a cost-effective route to faster network access. It should work seamlessly with existing networks and provide ten times the speed of 100Base-TX networks and may run satisfactorily over standard Cat-5 copper cable without major swap out of cable, connectors or adapters.
Back in 1998, the IEEE approved a Gigabit Ethernet standard over fibre-optic cable but implementing the necessary fibre-optics proved an expensive business. A year later, the IEEE rolled out 802.3ab which described Gigabit Ethernet over copper - essentially Cat-5 copper cabling, the most common medium then in use. Most networks can support Gigabit speeds over existing copper infrastructure, reducing (or eliminating) costs associated with running fibre-optic cable.
As speeds have increased over the years, cabling system performance criteria have correspondingly changed and incorporated in Cat- 5e and Cat-6. As originally written, Cat-5 did not address factors such as powersum crosstalk and return loss (echo) which are essential for 4- pair full-duplex operation used in GbE. The TIA/EIA S68-Addendum 5 was written to embrace these parameters. Thus Cat-5 installations should be tested for the added electrical parameters before attempting GbE upgrades although no action will be necessary in most cases.
Cat-5 and outside factors
Cat-5 systems were designed for applications using only two out of the four available cable pairs. The 1000Base-T standards call for all four pairs to be used concurrently, in which each employs a different transmission technique and calls for a 250Mbps bit rate to be applied bi-directionally on each of the four pairs in full duplex.
Cat-5e installations provide better electrical performance than Cat- 5: The additional headroom or signal margin provided by the later standard may ensure a more effective Gigabit Ethernet deployment.
Environmental factors can also influence a cabling system's ability to support Gigabit Ethernet networks. Heat, humidity and installation method can directly affect the way in which the cabling system will transport data at Gigabit speeds Higher performing cabling systems have a greater degree of headroom and are more forgiving in non-ideal, real-world installations. EIA/TIA 568 specifies that temperature should not exceed 60°C; however, it is frequently the case that these temperatures are exceeded. Cat-6 compliance improves further on the cable's ability to cope with elevated temperature and humidity.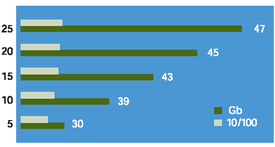 End-to-end Gigabit delivers: Tests found that GbE produced a 47% improvement over 100/10 network response time when accessing Microsoft SQL database records and a 40% response time improvement in executing common MS Office tasks (Source CSA Research/InfoWorld)
Cat-6 is the ideal cabling system for new installations since it provides twice the headroom of Cat-5e resulting in a usable bandwidth of more than double (250MHz vs 100MHz). It is of course the first line choice for new 1000Base-TX installations with its promise of network future proofing. It also adds a safety margin for non-ideal network installations and other unforeseen environmental factors leading to marked increases in productivity.
Legacy and Gigabit Ethernet v There are a number of logical testing steps which should be undertaken in advance of a full GbE makeover on a Cat-5 legacy system. The first of these is to test the integrity of the cabling system for compliance with the TIA/EIA 568-B.1. This establishes support for 4-pair, full-duplex, bi-directional transmission (used for GbE) over unshielded twisted-pair cabling. Additional test parameters such as equal-level far-end crosstalk (ELFEXT), cabling return loss, and powersum characterisation should also be tested for. Testing should be done using a TIA/EIA 568-B.2-compliant LAN cable field tester. Common problems areas include the existing patch panel, work-area outlets, and patch cords which may need replacement with Cat-5e or Cat-6 compliant components.
The next step involves setting up a GbE server connection with high bandwidth, non-blocking Gigabit server links on the backbone Gigabit switch, replacing any switches and routers in the test path not specified for 1000Base-TX operation.
While Cat-5 will, in most instances, support Gigabit Ethernet, one should look beyond the 'link established' light to examine how the cabling system effects frame errors and resultant re-transmissions. Higher bandwidth systems like Cat-6 may provide noticeable improvement over lower performing cabling systems. Under worst-case environmental and network conditions, transferring Fast or GbE traffic on a Cat-6 system will take less time and result in fewer re-transmissions than passing that same traffic on a Cat-5 system even though both will support Gigabit Ethernet.
When migrating to Gigabit Ethernet in existing installations, testing should be done to determine if the infrastructure can support the application - and in most cases it will. When implementing into a new facility a minimum of Cat-5e should be used and, ideally, Cat-6 products should be first choice.
Active Data Headroom

Cabling System

Typical* Frame Errors
Percent of Errors
Improvement over Cat-5
Cat-5
200,000
5.0%
 
Cat-5e
100,000
3.5%
50%
Cat-6
17,000
0.4%
92%
*These Frame error rates represent the transfer of 1 million 1518-byte packets over a 100BASE-T Link using a marginal Ethernet adapter and switch port.
Source: Anixter Levels Lab
www.intel.com/network
www.anixter.com