SPS IPC Drives 2012 Show Report

Factory automation and network technology in Nuremberg
SPS IPC Drives 2012 (or sps ipc drives as the show logo says since this year) was again confirming the show's position as not only a major German, but a truly international event. Of the 1,458 exhibitors in twelve halls close to 400 were international companies. 56,874 visitors (a good 20% of them from outside Germany) came to the exhibition, and 386 people attended the conference.
No wonder that the exhibitors were extremely pleased with the results. Heinz Eisenbeiss, Director Marketing & Promotion, Siemens AG Industry Sector, Industry Automation Division, said: "For us, SPS IPC Drives 2012 has been the best exhibition for a long time. Conversations are highly professional, targeted and of top quality. The show is growing more and more international every year and will continue to offer us the chance to reach even more customers in the future. SPS IPC Drives is simply the most important trade fair for us."

Related stories





SPS/IPC/Drives 2012: The exhibition covered 12 large halls and had nearly 57,000 visitors.
See more impressions from the show in our photo album on facebook
Conference
With 48 presentations, two keynote speeches, three tutorials and a trend session on "Sustainable Automation", the conference provided a comprehensive overview of the industry. The SPS IPC Drives conference is a platform for the dialogue between research, product development and application to educate users about the best available technologies in factory automation and their applications in practice.
Dr. Thomas Störtkuhl and Roland Fiat of TÜV SÜD AG, Embedded Systems, presented a paper "Digital identities – the basis of industrial IT security" which inspired some lively discussions. Cloud computing was another hot topic and Prof. Dr.-Ing. Reinhard Langmann of the University Düsseldorf gave a comprehensive otlook with his presentation "Automation Services from the Cloud – New Trends in Process Control Technology". We are glad that we have achieved permission to publish both papers in an upcoming issue of Industrial Ethernet Book.
Exhibitors
'Advances in open industrial communications' is what visitors saw at the CLPA (CC-Link Partners Association) booth. These included a new Field Programmable Gate Array (FPGA) solution and the launch of CC-Link Energy. CLPA also informed about details of the Gateway to China business development program and displays showed how CC-Link is being used in vertical industries such as food and beverage, consumer packaged goods and water.


John Browett, CLPA: CC-Link and CC-Link IE are the most widely used networks in Asia

John Browett, General Manager CLPA Europe, is enthusiastic about FPGAs (Field Programmable Gate Arrays) that can be configured by users 'in the field', rather than during their manufactur): "FPGA could be a game changer in industrial communications. It opens up many new possibilities and gives users considerable power over their own destiny." He also said that with energy prices rising most organizations consider energy management to be a key concern, "A modern energy management system collects data from every point of usage, so a communications network is vital. CC-Link Energy does this very efficiently and aids converting the raw data into clear concise reports.CC-Link's ability to automatically reconfigure its network is also very useful when energy managers adapt or update their equipment."
Sercos International showed the first demonstration systems that utilize the blended infrastructure approach of Sercos III and EtherNet/IP. The demo included various Sercos III and EtherNet/IP devices connected to controller prototypes from Bosch Rexroth and Schneider Electric using a common Ethernet infrastructure on a single cable.
"We are convinced that today's great variety of automation technology requires a new conceptual approach to simplify integration of machinery in manufacturing," said Peter Lutz, Managing Director of Sercos International. "A common network infrastructure enables machine builders and users to reduce the cost and complexity of machine integration while retaining the ability to utilize their preferred product suppliers and automation devices."
Live demonstration of energy saving with Profienergy. PI (Profibus/Profinet) used a new model to demonstrate the efficient mechanisms for energy saving with Profienergy at its booth. A significant amount of energy is still being wasted during production-free periods. Use of the Profienergy energy saving profile provides a way to stop wasting this energy. This was demonstrated by an easy-to-understand application in which a robot guided a marionette within a robot cell. The puppet acted out the possible plant states (operation, fault, brief pause, long pause) using various scenes. The robot cell controller shut down the robot and other stations accordingly via Profienergy commands. Measurement devices showed the resulting savings.
Siemens Industry Automation is playing at home (the division is based in Nuremberg), and they always have the biggest and busiest stand at the show. This year's motto was "Connecting productivity and efficiency" so network technology played a major role. "Energy efficiency – For your bottom line and for the environment" was another highlights of the stand, where Siemens demonstrated the benefits of the ProfiEnergy protocol. (see also: Ethernet-enabled energy optimisation is rolling out). The stand also covered the topic of support for the automation and drive technology. An integral part of this is the Simatic Remote Support Services - support based on secure Internet connections and IT structures that enables users to solve many problems a lot faster.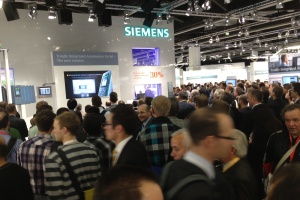 The huge Siemens stand was packed with visitors on all three days


Together with 58 co-exhibitors, the Ethercat Technology Group (ETG) displayed about 360 Ethercat products at its joint booth. The ETG booth offered members a platform to present their latest Ethercat products, services and expertise in one place. "With about 80 new components and automation solutions from our members we were once again able to extend the presence of Ethercat at this important trade show in 2012," explained Oliver Fels, who works in the technology marketing team at the ETG.
The products and solutions, which were shown at this year's SPS IPC Drives show, range from drive technologies and controls to I/O systems, gateways, sensors and actuators up to the 12.5 µs cycle time demo, which already impressed visitors at this year's Hanover Fair. Furthermore, visitors had the chance to test EtherCAT masters, configuration tools and development products in hands-on demos.
'Safety meets Ex i' was one of the displays om the stand of Wago. A new 4-channel digital input module integrates functional safety and intrinsic safety into one single I/O module of the Wago-I/O-system 750. The 750-663 for PROFIsafe applications is used when safety of personnel is called for in hazardous Zones 0 and 1. This 4-channel digital module is installed in the Wago-I/O-system 750 together with the classic automation components in Zone 2. The four intrinsically safe inputs with functional safety can be used for safety functions up to "SIL 3" and "Cat. 4 PLe."
Another addition to the Wago-I/O-system 750 is the new CAN I/O Module that supports CAN Layer .: This module can be integrated into a CANopen, an SAE-J1939 or a DeviceNet network, with protocol-specific functions being implemented using an application program. It also offers a wide range of controllers and couplers for nearly any fieldbus at the automation level. The 750-658 CAN I/O Module adjusts to baud rates between 20 kbit/s to 1 Mbit/s using automatic bit rate detection.
A selection of devices designed to seamlessly integrate Profibus/Profinet factory automation networks were on display on the Moxa stand. These solutions, including EDS-405A/408A-PN Profinet switches, MGate 5102-PBM-PN Profibus-to-Profinet gateways, ICF-1280I Profibus-to-fiber converters, provide interoperable communication between SCADA systems, PLCs, and Profibus/Profinet field devices. Automated I/O scan of Profibus devices and effortless configuration of Profinet switches/gateways eliminate the complexities of traditional Profibus/Profinet integration to minimize deployment time.
"These devices are not only Profinet-compliant to ensure total compatibility and interoperability with other industry equipment, our Profinet switches, Profibus-to-Profinet gateways, and Profibus-to-fiber converters are what factory operators need to quickly deploy and converge their automation networks." said Gary Chang, product manager at Moxa's Industrial Ethernet Division.
Beckhoff showed a number of new products, including the EK1960 TwinSAFE Controller, which integrates a complete safety controller in a 122 x 101 mm housing. It combines an EtherCAT Coupler, TwinSAFE PLC, 20 digital inputs and 10 digital outputs. Primarily designed for applications with a small and medium scope of safety, the EK1960 can be used as an autonomous controller or as a decentralised controller. Further EtherCAT Terminals (for safety as well as standard versions) can be added flexibly via the integrated E-bus interface. Also very compact are the servo terminals of the EL7201 series for the EtherCAT I/O system, that integrate a complete servo amplifier for motors up to 200 W in a standard HD terminal housing. The new EL7201-0010 version supports the 'One Cable Technology' (OCT) equipped on the AM8000 servomotor series instead of the traditional resolver interface. OCT combines power and feedback signals in one standard motor cable. In addition to solutions for stepper and DC motors, the servo terminals are also designed for highly dynamic servo positioning tasks thanks to integrated, fast control technology. Thanks to the integration of EtherCAT users benefit from short cycle times, low jitter and simple diagnostics.
B&R Automation needed a stand of almost 1,000 squaremeters to display their entire product range. New developments included processor redundancy in the B&R X20 system, providing a cost-effective failsafe solution using B&R's Powerlink real-time fieldbus. The ACOPOSmulti65m motor-mounted servo drive integrates with the motor to form a configurable and easy-to-connect mechatronic servo drive unit. It icludes safe motion functions and openSAFETY to deliver power right where it is needed on the machine. The idea behind it is to save valuable space in the control cabinet and, even more importantly, advance the development of decentralized machine architectures.
Reducing energy consumption has become a very important topic and B&R has introduced an all-new energy monitoring solution – APROL EnMon. Helping users to implement ISO 5000, it provides improved energy efficiency, which means reduced costs and increased competitiveness. In stand-alone operation or integrated in an existing APROL process control system, this solution supports a process of continual improvement by measuring and evaluating all relevant energy consumption data.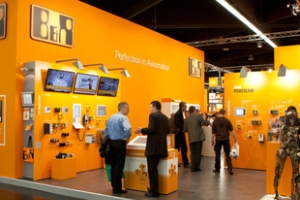 1,000 squaremeters of automation products: B&R

With the acquisition of N-Tron and Sixnet Red Lion has become a company that offers a full portfolio of industrial network solutions. We took the opportunity to speak with Mike Granby, President of Red Lion, about the future direction of the company. He said: "Our promise is simply that we shall become a better company, and not just a bigger one. We recognize that the customer is what matters, and that any merger only makes sense if it is able to put better solutions and better products in their hands.. Read the full interview here.

---
Live News
---
SPS/IPC/Drives Product Highlights
Here are some of the new products and solutions introduced at SPS IPCDrives 2012.
Modular system for mobile automation

With their MA120 and MA170 modular control and I/O systems, B&R (Hall 7, Stand 206) aims to set new standards in mobile automation. The modular approach makes it possible for excavator and firetruck manufacturers to tailor control and I/O systems to their individual requirements. Customers can put together modules as their requirements demand. This is not limited to the number of I/O channels or the CPU to be used, but engineers can also choose between the CAN bus and Ethernet Powerlink communication protocols. All of the programming is handled in the Automation Studio software development environment, which is claimed to eliminate interface problems between hardware and software components. Depending on customer requirements, the devices come equipped with up to either IP67 or IP69k protection.


Each MA170 device allows 44 I/O channels to be set up as needed – if more channels are required, it's just a question of adding more modules.
---
Increased network visibility and simplified integration

Comtrol's (Hall 6, Stand 6-210) new IO-Link Master EIP-4 is featured in a demo displaying it's functionality. The IO-Link Master EIP-4 combines the benefits of the IO-Link standard with the EtherNet/IP and Modbus TCP protocols. The IO-Link Master effectively shields PLC programmers from the IO-Link complexities by handling those complexities itself. The result is simplified EtherNet/IP and Modbus TCP interfaces, which decrease system development time and installation efforts. The IO-Link Master features a rugged IP67 slim-line design incorporating two Fast Ethernet ports and four IO-Link ports with M12 connectors. Designed for harsh environments, its machine-mount design uses industrial grade components. The IO-Link Master is easily integrated into a system network, and is compatible with existing and new industrial Ethernet installations.


The IO-Link Master EIP-4 allows to simultaneously connect EtherNet/IP and Modbus TCP based controllers to IO-Link devices.
---
BACnet gateway

The recently released BASgatewayLX from Contemporary Controls (Hall 10, Stand 10-141) is designed for systems integrators and features pre-defined energy meter device profiles. In Firmware release 1.1.6 the data point group read has been expanded from 32 consecutive points to 125 consecutive points. This large group size allows reading sequential data points in the most efficient manner, providing quick variable update. The Modbus TCP routing function has been improved so that it interacts gracefully with the serial polling routines of the configured devices in the BASgatewayLX. The Modbus TCP communication request is now interrupt driven allowing the request to be entered into the serial poll queue as soon as it is received.


The BASgatewayLX features an enhanced modbus to BACnet gateway and more device profiles.
---
Profinet and SmartWire-DT

Eaton Corporation is presenting the new EU5C-SWD-Profinet gateway. It is the first result of a cooperation with Hilscher, Gesellschaft für Systemautomation. Hans-Jürgen Hilscher said: "Our netX technology enables the SmartWirte-DT wiring and communication level to be connected easily to the conventional fieldbuses and the real-time Ethernet systems. This opens the way for the widespread use of SmartWire-DT in automation applications."
The EU5C-SWD-Profinet gateway features a 100 MBit Ethernet switch for creating simple linear topologies and with Conformance Class B meets the requirements of the automotive industry. The gateway automatically addresses all slaves on the connected SmartWire-DT network during the startup phase. 99 slaves can be operated with each gateway. On the Profinet side, the gateway represents a modular Profinet I/O device and maps the slaves as modules and the data transparently in Profinet. Up to 1000 bytes of I/O data can be transferred cyclically.


AThe EU5C-SWD-Profinet gateway features a 100 MBit Ethernet switch for creating simple linear topologies.
---
Optical bypass for network redundancy

eks Engel (Hall 9, Stand 9-401) presents x-light, an optical bypass that supports all Ethernet based protocols as well as all fieldbusses and various interfaces such as RS485. The device has two duplex inputs and outputs for different types of fibers and connectors. In case of failures, it ensures the permanent data transmission in bus or line topologies. Thanks to an optical relay, the signals at the input in question are not transmitted to the corresponding output but to the second input so that the data communication is still working even in case of multiple points of failure.


An optical bypass ensures network reliability despite multiple points of failure.
---
Decentralized I/O system

Systeme Helmholz showed an open decentralized I/O system, the TB20. With its decentralized modules, the components are smaller as a whole and, therefore, save space. Even the task of wiring everything together is significantly reduced. In addition, a single I/O system will suffice even in the case of different PLC systems. The TB20, extends the range of Helmolz's technically-consistent solutions into decentralized I/O systems. Currently available with bus couplers for Profibus and CANopen with analog or digital inputs and outputs, the portfolio will be successively expanded to encompass products for all common fieldbusses - e.g. Profinet, EtherCat, Modbus TCP, DeviceNet and Ethernet/IP. The power module is integrated in the bus coupler, and up to 64 modules can be connected per bus coupler. The modules are made up of three parts: the basic module can be simply snapped onto the rail. The electronic module and the front connector are then clipped on using a locking mechanism. The TB20 System is scalable and offers modules for two, four, eight and 16 channels, The hot-plug capability means that individual modules can be removed from the overall system while leaving the remaining parts still running. This capability to partially shutdown the system also simplifies root-cause testing in the case of faults.


The decentralized I/O system TB20 is available with modules for all common fieldbusses
---
Optical bypass for network redundancy

The fido2100 is part of the Innovasic (Hall 6, Stand 6-210) fido family of real-time communication products. The fido2100 is a managed, 3-port Ethernet switch with support for Device Level Ring (DLR) protocol and IEEE-1588. The fido2100 supports Innovasic's line of Industrial Ethernet products by providing an infrastructure element with low latency, time synchronization and redundancy for any embedded Industrial Ethernet solution. The fido2100 is an IEEE 802.3 standard compliant, Layer 2 switch that is compatible with the IEEE 802.1D standard. It has three ports: two are external ports that function as physical ports of a product and one is an internal port that connects to the host CPU. Each of the three ports has an IEEE 802.3 compliant MAC and the ports are interconnected with each other through full wire speed, non-blocking switching logic.


The fido2100 Ethernet switch is a 3-port device. One port connects to a communication controller, and the other two ports connect to an EtherNet/IP network.
---
Security Appliance

The Lucom (Hall 6, Stand 6-430) Minicluster is the "little brother" of the VPN service portal Digicluster. At the Minicluster the VPN portal is installed on a small, low-power hardware and is ready to use out of the box. It is possible to connect individual machines, systems, control centers, and smartphones flexibly to each other and also to connect complete network structures. The router is connected via VPN to Minicluster, the number of VPN tunnels is limited to a maximum of 100. Via 1:1 NAT it is possible to create multiple connections between identical machines and systems which are using the same IP address range. Strong certificate-based encryptions protect the access rights of all users and provides safe communication between the systems.


The Minicluster is developed for use in an in-house-data-center without lengthy installation.
---
Easy connection between Profibus and Profinet

Moxa´s (Hall 9, Stand 9-221) new gateway MGate 5102-PBM-PN connects Profibus devices with Profinet and enables an easy entry into the Profinet technology. It allows users to use their legacy Profibus components and secure the investment. Migration to Profinet can be effected easily and with minimal risk. Configuration of MGate 5102-PBM-PN is handled by Moxa´s MGate Manager, a windows-based utility that supports AutoConfiguration, QuickLink and other useful functions, including AutoScan which facilitates the configuration of all Profibus slaves and I/O modules and reduces configuration time to just a few minutes. The robust and compact gateways are available with extended operating temperature from -40° to +75°C, and they offer redundant power supplies. Remote diagnostics are possible via web/ telnet, and HTTPS and SSL prevent unauthorized access.


The MGate 5102-PBM-PN ia available with extended operating temperature from -40° to +75°C
---
Compact controller with embedded Ethernet

A new version of the Omron (Hall 9, Stand 9-350) CP1L compact PLC, offers flexible Ethernet communications as standard. As a result this enhanced version of the CP1L meets today's machine control requirements for compact PLCs that are able to connect seamlessly with a wide variety of sensors and position control devices, as well as providing facilities for remote access, monitoring and data logging. The embedded Ethernet port on the CP1L can be used both for programming and communications. Socket services supports standard Ethernet protocols including UDP, TCP and Modbus/TCP. In addition, the CP1L supports the Omron FINS Ethernet protocol for simple connection to other PLCs and HMIs.
Three Ethernet enabled versions of the CP1L are available, offering 20, 30 or 40 I/O points, expandable to 160 I/O points. These new versions of the CP1L also include two 0-10V analogue inputs as standard. Where more analogue I/O is required, the CP1L can be expanded with new optional boards to add two further inputs, two further outputs, or both two inputs and two outputs.


The Omron CP1L compact PLC offers Ethernet communications as standard.
---
High performance switches for transportation surveillance applications

New N-Tron 716M12 and Sixnet SLX-5EG, SLX-3EG and SLX-3ES switches and media converters from Red Lion Controls (Hall 8, Stand 512) provide high performance in a rugged package to meet networking requirements for industrial applications such as transportation and video surveillance. The Red Lion N-Tron 716M12 managed switches deliver 16 Ethernet ports with M12 connectors in a rugged IP67 enclosure, suitable for military, power substation, transportation and other outdoor applications that experience exposure to liquids and excessive dirt and dust. The Red Lion Sixnet SLX-5E-1 offers 5 Gigabit copper ports with 802.3af Power over Ethernet (PoE) available on 4 ports while the SLX-5E-2SFP delivers 3 Gigabit 10/100/1000 PoE and 2 Gigabit SFP ports. The Red Lion Sixnet SLX-3EG is a rugged 3 port Gigabit industrial Ethernet media converter that provides flexibility and fast performance in industrial settings. For additional connectivity options, Red Lion also offers SLX-3ES Ethernet copper-to-fiber media converters.


The 716M12 switch has UL approval for use in Class 1, Div. 2 hazardous locations and the EN50155 certification for railway applications.
---
Low-power Industrial Ethernet communication chips

Renesas Electronics (Hall 6, Stand 234) introduces the R-IN32M3 series of industrial Ethernet communication chips with support for multiple communication protocols. One of the distinctive features of the R-IN32M3 is the high-speed operation with the basic function of the real-time OS in hardware to implement high-speed real-time response and high-precision communication control for industrial Ethernet communication. Because the hardware in the new R-IN32M3 series covers heavy load operations for the CPU, the combination of the CPU and integrated real-time OS offload engine result in ultra-high-speed real-time responsiveness, claimed to be five to ten times that of a conventional software real-time OS.
The R-IN32M3-CL integrates a slave controller supporting CC-Link IE Field as a circuit. The R-IN32M3-EC, on the other hand, integrates a slave controller supporting the EtherCAT industrial Ethernet communication standard. Both feature an ARM Cortex-M3 (100 MHz) 32-bit RISC CPU, a media access control (MAC) with low-latency 2-port switch function required by industrial Ethernet protocols, and large on-chip memory. Support by protocol software for EtherNet/IP, FL-net and some others are under final preparation.


The Renesas R-IN32M3 series includes support for multiple protocols required for Industrial Ethernet communication including CC-Link IE and EtherCAT.
---
Tweeting machines

The Dataeagle DE 7000 from Schildknecht (Hall 6, Stand 6-337) allows to connect automation systems to GPRS. An ARM processor with embedded Linux handles drivers, digital and analog inputs, fieldbus interfaces and the connection o the cell phone network. Users only have to add a SIM card to send the data via GPRS to a cloud server. As the system uses the data service only, cost-effective data flat rate SIM cards from discount providers can be used.


The Dataeagle DE 7000 allows to use two different SIM cards for a redundant GPRS connection
---
Redundancy solution for Ethernet ring topologies

The new Scalance X-200RNA (Redundant Network Access) network access points from Siemens (Hall 2, Stand 201) are designed for all applications and industries in which network connection with a high level of availability is required. Alongside a version for parallel PRP networks, a version for ring HSR network topologies is now also available. The Scalance X-200RNA access points for PRP networks connect up to two network segments or data terminals with no PRP functionality without delay over two parallel networks. In ring network topologies, the HSR technique permits seamless data transmission to be achieved for high-availability systems, for example in process automation applications.


Siemens offers the new access point Scalance X204RNA EEC in a metal enclosure with two electric ports and two electric/optical combined ports for SFP transceivers.
---
Lightweight mobile HMI

The HBG 0811 handheld panel from Sigmatek (Hall 7, Stand 370) weighs 950 g and features the operating system-independent "HMI-Link" technology, which allows to make all connections (display, USB, power, Safety) over a single cable solution for distances up to 100 meters. The 8.4" touch screen with LED backlight and SVGA resolution (800 x 600 pixel) allows to implement even complex visualization tasks. The ergonomically grip of the HGB 0811 is designed to provide high operating comfort for both right and left-handers.
The handheld panel integrates all safety-relevant elements such as a three-stage confirmation button, emergency stop as well as a key switch. Peripheral devices can be connected through the USB2.0 interface. Screw technology allows the oil and chemical-resistant cable to be exchanged without tools.


The handheld panel from Sigmatek with "HMI-Link" technology allows distances up to 100 m.
---
echocollect V7.01 with new protocoll features

Softing (Hall 7, Stand 580) presents version V7.01 of echocollect, which allows reliable data integration in quality assurance- and management systems of existing and new facilities and supports controller systems of more than 50 manufacturers. In version V7.01, DF1 protocol support for Rockwell systems was implemented and the existing ControlLogix protocol was extended. Symbolic information can now be filtered, resulting in a gain in performance. Furthermore, echocollect V7.01 supports the new Rockwell CPUs of the 1756-L7x series. Other new features include support for the latest version 11 of Oracle databases and the possibility of importing symbol tables, which simplifies the configuration of SIMATIC S7 control systems.


echocollect V7.01 features a buffer memory for OPC traffic to prevent loss of data in the event of disconnection.
---
Active passive junction boxes

Turck (Hall 7, Stand 7-351) has extended its range of passive junction boxes with two active IO-Link variants. The IO-Link junction boxes combine 16 switching status elements in a 16-bit IO-Link signal, thus bringing 16 switching signals from the machine to the control cabinet via a single standard cable. Instead of assigning each signal to the individual wire of an M23 master cable, terminating and routing them into the control cabinet with expensive multipole cables, the IO-Link junction box only requires a single standard M12 cable. The signals can come for example from proximity switches, pushbutton actuators, optical switches or also temperature sensors with a switch output.


IO-Link junction boxes can route a large number of signals from the machine to the control cabinet.
---
CAN for flexible integration

The new CAN I/O Module from Wago (Hall 7, Stand 7-130) supports CAN Layer 2, making it flexible at the field level: This module can be integrated into a CANopen, an SAE-J1939 or a DeviceNet network, with protocol-specific functions being implemented using an application program. The Wago-I/O-System 750 also offers a wide range of controllers and couplers for nearly any fieldbus at the automation level. The 750-658 CAN I/O Module adjusts to baud rates between 20 kbit/s to 1 Mbit/s using automatic bit rate detection (Auto Baud). Users can operate the CAN I/O Module in three modes: In the sniffer mode the module performs a detailed analysis of the unaffected CAN bus through passive "snooping," whereas in the transparent mode it becomes an active CAN subscriber that can send and receive CAN telegrams. In the third operating mode, the mapped mode, the module is able to generate CAN telegrams directly from the process map, or to selectively copy process values from received telegrams into the input process map. Transmitting of values here can be selected to take place in cycles, on manual commands or when the process value changes.


An interface just 12 mm wide: The 750-658 I/O Module links CANopen, SAE J1939 and DeviceNet to the fieldbus of choice.
---
Nuremberg after the trade show
A day at the trade show makes you hungry and Nuremberg is famous for pork, dumplings and beer. I am myself not a big fan of the quite heavy local cuisine, but I learned on tripadvisor.com that the Schäufelewärtschaft is the best place in town for traditional food (33 'excellent' out of 47 reviews).
If you prefer light, mediterranean food you may want to check out the Estragon. Their menu isn't extensive but the dishes are fresh and done really well.
And if your day at the show was really, really good and you have something to celebrate (and lots of money to spend) Essigbrätlein is the place. Andree Köthe was voted 'Chef of the year' 2012 by the Gault-Millau guide, so you can expect a 5-star dining experience.
After dinner
If you like to round off your dinner with a nice glass of Whisky, you will feel at home at the Gelbes Haus. Not just a cosy little bar, but also the home of Nuremberg's Whisky club "The Most Venerable Order of the Highland Circle".
Another alternative is the hotel Le Meridien's Atelierbar. Art deco flair and live Jazz music on Thursdays.
The Cubus offers some latin flavour. It is run by Andy Diez Rodriguez who came from Cuba to Nuremberg ten years ago.