PROFINET solution platform for process automation: part 1
Process automation places additional demands, compared to factory automation, on the use of communications technology. This article is the first installment of a technical discussion of how PROFINET technology can address the complexities of process control applications.
PROFINET AS A SOLUTION PLATFORM for process automation provides all the technology and tools required by process industries to fulfill the need for integrated automation of plants and effective networking based on the use of Industrial Ethernet technology. The major first step is the application PROFINET in new process automation plants and new plant sections with tools for integration of the installed base of 4...20 mA, PROFIBUS PA, and other bus systems.
Communication structure of a plant with PROFIBUS DP and PROFIBUS PA.
Technologies for a horizontally and vertically integrated PROFINET automation solution for process technology will be developed in the near future. Both steps will contribute to improving the efficiency of companies and their competitive position in the application environments created by Industry 4.0 and the Industrial Internet of Things.
Process automation, compared to factory automation, places additional demands on the use of communication technology. Plants usually extend over wide areas and have a lifespan of 15-40 years. These plants also often consist of continuous production processes where interruption or disturbance can pose a serious hazard for people and the environment.
An unplanned stoppage can also mean a large financial loss. Plant owners want to achieve an integrated data and information flow both horizontally and vertically. This yields clear specifications and requirements for the communication technology.
PROFINET & PROFIBUS PA.
Process industry requirements
Installation technology and field devices can be handled easily and by skilled staff
Application in hazardous areas, including intrinsically safe ignition protection
Long cable distances (up to 1,000 m)
Flexible topology design
Robust connection technology
Redundancy concepts for critical components
The communication interface is to be standardized in order to ensure the smooth interaction of components of different manufacturers. The communication interface and the systems for engineering, asset management, and plant control should have the following properties:
Maximum reliability and availability
Disturbance-free configuration during plant operation
Easy handling, for device replacement
Investment protection for existing plants, including changes of the process control technology
Suitable for large quantity structures of 10,000 or more devices
A particular expectation of the chemical industry was addressed in a keynote speech at the 2014 NAMUR General Meeting: the merging of automation technology with the IT world, with the goal of protecting the competitive capability of chemical companies into the future. Together with the large plants in the chemical, petrochemical, and oil & gas industries, there are industry sectors with clearly lower requirements for, e.g., cable distances and explosion protection.
PI defines the underlying technology for all listed requirements. The following sections provide an overview, starting from the current status of today′s available technology and products, continuing with specifications already being implemented or about to be implemented and ending with planned further improvements. The further development of existing specifications and new definitions of technologies take aim at requirements that must be fulfilled in the future. The open and fact-based discussion in the PI committees leads to vendor-neutral, well-defined solutions for a heterogeneous process landscape.
PROFIBUS PA fieldbus
PROFIBUS PA is the fieldbus that enables long cable distances and explosion protection for the harsh environments of process automation and offers complete digital integration of field instrumentation in control and asset management systems. The connection is made using a link/coupler typically via PROFIBUS DP.
The user benefits of PROFIBUS PA result from use of digital instead of analog communication with many positive consequences, a simple validation of intrinsically safe ignition protection (FISCO Model), and the properties of the PA 3.02 device profile tailored specifically to process industry needs.
The fieldbus combination "PROFIBUS DP with connected PA segment" is found in many installations worldwide, where it proves itself as both a high-performance and stable solution. Specifications and guidelines such as the proven PA 3.02 device profile provide the needed standardization, while the many field devices from various manufacturers provide users with a great deal of choice when selecting instrumentation for their plants.
To date, some requirements have not been tackled, especially in connection with device replacement and device integration. There used to be a need regarding excessive time expenditure and reliability of handling and an uneasiness about the existence of two very different integration technologies, which caused significant effort for users and manufacturers alike. Version 3.02 of the PA profile standardizes the compatibility of devices so that device replacement is possible independent of manufacturer and software version. The duplication of integration tools will soon end with the newly completed joint industry standard FDI (Field Device Integration) that also supports PROFIBUS PA.
PROFIBUS PA provides benefits in all stages of the life cycle of a process plant; from plant planning and construction as well as for installation, operation, and maintenance of the plant. PROFIBUS PA generates these benefits through automatic documentation and a shortened and effective loop check, reduced installation effort, easy proof of intrinsic safety for operation in hazardous areas, requirement-oriented maintenance, easy device replacement, etc.
PI sees PROFIBUS PA as an up-to-date key technology for the digitalization of field communication. Proxy specifications are well defined to implement the integration of current and future installations on PROFINET-based environments. This technology, optimally and transparently designed for engineering and operation, enables the migration strategies needed for the longevity of a process plant.
PROFINET in process automation
Applications with PROFINET already exist today, especially in areas in which PROFIBUS DP was previously used, and remote I/O or motor management systems were connected. However, this use case is subject to limitations because PROFINET functions such as "System Redundancy" and "Configuration in Run" are not yet implemented in all products.
PROFINET devices such as Remote I/O and Motor Control Center (MCC), PROFIBUS PA field devices for explosion-proof applications can be integrated in PROFINET using a proxy. A switch connects PROFINET field devices for applications without requirements for explosion protection, optionally supplied via Power over Ethernet (PoE).
PROFINET technologies important to process automation and field devices are: network configuration, connection technology, network diagnostics, topology display, detection of neighboring devices, device replacement and diagnostics. These functions enable automatic address configuration during device replacement, and display of a plant which can be used to ensure that a replacement device was connected at the correct port. The replacement receives the same name and parameters as the replaced device.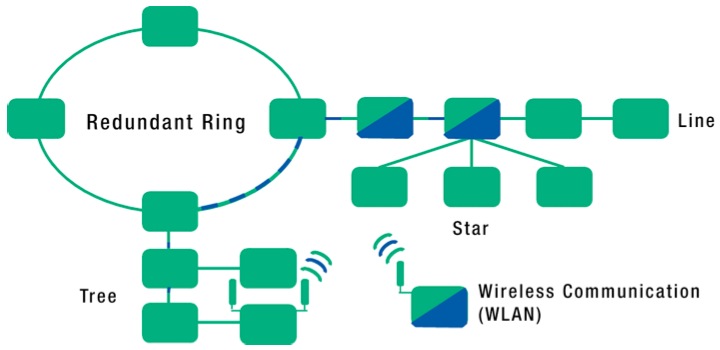 Flexible network configuration of PROFINET.
Network installation and diagnostics
Maximum reliability and system availability is a basic requirement for use of communication technologies in process automation plants. This also applies to PROFINET and its connection technology. The network configuration of PROFINET can be designed flexibly, and optimally reflects the plant conditions. The following topologies are supported:
Line topology connects field devices with integrated switches in the field
Star topology with a central switch located in the control cabinet
Ring topology, primarily for implementation of media redundancy
Tree topology, in which the topologies listed above are combined
Today′s defined and utilized connection technology meets the requirements for wiring these switching techniques.
The connection of PROFINET devices is carried out exclusively using switches as network components, which are often already integrated in the device. PROFINET-suitable switches must support bot "Auto-Negotiation" and "Auto crossover" functions. As a result, communication can be established autonomously, and the physical cable designs are uniform. The nodes (devices and switches) are connected by copper cable up to a distance of 100 m. For longer transmission distances, fiber-optic cables are used.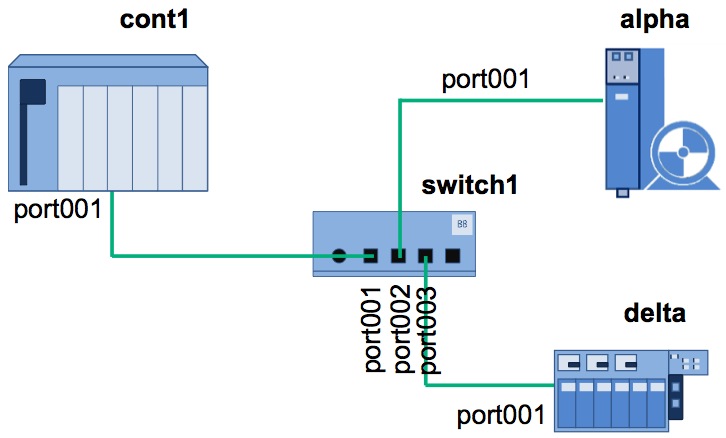 PROFINET field devices know their neighbors.
Network management
In IT networks, the SNMP (Simple Network Management Protocol) has established itself as the de facto standard for maintenance and monitoring of network components and their functions. For diagnostic purposes, this protocol can read-access network components, in order to read out statistical data pertaining to the network as well as port-specific data and information for neighborhood detection. SNMP must be implemented for devices of Conformance Classes B and C.
Network diagnostics
PROFINET field devices use the LLDP (Link Layer Discovery Protocol) according to IEEE 802.1AB to exchange the available addressing information via each port. This allows the respective port neighbor to be explicitly identified and the physical structure of the network to be determined.
With this neighbor detection, a preset/ actual comparison of the topology is possible and changes of the topology during operation can be recognized immediately. This is also the basis for the automatic naming during device replacement. The collection of the information obtained via neighborhood detection using the SNMP protocol enables a graphical representation of the plant topology and port-specific diagnostics.
PROFINET diagnosis model for signaling faults with different priority.
Device diagnostics
Status-oriented maintenance is important for operation and maintenance of plants. It is based on the capability of devices and components to determine their status and to communicate using standardized mechanisms.
PROFINET provides a system for reliable signaling of alarms and status messages from the devices to the controller. This diagnosis model covers system-defined events such as removal/insertion of modules and the signaling of malfunctions such as a wire break that are detected by the control mechanisms.
Besides the "good" and "faulty" status, the underlying status model also knows the optional levels "maintenance required" (e.g. when media redundancy is lost) and "maintenance demanded". The module also distinguishes between diagnostic alarms (events within a device or component) and process alarms (events in the process, e.g. limit temperature exceeded).
To ensure a uniform display of the different diagnostic messages, the results of the PROFINET diagnosis model have been assigned to the diagnostic display according to the NAMUR NE 107.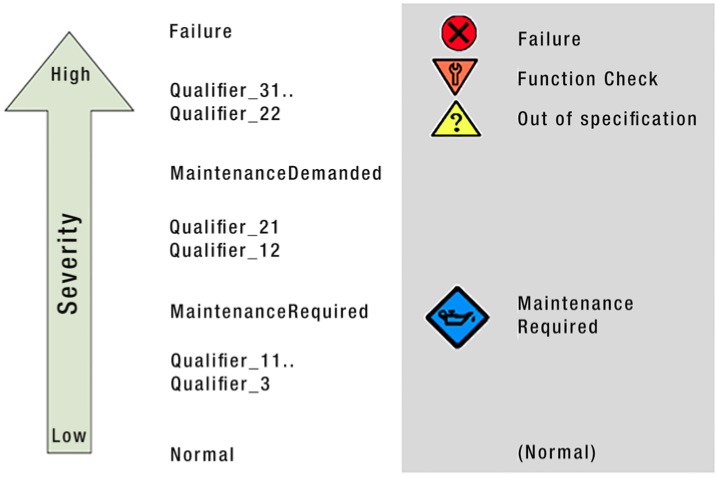 Assignment of the PROFINET device diagnostics to NAMUR NE 107 requirements.
Device replacement
Replacement of PROFINET field devices can be performed easily due to the cyclic exchange of neighborhood information of devices. If a device fails, its neighborhood is known. A replacement device that is "nameless" to start is inserted, and the controller searches for the explicitly identifiable neighbor device of the defective device. As a result, the replacement device can be assigned the same position in the network, the same address, and the same parameter set as the failed device. In addition, the address and positioning of the device is also shown in the diagram of the plant topology and can be verified once installed. This enables fast and reliable device replacement even without an engineering tool.
This continuous visualization of the network and the related ability to immediately detect, for example, address conflicts lend support to plant commissioning, modification and expansion. The result is significant time savings compared to past procedures.
Summary of user benefits
Automatic creation and checking of the topology (visualization)
Accelerated commissioning and easy device replacement
Easy configuring, even without an engineering tool
Prevention of address conflicts
Easier handling than 4...20 mA technology
Continuity of diagnostic displays based on NAMUR NE 107
In the next issue of the Industrial Ethernet Book, this coverage of Profinet in Process Applications will continue with information on how PROFINET addresses security, availability and advanced system architectures.
Continue to part two of PROFINET solution platform for process automation.
Technology report by PI North America.