Red Lion in the lion′s den
Helping customers leverage existing assets, using technology such as cellular RTUs as a secure all-in-one platform to connect PLCs and remote equipment, is a growing priority. Instead of replacing existing hardware with more complex devices, the smarter approach is native support for all required standards and protocols.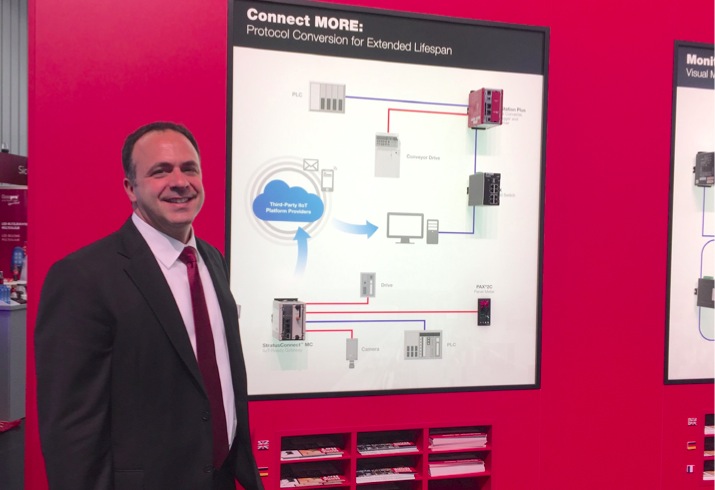 Ron Salerno, VP of Strategic Marketing at Red Lion Controls, shows the new IIoT and M2M solution.
AT THE SPS IPC DRIVES TRADE SHOW in Germany, Red Lion Controls was one of the few medium-sized US companies that was prominently visible. It seems that many American vendors shy away from the lion′s den in Nuremberg, the city where automation giant Siemens has its headquarters. We spoke with Ron Salerno, VP of Strategic Marketing at Red Lion Controls, to learn about the company′s international expansion plans.
"Red Lion already has a very successful history in the US, and as the manufacturing industry is becoming more and more global, we are becoming a global company," Salerno said. "It is really a customer-driven approach. Red Lion is building a stronger presence in national markets, closer to our customers."
He also points out that the expansion is not just geographical, but also in terms of technology and vertical markets. Beyond Red Lion′s traditional strengths in the discrete manufacturing and process industries, the company has also entered the Rail, ITS, Food & Beverage and other markets.
Salerno uses the company′s multi-carrier 4G LTE Sixnet series RAM as an example. These proven industrial cellular RTUs have earned NEMA TS2 section 2 compliance, which validates them for use in Intelligent Traffic Systems (ITS). They have also received ATEX zone 2, category 3 approval and are safe for use in potentially hazardous environments. The Sixnet cellular RTUs provide a secure all-in-one platform to connect PLCs and other remote equipment, helping customers to leverage their existing assets.
This is typical for the company′s real-world approach to the Industrial IoT. While many of the presentations in Nuremberg were about up and coming technologies like TSN or cloud connectivity, Red Lion is very much in the here and now. Instead of talking about the solutions of tomorrow, their display showed practical examples of how companies can start to use the IIoT today.
"Throwing out all old equipment is not an option for most manufacturers," said Salerno. "Plant managers need to work with the sensors, RTUs, and PLCs that have served them well for years. They want to adapt these legacy devices to a modern communications infrastructure to create a reporting and control system that can be accessed from anywhere."
Sharing information over a network, to optimize production, materials, and maintenance systems in real time, is a clear benefit of the Industrial IoT. However, most legacy devices don′t speak the same language and use older protocols or even serial links that don′t easily fit into the IIoT world.
To make the equipment IIoT-compatible, manufacturers would have to use a complex combination of drivers, or replace existing hardware with more complex devices. "The smarter way," Salerno said, "is to deploy equipment with native support for all required standards and protocols."
Equipment like the Graphite HMI platform or Data Station Plus converters, which support more than 300 industrial protocols. Salerno added that "this takes the hard work out of protocol conversion. With our Crimson drag-and-drop mapping functionality, our customers can easily communicate with Allen- Bradley, ABB, Schneider, Siemens or other existing equipment."