16-Port industrial switch
WAGO: A new 16-port industrial switch (852-1106) offers high data throughput of up to 1 Gbit, and possible applications under extreme ambient conditions of -40 to +70°C for a wide range of applications. In addition, the 852-1106 provides a redundant power supply (12 ... 60 V) that ensures uninterrupted data communication with alarm relays for clear indication of malfunctions.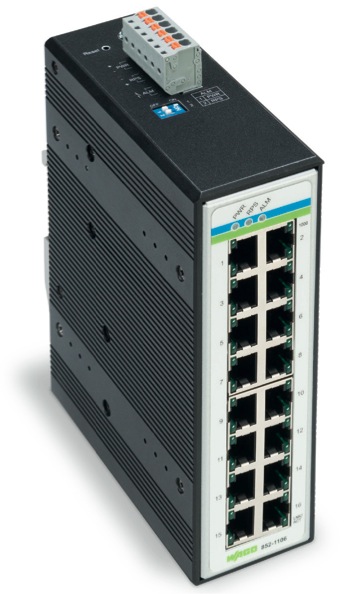 The switch is easy to configure and install, and supports PROFINET Conformance Class A as well as prioritization of ETHERNET packets (IEEE 802.1p) making it well-suited for small to medium-sized networks. Integrated overvoltage protection ensures safety in the event of high electrical voltages. The switch meets the "Energy Efficient Ethernet" standard. Per the IEEE-802.3az standard, energy consumption is automatically adjusted to the load on the network and the 16 ports only consume power during data transmission. In addition to energy savings, easy installation and configuration reduces the time required for commissioning.