Active redundancy modules
Phoenix Contact: New active redundancy modules in the Quint product family increase the availability of a system through decoupling and monitoring. Single Oring modules run the cable to the load redundantly and separately. In combination with the new Qunit Power power supplies, the redundant system is monitored continuously.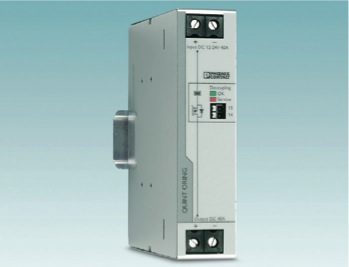 Using preventive function monitoring, the redundancy module informs users about the output voltages of the power supplies, defects in the wiring and the decoupling section, as well as the actual load current. Critical operating states are therefore detected at an early stage. Using the modules saves up to 70% energy, thanks to active decoupling with MOSFET.
With 40 A, the modules are suitable for DC voltages from 12 to 24 V. They feature a narrow design of just 32 mm and are suitable for use on DIN rails. The active redundancy module with protective coating (plus version) also ensures superior system availability under harsh environmental conditions such as dust, dirt, corrosive gases, and 100% humidity.