OPC UA Companion Standard for Sercos released
THE OPC FOUNDATION AND SERCOS International announce that the Sercos OPC UA Companion Specification Release is now available. This specification describes the mapping of the Sercos device model and the Sercos device profiles to OPC UA, so that functions and parameters of Sercos devices are made accessible via OPC UA in a vendor-independent manner.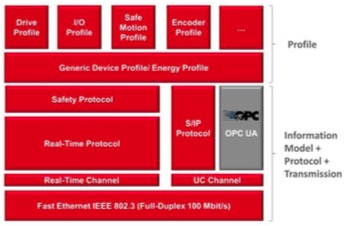 OPC-UA in the Sercos system architecture.
This initiative aims at simplifying the communication between machine periphery and supervisory IT systems and to support the requirements of Industrie4.0 regarding semantic interoperability. The OPC Foundation and Sercos International started their collaboration with the common aim to improve the machine integration and to simplify the communication between machine periphery and higher-level IT systems.
"Sercos provides a very rich robust device model and device profiles that made logical sense to plug into an OPC UA namespace. The Sercos OPC UA Companion Specification enables machine to machine interoperability, and machine integration with the cloud-based applications at a minimum. Sercos suppliers will now be able to take advantage of the rich service oriented architecture of OPC UA, truly facilitating the vision of the embedded world having information integration into the cloud," said Thomas J. Burke, OPC Foundation President and Executive Director.
"The OPC community will now be able to easily extend their products to support the great networking technology of Sercos. Both organizations are working together to facilitate and help the suppliers bring certified products to the marketplace supporting this new companion specification," he added.
In today′s manufacturing systems automation devices & systems from many different manufacturers have to be integrated and maintained, resulting in significant total cost of ownership (TCO) during the entire product life cycle. "New business models can be easily implemented because users and suppliers can rely on a consistent and vendor-independent semantic," said Peter Lutz, Managing Director of Sercos International.
News by OPC Foundation & Sercos Intl.