IoT platform emphasis on cybersecurity risks & efficiency
By enabling access to trusted devices, applications and users, along with secure and timely delivery of data across the industrial control system (ICS) IoT ecosystem, new IoT security platforms are combating cybersecurity risks.
THE INTERNET OF THINGS (IoT) has rapidly expanded in recent years, and shows no signs of slowing down. Since 2016, the number of connected things has jumped 31 percent and is expected to reach up to 20 billion by 2020. But as the presence of IoT devices continues to increase, so will cybersecurity risks within control systems. From industrial espionage and physical damage to financial loss due to downtime, organizations struggle to fend off many of the dangers that accompany an unsecure digital infrastructure. Worse yet, the proliferation of connectivity options have led to a lack of security and data silos.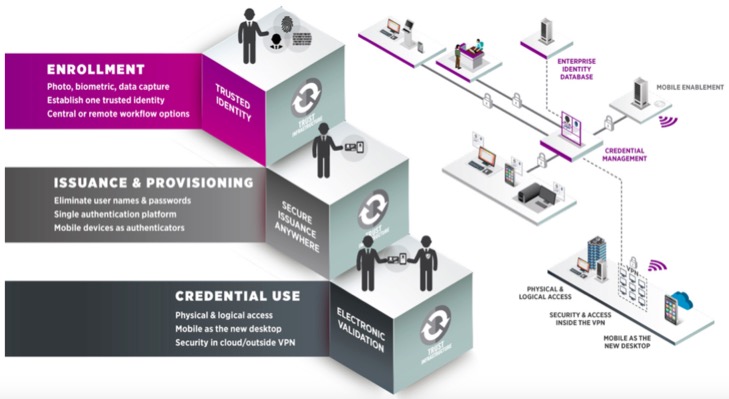 A large part of cybersecurity readiness is built on establishing trusted identities, secure issuance for proper authentication and electronic validation of network access.
New security platforms and technologies are combating these issues by providing a single, end-to-end security solution that enables access to trusted devices, applications and users, and the secure and timely delivery of data across the industrial control system (ICS) IoT ecosystem. With key features such as identity issuance and data security, as well as scalable deployment options that provide on premise and cloud management models, models such as the ioTrust technology platform have the potential to change the way manufacturers do business.
An added degree of security
No industry is immune to cybersecurity threats, manufacturing included. According to the 2016 Manufacturing Report from Sikich, just about one in five manufacturers have suffered a loss of intellectual property from cyberattacks.
By enabling manufacturers to tie their products to a unique, secure identity that can extend throughout the supply chain, ioTrust technology prevents the unauthorized use of assets or materials from going missing. When it comes to supply chains with multiple levels of suppliers, such tracking capabilities can prove to be a big help.
If, for example, a car contains several electronic control units, each of which has its own manufactured components, an original equipment manufacturer may demand that the units and their components are uniquely identified. Doing so not only guarantees the units are genuine from supply chain to assembly, but also sets the stage for a seamless replacement process later on.
In addition to improved asset tracking, the new technology offers advanced human machine interface (HMI) authentication. According to a recent report, the HMI market is expected to grow at a compound annual growth rate of 9 percent over the next five years, eventually reaching $5.86 billion by 2022.
A steadily increasing number of manufacturers are implementing more sophisticated HMIs, and for good reason. Not only do HMIs offer control over equipment, but they also provide insights into performance. Given the expanding interest in more powerful HMIs, it′s important that manufacturers do all they can to secure such interfaces. By combining several identity capabilities, such as supply chain validation and securing hardware and software keystores, ioTrust technology can help do just that.
In addition, ioTrust can protect the ICS IoT ecosystem through stronger VPN credentials, cryptography, embedded systems, trusted infrastructures and predictive maintenance. For remote administrators, secure authentication no longer stands to be an issue. Using new technology, users can quickly authenticate themselves before reading data or issuing commands with a secure programmatic API. Meanwhile, the secure flow of data from sensors to cloud data hubs allows devices, applications and employees to receive insights, such as system stability and device lifespan that can be used to predict when repairs might be needed.
Cultivating communication
Whether from a technology or communication standpoint, connectivity remains an area of growth for the manufacturing industry. Point solutions that lack the ability to communicate with one another have made it tough for operators to quickly diagnose issues. Instead of getting to the root of a problem, manufacturers spend time sorting through data from multiple unconnected systems. But with the IoT, an uptick in efficiency may not be too far off.
The IoT is paving the way for connectivity by eliminating traditional barriers within manufacturing environments. Roadblocks that prevent manufacturers from simultaneously examining data across an entire plant could soon go by the wayside. An upgrade in security, however, must also accompany such changes. The removal of obstacles greatly increases the attack surface of manufacturing environments, making secure connectivity vital.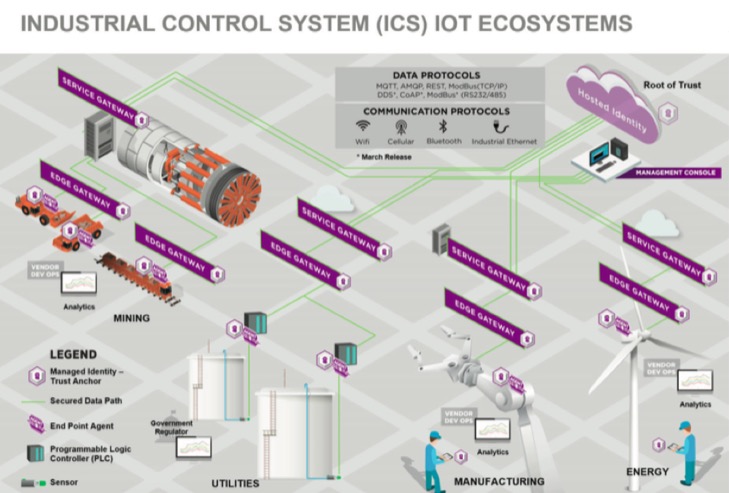 The combination of edge and service gateways can fit into an overall plant network using secured data paths and end point agents to effectively manage identities.
With ioTrust technology, manufacturers have an ability to potentially break apart data silos while also maintaining high security standards. Operators who have previously struggled to derive insights from unconnected systems can now leverage millions of sensors to learn about system stability and device lifespan, without creating a security risk in the process.
When it comes to trust between partners and systems, ioTrust can usher manufacturers into an ecosystem with enhanced visibility, security and access control. Demand for greater efficiencies has driven the employment of external experts capable of conducting detailed analysis across a wide range of plants. By securing the data being shared along with the identities of multiple partners, ioTrust can help create a foundation of trust that facilitates communication and ultimately boosts the efficiency of manufacturing plants.
The modern way to work
It′s no surprise nearly 35 percent of all U.S. manufacturers believe it′s extremely critical to adopt an IoT strategy in their operations. From improving connectivity to jumpstarting efficiency, the IoT continues to open up new opportunities for the manufacturing industry. With new security technology, Manufacturing Proxies used in conjunction with a service gateway integrates production processes and provides on-demand issuance of manufacturer identities. This type of real-time information can set the stage for improved performance as well as availability. The ioTrust Endpoint Agent, a Java application that logs endpoint telemetry data and securely acquires ioTrust identities through SCEP and EST protocols, simplifies the identity management process for manufacturers.
Finally, identity and data security measures including automated payload encryption and infrastructure monitoring helps ensure sensitive information doesn′t fall into the wrong hands.
While the IoT promises to eliminate many of the barriers that often stonewall communication, such connectivity puts pressure on manufacturers to be prepared for an increased risk of cyberattacks.
By shoring up security, new security technology and platforms are clearing the path for greater connectivity and, in turn, efficiency.
Josh Jabs, VP of PKI and IoT Solutions, Entrust Datacard.