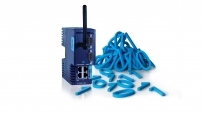 Promoted content: IIoT Gateway and Remote Access Router
Coming soon, the eWON Flexy 205 is a new internet data gateway that allows Machine Builders to monitor and collect vital KPIs for analysis and predictive maintenance. With data logging, alarming, built-in web interface, scripting and enhanced internet connectivity, the Flexy 205 is a versatile Internet Gateway for any IoT deployment. It also supports VPN Remote Access for remote troubleshooting of the equipment.
Thanks to secure VPN Remote connectivity using Ethernet (built-in), WiFi or Cellular (extension cards), it allows service engineers to troubleshoot and tune equipment without going on site. The built-in data acquisition capabilities support all major PLC protocols, like Siemens, Rockwell, Mitsubishi, Schneider and many others, as well as Modbus, OPC UA, and BACNet/IP. Furthermore, OPC UA is embedded to offer easy-to-deploy data integration for factories.
Flexy 205 offers various data services from simple monitoring applications (Alarms, Web HMIs, ...) to easy data collection tools that lead to advanced IIoT applications such as performance monitoring and proactive maintenance.
Peter Teunen, Technical Superintendent at DEME Group, says: "The first implementation has been so positive that we've decided to equip all our new installations as standard."