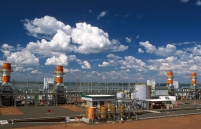 Industrial IoT Company of the Year
Emerson has been named the 'Industrial IoT Company of the Year' by IoT Breakthrough. The award recognises Emerson's extensive innovation in driving Industrial Internet of Things (IoT) technologies and strategies for customers in manufacturing industries, including oil and gas, food and beverage, chemical, life sciences and others.
"As technology continues to evolve, customers are increasingly turning to us for help navigating the Industrial Internet of Things," said Mike Train, executive president of Emerson Automation Solutions. "Industrial IoT holds a lot of promise for manufacturers, but many struggle to identify the right strategies for adoption within their operations. Our job is to act as a trusted partner, helping customers develop the right business case, then implement scalable solutions that deliver measurable returns." To meet this need, Emerson's Plantweb digital ecosystem includes consulting services to help customers build the best business case, backed by a broad portfolio of Pervasive Sensing technologies, an extensive suite of analytical software tools, secure and robust data infrastructure, and expert services. Ultimately, these Plantweb solutions help customers increase plant safety, reliability and profitability to drive toward the highest, Top Quartile operations and capital performance.
The IoT Breakthrough Awards, which received more than 3,000 nominations in 2017, recognise innovators, leaders and visionaries from around the globe in a range of IoT categories, including Industrial, Smart City technology, Connected Home and others. Selections are made by a judging panel comprised of IoT professionals and experts with hands-on experience within the Internet of Things market, including journalists, analysts and professionals from top start-ups and Fortune 100 companies.