One chip delivers many Ethernet protocols
Open data access and real-time industrial control is increasingly important for the IIoT and Industry 4.0. Now, multiprotocol REM switch chip technology is also providing a method for utilizing industrial Ethernet protocols while sharing the same Ethernet medium with conventional protocols like http or TCP/IP.
Overview of fido5200 technology architecture and approach to communications using popular Industrial Ethernet protocols.
AN OPEN, MANUFACTURER-INDEPENDENT communication platform is what many suppliers and manufacturers of industrial automation technologies are longing for, particularly in the context of the Industrial Internet of Things (IIoT) or Industry 4.0. Thus, manufacturers expect system-wide realizations of the increasing amount of automation processes. In consequence, the automation must take the needs of IT systems into account with regard to open data access, as well as the real-time requirements of industrial control systems.
Ethernet and industrial Ethernet have already played an important role here. The numerous advantages of this network technique, such as efficient and synchronous transmission of large data amounts on a shared transmission medium, are superior to those of conventional fieldbuses. Popular industrial Ethernet protocols like PROFINET, EtherNet/IP, EtherCAT, POWERLINK, etc., allow for more or less sharing the same Ethernet medium with conventional protocols like http or TCP/IP.
In this article, the requirements of industrial networks (for example, reliable data delivery and time synchronization of data) are considered in more detail. In addition, the fido5200 REM switch technology will be presented as a possible product solution. This chip is available as fido5100 and fido5200 variants, with both variants differing only in the Ethernet protocols they support. The fido5100 supports the major industrial Ethernet protocols, except EtherCAT, while the fido5200 supports the major industrial Ethernet protocols including EtherCAT.
Multi-protocol REM switch chip
A real-time Ethernet with multiprotocol (REM) switch chip technology offers two Ethernet ports. Hence, two ports become today′s industrial devices and future Industry 4.0 applications must support popular network topologies like line and ring topologies, as well as star topologies.
In addition, it is possible to connect any host processor so developers have the possibility to use their own processors, as well as their preferred development environments. All these possibilities and technology options are available with the fido5200 technology.

Concept of PriorityChannel technology shows four queues that give the possibility to do fine adjustment when processing real-time data.
Communication processing
The communication between the REM chip and the processor works via memory bus in order to implement high performance, low latency/low jitter industrial Ethernet. The memory bus also provides the host interface with PriorityChannel technology. This filter technology was developed by ADI and consists of a hardware/software combination.
It ensures in-time processing of critical data from an Ethernet network, independent of its protocols and network utilization, so there is no interference from non-time critical data traffic. This means that data from the real-time channel has higher processing priority than normal network data. This PriorityChannel technology shows four queues that give the possibility to do fine adjustment when processing real-time data.
Besides its switch functionality, the fido5000 technology also implements a powerful timer control unit (TCU). The TCU is intended to implement the synchronization mechanisms of the various industrial Ethernet protocols. Additional functions like input capture or to output any square wave signals can be realized via four dedicated outputs or through four universal inputs/outputs. These ports are directly in phase with the synchronized time.
For example, it is possible to time stamp the arrival of an edge at any of the four inputs with 64-bit resolution. At the outputs, any digital signal patterns can be output synchronously to the network time. This means it is possible to synchronize the user′s application with the network time even down to cycle times less than 31.25 µs.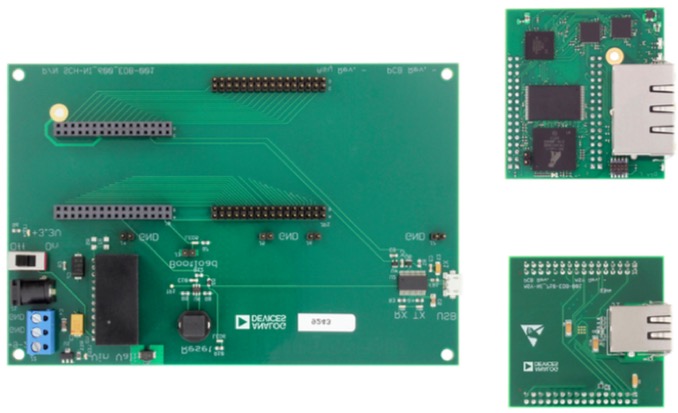 The RapID platform based on fido5200 is available for use within an evaluation kit. The fido5200 REM switch and the RapID platform already offer the best prerequisites for time-critical applications based on current industrial Ethernet and future TSN standards.
Support for TSN
Along with providing a solution for multi-protocol Industrial Ethernet communications, the chip is already prepared to support time sensitive networks (TSN). The needs of future TSN-based industrial Ethernet applications will be able to meet very demanding real-time requirements of applications like motion control or safety.
TSN is a set of standards defined by the IEEE 802.1 workgroup. It will be compatible with existing standard Ethernet technologies. Essentially, TSN defines the first IEEE standard for time-controlled data routing in switched Ethernet networks. The deterministic real-time communication within the series of the IEEE 802 standards can thus be realized by means of a common time base and a schedule, which is generated for message paths over several network components.
In addition to the pure REM switch chip fido5000 technology, ADI also provides a complete solution with the fido5200 called RapID platform. The RapID platform has all common industrial Ethernet protocols implemented and can be integrated into a non-Ethernet field device without much effort. This will allow the field device to meet the requirements of Industry 4.0 applications.
The implementation of the common industrial Ethernet protocols is pre-certified. Another interesting feature of the RapID platform is the dynamic, integrated web server. It allows the user to read and modify network parameters, and input and output data in a very simple way.
Thomas Brand, Analog Devices, Inc.