Manufacturing IIoT: "Green Patch" in brown field
The ′green patch′ concept takes required capex for a new product line or process within a brown field plant to implement IIoT functionality. The green field means fresh equipment, tooling and state-of-the-art OT and IT with the bandwidth, processing power and memory needed to apply advanced software and processes.
THE INDUSTRIAL INTERNET OF THINGS (IIoT) takes advantage of the latest software and hardware capabilities to increase productivity. It stands to reason that greenfield manufacturing plants might be planned with native IIoT technologies. After all, today′s factory automation systems can incorporate web servers and clients, standards-based communications, and substantial processing power and memory.
But the majority of manufacturers face a mandate to increase the operational efficiency of their existing brownfield assets. In a green field, there is no need to integrate with legacy systems. In a brown field, integration can be a major challenge with assets that may be decades old. The machine control systems typically are not networked and do not communicate with each other. Once IIoT sensors, networks and edge devices are overlaid the existing assets and analytics applied - the legacy control systems may not have the capabilities to optimize operations.
Conversely, retro fitting the existing controls has not been widely practiced. Rewriting machine control code is an investment that carries a significant potential risk, and the machinery′s electrical and mechanical components may also not be capable of executing on the new control capability.
Here′s how can manufacturers go from brown fields to greener pastures, by revisiting a 1970′s retro-concept known as the focused factory, or factory within a factory. You essentially make a smaller, yet still green field, IIoT investment inside your existing facility. You can call it a pilot, but actually, it is a full-scale manufacturing system, line or cell(s) fully intended to continue in pro table production indefinitely. Call it a ′green patch′ in the brown field. With a well-defined scope, it becomes a manageable, measurable proof-of-concept project that pays for itself before scaling up.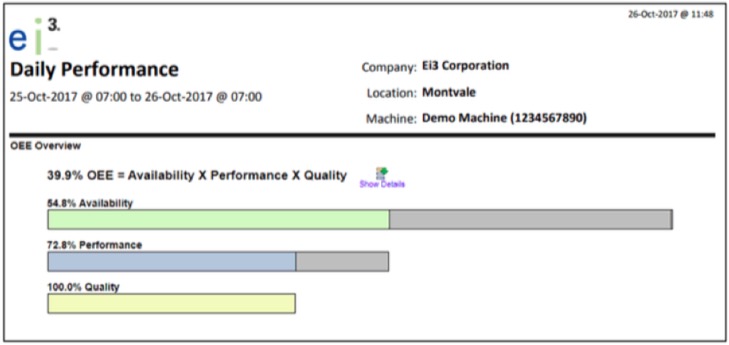 Availability x Performance x Quality = OEE
Green patch project
A green field means fresh equipment, tooling and state-of-the-art Operational Technologies (OT) and Information Technologies (IT) with the bandwidth, processing power and memory needed to apply advanced software and processes. This definition also applies to a green patch, only on a more limited scale. These capabilities support predictive maintenance, supply chain visibility, energy management, rapid changeovers, product lifecycle management and more.
Consider the following criteria for a green patch project:
A new product line or process that requires capital expenditure (capex) investment, a built-in cost justification.
High value, complex products where IIoT can make a dollar impact on yield.
An application that will benefit from flexibility - high variability/low volume, batch-of-one manufacturing, short lead times, anticipated product modifications and options.
An operation where maximum uptime is essential, that will benefit from predictive maintenance.
Manageable scope: a production line or cell that can effectively be self-contained and operate independently from the rest of the factory.
An operation that can be isolated - with MES/ERP that may be self-contained and may be hosted on premise, both to eliminate IT security issues and develop a flattened IIoT network hierarchy.
Constraints of green patch project
Constraints are the same as for any other upgrade in a brown field environment. The green patch must conform to the physical footprint, shared resources and other constraints of the existing facility. These can include utilities, physical obstructions such as columns and roof height, air filtration and even the available labor pool and zoning restrictions. Each issue and solution will need to be evaluated on the basis of potential payback, and can help define project scope.
For example, does a clean room need to be built to mitigate airborne contamination from adjacent processes, or is it better to construct a new building if the land is available? Or can critical equipment be purchased in an isolator configuration, and if so, what impact will this have on the efficiency of ongoing operations, maintenance and replenishment?
Origin of ′focused factory′
The concept of the "focused factory" was introduced by Dr. Wickham Skinner in the mid-1970s while serving as faculty at Harvard Business School and it shares some traits with our green patch. The decade had brought forth a "productivity crisis." Dr. Skinner contended that competitive agility was yet another factor to consider. In the conventional manufacturing model of the time, factories produced myriad products for many different customers, propelled by the notion of the "economy of scale."
Factory within a factory
The factory within a factory model is a way to address issues of supply chain management in a timely, cost-effective manner while preserving responsiveness to customer needs and requests. Instead of relying upon an independent manufacturer to provide a part or materials when ordered, the subordinate operation establishes a physical location within the primary manufacturing facility. There are multiple considerations that impact the feasibility of such an arrangement. As a positive, it streamlines process for procurement when time and distance is of the essence. Other complexities involving financial investment, term length, logistics, labor, protection of intellectual property and tax implications also present themselves for investigation. To truly leverage the potential benefits, all aspects must be implemented effectively.
Compared with traditional manufacturing, a green patch environment introduces integrated devices, applications and tools which generate volumes of actionable data. Therefore, a green patch can unlock opportunities to explore and develop a specific strategy for integrated machine leaning, predictive insights, and applying analytics to show the impact of IoT optimization to drive revenue, cut costs and innovate your operations.
Getting started with analytics
Analytics are a fundamental element of IIoT. Determining the data to acquire for analysis is a good starting point for a green patch project. A 2015 technical report from McKinsey on analytics in semiconductor manufacturing offers broad advice, with the key piece of advice to make data actionable.
For data to be actionable, it must be robust with all relevant details collected in a structured, targeted, consistent format. A vital aspect is the maintenance of data integrity. Ramifications of substituting lost data with averaged content include missing patterns and generating false positives. Data must be stored effectively with an eye towards easy retrieval.
Actionable data is the foundation of advanced analytics. When supported at the enterprise level as a strategic priority and not merely a managerial tactical responsibility, advanced analytics drives predictive insights into where to invest, ways to optimize productivity, keys to reduce time to market and other essential metrics.

Sample OEE Dashboard.
Success measurement: OEE
Like any capital project, the green patch needs success metrics. One of the best in manufacturing is the lean Six Sigma key performance indicator of Overall Equipment Effectiveness (OEE). For many years, manufacturing enterprises have implemented different varieties of OEE measurements to different degrees of success.
For example, some OEE proponents consider all downtime, including scheduled maintenance and holidays, while others exclude all but unplanned downtime. The green patch can be used to redefine a consistent OEE metric moving forward, for how and what to measure, analyze and optimize in the green patch, and therefore serve as a framework for OEE future process improvements without impacting existing operations.
The contrast between IIoT will be most dramatic where data are still manually gathered, demonstrating the value of automated data acquisition, more frequent sampling and more consistent data through the use of new standards such as ISA TR88.00.02 (PackML) and MTConnect, both OPC UA enabled.
OEE data has many practical uses. One is to determine the optimum (as opposed to fastest) production rate for a line. Running a line at its fastest can cause the bottleneck machine (there is usually one machine that limits overall line speed) to result in stoppages and actually reduce throughput compared to operating at a lower speed.
Process optimization
Much has been discussed about big data and analytics. To make use of analytics, it′s necessary to close the loop and provide a mechanism to apply the data to process optimization. Total Productive Maintenance (TPM) is one such tool that can take OEE data and improve the operation of machines and lines.
TPM is a methodology for acting on and resolving issues identified by OEE. Similar to OEE, TPM is a topic familiar to manufacturing professionals and upon which IIoT can improve. TPM is used here as an example of ′what to do with analytics once you have the data and you′ve analyzed it.′ Without IIoT′s continuous, automated monitoring and feedback, TPM might be used to set limits on line speed, based on the bottleneck.
Conclusion
The more time you spend in a brown field, the better a green patch looks. By focusing on a single new line or cell, it can be much easier to get started with an initial deployment, learning how to apply IIoT in a controlled environment and scale, with new technologies designed for the task.
The ′green patch′ is intended to propose a readily accessible approach for mid-market manufacturing enterprises to obtain the advantages of IIoT without becoming overwhelmed by a large-scale rollout.
Spencer Cramer, CEO, Ei3 Corporation and John Kowal, Director of Business Development at B&R Industrial Automation.