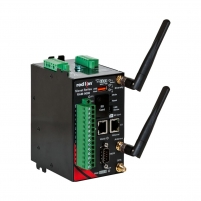 Cellular RTUs integrate SCADA platform
The new firmware 4.28 for the Red Lion Controls family of RAM industrial routers and cellular RTUs increases the number of IIoT platforms available for integration. The upgrade features connectivity to Ignition by Inductive Automation, an industrial application platform for SCADA and IIoT solutions, via the industry-standard Sparkplug MQTT profile, as well as enhancements to RAMQTT, Red Lion's MQTT client. RAMQTT simplifies implementations with pre-configured profiles for AT&T M2X, Amazon AWSTM IoT, Cumulocity, Microsoft Azure®, Nokia Impact, and Telenor Connexion.
"We're very pleased with this new connection to Red Lion Controls," said Don Pearson, chief strategy officer for Inductive Automation. "Red Lion has a long history of providing smart solutions for industry, and they understand the need for flexibility in order to truly have an Industrial Internet of Things. The connection between Red Lion and Ignition will make sense for a lot of industrial organizations."
For customers who need connectivity with a low cost of deployment, RAM RTUs provide access to twelve different IIoT platforms, selected from a drop-down menu or accessible via Software Development Kit (SDK). This makes it even easier to connect, monitor and control systems and processes. RAMQTT reduces deployment and configuration complexities involved with IoT integrations, allowing users to be up and running in less than two minutes per device.
"Our goal is to provide an easy and secure means for customers to use a variety of different IIoT platforms," said Colin Geis, Director of Product Management, IIoT, Red Lion Controls. "This upgrade provides pre-configured, on-board IIoT platform integrations so customers have an easier path to deployment. In addition, the RAM event engine allows customers to create alerts or take action from operational data, and the RAM's intelligence and strong security provide increased data flexibility while keeping equipment safe."
Red Lion's RAM products are available with serial and Ethernet ports and optional I/O and Wi-Fi and can additionally communicate with Modbus & DNP3 enabled equipment to securely monitor and control remote devices over 4G LTE cellular networks. By providing data visibility, control and real-time notifications on field-deployed equipment and processes, the RAM platform enables organizations to take advantage of the benefits of IIoT. In addition, RAM RTUs are industrially hardened to operate in harsh environments. With a -40 to 75°C operating temperature range, and high shock and vibration ratings, RAM RTUs can be confidently deployed to remotely monitor locations, without the need for site visits.