Industrial Ethernet market share bigger than fieldbuses
In its 2018 analysis of industrial networking, HMS concludes that Industrial Ethernet growth is being powered by the IIoT, fieldbuses are slowly declining and wireless offers innovative automation architectures.
INDUSTRIAL ETHERNET HAS OVERTAKEN traditional fieldbuses in terms of new installed nodes in factory automation. This is the main finding in HMS Industrial Networks′ annual study of the industrial networking market.
Industrial Ethernet now accounts for 52% of new installed nodes (46% last year), while fieldbuses are on 42% (48% last year). EtherNet/IP is now the most widely installed network at 15%, followed by PROFINET and PROFIBUS, both at 12%. Wireless technologies are coming on strong with 6% market share.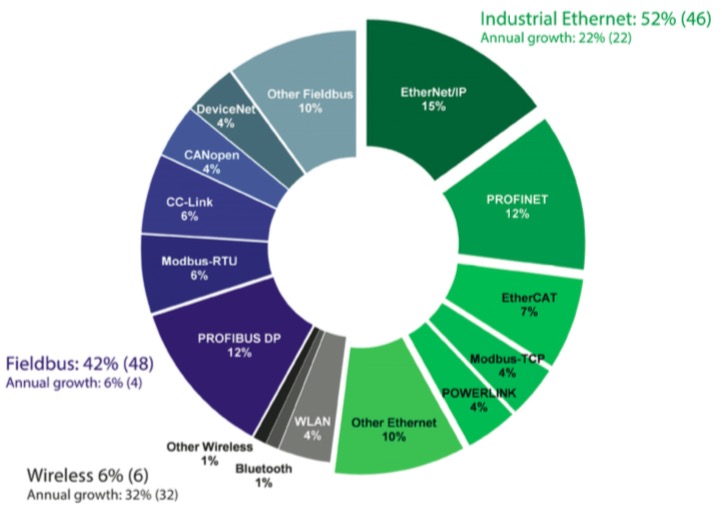 Fieldbus vs. industrial Ethernet and wireless technologies. One significant market insight is that the annual growth rate of both Industrial Ethernet (22%) and Wireless Solutions (32%) is being driven by growth of the IIoT.
Annual market analysis
HMS Industrial Networks, again this year, has presented their annual analysis of the industrial network market which focuses on new installed nodes within factory automation globally.
As an independent supplier of products and services for industrial communication and the Internet of Things, HMS has insight into the industrial network market. Here are some of the trends they see within industrial communication in 2018, also looking back on the network market share evolution during the last 5 years.
Growth powered by IIoT
Industrial Ethernet has been growing faster than traditional fieldbuses for a number of years, and has now overtaken fieldbuses. With a growth rate of 22%, Industrial Ethernet now makes up for 52% of the global market compared to 46% last year. EtherNet/IP has emerged as the largest network with 15% of the market. Ethernet runners-up globally are PROFINET, EtherCAT, Modbus-TCP and Ethernet POWERLINK.
"We have seen the transition to industrial Ethernet for a long time, but it isn′t until now that it has actually overtaken fieldbuses when it comes to number of new installed nodes," said Anders Hansson, Chief Marketing Officer at HMS. "The transition to industrial Ethernet is driven by the need for high performance, integration between factory installations and IT/IoT-systems, as well as the Industrial Internet of Things in general."
Fieldbuses expected to decline
Boosted by a strong industry and cyber-security concerns in the industry, fieldbuses are still growing slightly. However, despite an increased growth rate at 6% (4% last year), the number of fieldbus installations are expected to decline steadily over the next few years. The dominant fieldbus is still PROFIBUS with 12% of the total world market, followed by Modbus-RTU and CC-Link, both at 6%.
Wireless redefining network picture
Wireless technologies are also growing by 32% and accounts for 6% of the total market. Within Wireless, WLAN is the most popular technology, followed by Bluetooth.
"Wireless is increasingly being used by machine builders and system integrators to realize innovative automation architectures. Users can reduce cabling and create new solutions for connectivity and control, including Bring Your Own Device solutions via tablets or smartphones," said Hansson.
Regional network variations
In Europe and the Middle East, PROFINET and EtherNet/IP are leading and PROFIBUS is still widely used. Other popular networks are EtherCAT, Modbus-TCP and Ethernet POWERLINK. The US market is dominated by the CIP networks, with a clear movement towards EtherNet/IP.
In Asia, no network stands out as truly market-leading, but PROFINET, EtherNet/IP, PROFIBUS, EtherCAT, Modbus and CC-Link are widely used, with the Ethernet version CC-Link IE Field also gaining traction.
Looking back five years
A special feature in this year′s study is a look back on five years of steady industrial network growth. HMS concludes that during 2017, industrial Ethernet finally passed fieldbuses in terms of market share.
"The growth of industrial networks has been steady over the last five years, and it is interesting to see that industrial Ethernet now has passed fieldbus, currently accounting for 52% of the market with EtherNet/IP as the leading network," said Hansson.
"Nevertheless, our study confirms that the network market remains fragmented; users continue to ask for connectivity to a wide variety of networks, depending on application. Looking ahead, it is clear that industrial devices will become increasingly connected, boosted by the Industrial Internet of Things and Industry 4.0. From our point of view, we are well-suited to grow with these trends," Hansson added.
Anders Hansson, Chief Marketing Officer, HMS Industrial Networks.