OPC UA TSN update: push for standardization
Industry groups are joining together to improve the unification of application profiles, interoperability and to speed up the transition from Time-Sensitive Networking (TSN) to OPC UA TSN.
LEADING A PURSUIT FOR STANDARDIZATION and interoperability, Avnu Alliance, Industrial Internet Consortium (IIC), and the OPC Foundation have joined forces to improve the unification among application profiles.
At the SPS IPC Drives 2017 conference, these organizations and the manufacturer members, announced their combined efforts and commitment to driving forward OPC UA over TSN technology updates, conformance testing advances and creating a unified communication technology.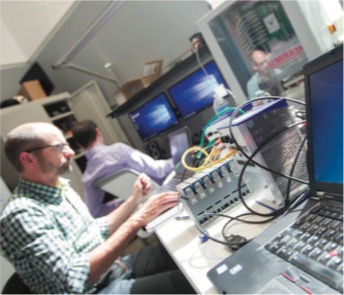 Avnu Alliance and IIC TSN testbed members (above) collaborate on TSN device interoperability at a workshop at National Instruments in Austin, TX . With recent TSN enhancements, the goal is for standard Ethernet to become deterministic, enabling customers, systems integrators and vendors to implement open, ubiquitous networks.
Transition from TSN to OPC UA TSN
A principal change with OPC UA TSN from traditional TSN concerns the state of Ethernet networks. Until TSN, Ethernet networks were not deterministic. For this reason, components that needed to work together also had to be close together in a proprietary or closed network. With recent TSN enhancements Ethernet becomes deterministic, enabling customers, systems integrators, and vendors to implement open, ubiquitous networks.
Updates to TSN also consider brownfield installation as supporting existing, non-TSN devices is a key consideration for success networks. While ensuring that the foundational elements are interoperable is a primary concern, the appropriate on-ramps for brownfield devices and installation is also critical. This includes mechanisms like application protocol encapsulation, PTP profile conversion, or flexible configuration mechanisms.
Making the transition from existing devices and installations to OPC UA TSN-based services and protocols as fluid as possible is paramount. To aid the transition, Avnu is working toward the creation of "on-ramps" like a Time Gateway for time translation, as well as a Remote Management Unit to translate existing configuration protocols to Restconf or Netconf, or a TSN translation mechanism to translate asynchronous traffic to synchronous traffic. The Avnu conformance tests (discussed in greater detail in the next section) will include translating functions that support the addition of brownfield devices.
OPC UA TSN is ideal for instances such as: when security is required; when a harmonized network independent from the supplier is needed; or when a semantic self-description of an asset must be exchanged over the network automatically. With the new updates, the question of mobile applications is also considered. Although further testing in test beds will be required, at present, OPC UA TSN is feasible for mobile applications, as it has a very precise system synchronization accuracy, and its data exchange in between nodes is both fast and consistent.
OPC UA TSN applications
With the number of new applications introduced by OPC UA TSN, users must consider how they will make the transition. Originally, OPC UA was designed to work with many communication models; by adding PUB/ Sub over TSN, this number is further increased. Thus, it is important to note that because OPC UA TSN does have applications that overlap with existing solutions, current fieldbuses installed will not disappear overnight.
This provides the customer with new flexibility; they can use both models, if desired, depending on the needs of the specific application at hand. When customers do decide to make the switch from existing installations to an OPC UA TSN-based backbone, Avnu Alliance expects the migration to be evolutionary.
OPC UA is already used for non-deterministic communications from controller to controller; so, for these kinds of installations, TSN simply adds real-time capabilities. For this reason, it is expected that today′s fieldbuses will be extended to OPC UA TSN step-by-step through an evolutionary process.
TSN conformance tests and testbeds
The ultimate integration of the OPC UA TSN updates is vital to creating unification among application profiles and, ultimately, ensuring interoperability-an effort to which Avnu is committed along with the OPC Foundation.
In pursuit of this, Avnu has built a rich set of TSN conformance and interoperability tests with a defined procedure for certification in various markets. Leveraging multi-industry experience, Avnu defined a baseline certification in the industrial market that consists of robust and comprehensive test requirements based on the market requirements for industrial automation devices and silicon.
These conformance tests will ensure that the device or silicon conforms to the relevant IEEE standards, which will also allow for the testing and certification of OPC UA over TSN, as well as additional requirements that Avnu has selected as necessary for proper system interoperability. Avnu has structured its conformance tests so that they are modular. This means that the tests for a bridge and the tests for a configuration of a bridge are valid and consistent, no matter if the bridge is a stand-alone network switch or the more common integrated bridge in a two-port end device.
Other testing advances include the TSN Testbed created by the IIC and regular member plugfests that allow for manufacturers to test their TSN devices for interoperability. While the focus of test beds is different than that of conformance testing, the two work in concert towards the goal of creating a stronger environment for interoperability. Testbeds and plugfests provide an opportunity to create real world systems as an early check for problems that may later occur during actual customer integration.
During testbeds, multiple vendors test their implementations against those of other vendors; the goal is to test for a certain degree of interoperability among them. However, these tests are not perfect. For example, two vendors may both interpret the standard incorrectly, but in the same way. In this instance, while the two devices may indeed interoperate, they are interoperating incorrectly, as they are not conforming to standards as they should.
News update from Avnu Alliance.