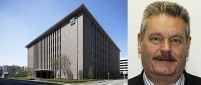 New President for Hirose EMEA
As part of Hirose Electric Co. Ltd.'s Global policy to localise and strengthen management,Hirose Electric Europe B.V has promoted Bryan Cullis from Vice President to President of EMEA with immediate effect. HIROSE Electric Co., Ltd established offices in Europe nearly 30 years ago to compete internationally in EMEA.
Bryan Cullis joined Hirose Electric UK Ltd in December 2006 and was instrumental in the amalgamation process to create one European company from the three existing operations spread across Europe. Hirose Electric Europe B.V's Head Quarters based in Amsterdam covers EMEA with three branch offices in Germany and one each in France / Italy and the UK. HIROSE Electric Co., Ltd is a Japanese manufacturer of high quality connectors with sales of 866 million Wuros world-wide. In 2011, the "Yokohama Centre" was established in Japan to centralise engineering, R & D, sales and marketing to provide a highly efficient globalised service. HIROSE Electric employs 4319 members of staff globally. Manufacturing locations and sales offices are situated in Asia, USA and Europe.
HIROSE Electric Co., Ltd offers a wide product portfolio of over 50,000 connector variations. These include wire-to-board, board-to-board, circular, memory, interface, FFC/FPC and coaxial connectors, which are designed for a wide range of applications such as factory automation, industrial machinery, LED lighting, broadcasting, measurement & control, security devices, instrumentation, consumer electronics, automotive and many others.
in response to the challenging and increasing demand for global digitalization technology, Hirose has standardized a new miniaturized Ethernet mating interface in compliance with IEC/PAS 61076- 3-124. The ix industrial socket size is reduced by 75% compared to the existing RJ45 modular connectors, and offers space saving cabling for applications with miniaturized requirements.