Lost?
These days it is becoming increasingly difficult to get lost. Our smart phones feature GPS navigation and up-to-date maps software that guide us to wherever we want to go.
IT ALL BEGAN IN 1973, when the US military started to build a worldwide navigational system. In 1983 it was made available for civilian use and became known as GPS (global positioning system).
The world′s first commercial handheld GPS receiver, the Magellan NAV 1000, was launched in 1989, at a price of US$2,900. As GPS navigation became more widespread, the pricing dropped steeply and today a GPS chip is standard equipment for all smartphones. With apps like Waze, Google Maps or iGo readily available on our phones, is there still room for dedicated navigation systems?
In-car GPS
Turn-by-turn navigation, real-time traffic reporting, satellite-tracked speed, and voice guidance are standard features in today′s in smartphone apps. So why should one spend several hundred US$ for an in-car navigation system?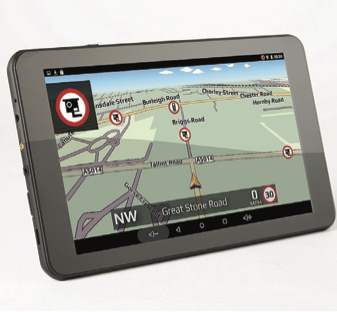 Fortunately, modern sat nav devices like the Aguri Car GT720 can do a lot more than just tell you how to get from A to B. The GT720 features a high resolution 7" LCD screen that is optimized for off-axis viewing and a big loudspeaker for clear turn-by-turn directions.
It comes preloaded with street level maps that display the speed limits of most roads. It also includes a database with free updates on fixed speed traps and hotspots where mobile speed traps and laser guns are commonly used. As the device incorporates built-in Wi-Fi, map and speed trap updates can be downloaded wirelessly without having to connect to a PC.
The Aguri runs on the android operating system, so it can also be used to browse the Internet and download apps. Finally, it incorporates a built-in, high definition dash cam with a 150 degree wide-angle lens. The video and GPS data is saved to an internal 8gb SD card. In case of an accident, the dash cam can provide evidence with exact location and time information, that is far more reliable than eyewitness testimony.
aguriworld.co.uk
The great outdoors
Smartphone navigation can get to its limits when one ventures off the well mapped streets to go hiking, climbing or paddling. Here a dedicated outdoor GPS unit is superior because it is much more robust and water resistant, has longer battery life, and better reception in remote places.
The rugged Garmin Rino 700 navigator features a quad helix antenna and a high-sensitivity dual receiver, which can read not only GPS positions, but also signals from the russian GLONASS satellite system. This helps to quickly find a position even in heavy cover, deep canyons or remote locations. The device includes a worldwide basemap plus comprehensive navigation and tracking features. In addition, it features a 5W GMRS two-way radio with a range of up to 20 miles, so Rino-carrying members of a group can easily stay in touch.
Position reporting lets users send their exact location to another Rino, and position polling can request a position from other devices. The ruggedly built housing offers IPX7 water protection and an easy-to-use thumbstick control that makes one-hand operation simple.
www.garmin.com
The great indoors
The other challenging environment for navigation systems is indoors. GPS is unreliable in interior spaces because there is no visual contact with the GPS satellites, so an IPS (Indoor Positioning System) must use other positioning methods. These are typically based on either Wi-Fi or Bluetooth Low energy (BLE).
Wi-Fi indoor navigation has the advantage that it can use a wide range of already existing access points in a building. Each Wi-Fi access point, whether customer hotspot, router or Internet-enabled point of sale system, transmits specific data. This information is stored in a database so that a smartphone app can calculate the current location using RSSI (Received Signal Strength Indication) and MAC address (Media Access Control).
Depending on whether the smartphone is connected to a Wi-Fi network or not, localization is affected by various restrictions. If the Wi-Fi client is not connected, latency times of up to 5 minutes result from the irregular sending of "probe request" (scanning for available access points), which is controlled by the mobile operating system and cannot be influenced.
In addition, due to randomly generated, changing MAC addresses (MAC randomization), the actual number of devices in an area cannot always be precisely determined.
If the smartphone is connected to a Wi-Fi network, latency times are significantly lower as long as traffic is generated over the network. There is also no MAC randomization, which means that the device can be uniquely assigned.
The position accuracy is not affected by the connection to an access point.
The accuracy of Wi-Fi for indoor positioning is typically in the range of 5-15 meters, depending on how much the signal is shielded by walls, ceilings or crowds of people.
This accuracy is good enough for general orientation, but not if people have to be guided to a certain door in an office building or to a particular aisle in a supermarket. Such applications typically use beacons for indoor navigation, which allow an accuracy of up to 1 meter.
Bluetooth beacons are small radio transmitters that send out signals in a radius of 10-30 meters. A smartphone receives these signals from beacons installed in the building and uses the signal strength measurement for localization. At about 3 to 30 US$ per unit, beacons are fairly cost-effective, can be installed with minimal effort, and are supported by many operating systems and devices. Thanks to the BLE (Bluetooth Low Energy) standard they are also very energy efficient, with battery lifetimes of two to eight years. Beacons can be used for both client-based as well as server-based applications.
Analysts forecast that the global indoor positioning market will grow at a CAGR of +50% from now till 2021. Several big companies are eager to seize this market opportunity. Apple and Google are developing own solutions and Siemens has recently entered a cooperation with German specialist infsoft to add location-based services to its portfolio for digital buildings.
Battery-free navigation
Even with all these GPS, Bluetooth and Wi-Fi systems on the market, some people still prefer to navigate by old-fashioned printed maps. They do not rely on satellite signal reception, are easy to read even in bright sunlight, and offer display sizes in the range of feet rather than inches.
Maps may not be able to calculate a route from A to B, but they give a real sense of orientation. With a map, not only does one see an entire space laid out at once, but you have to plot your own route through it. This planning process makes one much more likely to remember the general geography of an area, something that users of satellite navigation tend to lack.
Maps can also help to create spontaneity. Picking a route that isn′t necessarily the "ideal" route may lead you to destinations you never considered, but enjoy.
Sometimes getting lost is not a bad thing.
Leopold Ploner