EtherCAT energy management
Beckhoff: Four new EtherCAT I/O terminals have been added to the existing product range, making a broader range of EtherCAT Terminals available in terms of price and performance.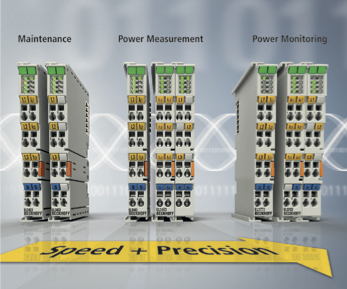 Together with the EL37x3 power monitoring oversampling terminals (and the associated TwinCAT Power Monitoring software library), the new EtherCAT terminals for energy management provide a comprehensive product portfolio that can be optimally adapted to the varied tasks found in a wide range of applications.
Two of the new EtherCAT Terminals are ideally suited for power measurement in process control applications. A new standard power measurement terminal, the EL3443 3-phase EtherCAT Terminal, is universally suitable for process control tasks. The EL3453 3-phase EtherCAT Terminal measures voltages up to 690 VAC and focuses on more demanding process control tasks.