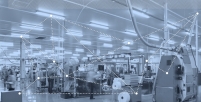 Bluetooth Mesh adoption
In the year since the release of Bluetooth mesh, more than 65 products with mesh networking capability have been qualified from leading silicon, stack, component, and end product vendors, the Bluetooth SIG reports.
Bluetooth mesh networking enables many-to-many (m:m) device communications and is optimized for creating large-scale device networks. Designed to meet the scalability, reliability, and security requirements of commercial and industrial environments, Bluetooth mesh is powering smart building and smart industry implementations where hundreds, or thousands of devices need to communicate with one another effectively.
"The strategic decision to adopt Bluetooth as the communications platform for our smart home strategy was an obvious choice for us," said Lijuan Chen, Head of Alibaba A.I. Labs, the department leading consumer AI product development at Alibaba Group. "Bluetooth mesh is a wireless protocol that enables us to meet our customers' scale, performance, and reliability requirements in the home. Bluetooth is already a proven, trusted, and widely used wireless standard, and we're confident Bluetooth mesh will be the standard in home and building automation for years to come."
"We are really excited about the rapid progress our member companies have made using Bluetooth mesh in just one year," said Mark Powell, Executive Director of the Bluetooth Special Interest Group. "The Bluetooth member community dove straight into developing with the new technology, creating a growing list of product innovations that will steer the evolution and direction of commercial and industrial markets for years to come."