Mobile technology is automation's new normal
Industrial automation has traditionally been built using dedicated and fixed-in-place HMIs, but operator interfaces through mobile devices are the new normal. Remote system access, rich displays and diagnostics offer convenience, cost effectiveness, and help businesses become more efficient and competitive.
MOBILE DEVICES ARE A FUNDAMENTAL PART of everyday life the world over. Most of us use them primarily for entertainment-social media, photos, music, web browsing and so on-but smartphones and tablets also make it fast and easy to do more serious work like navigation, communication, exercise tracking, shopping and banking.
The younger you are, the more you expect this convenience, and perhaps the less you realize how amazing the mobile transformation has been in the past 10 years or so. Mobile gained momentum and popularity in the personal sector, then in business, and it′s now moving into industrial applications, with eventual widespread use expected.
Increasingly, industrial automation engineers and technicians are seeing the value of using commercial off-the-shelf (COTS) mobile devices for situations like these:
Remotely accessing equipment
Commissioning and maintaining systems
Providing inexpensive machine operator interfaces
Incorporating mobile technology to supplement or replace traditional dedicated equipment can provide several benefits including cost savings, more efficient operations and improved safety.
Mobile devices are not just for personal use anymore and are transitioning into tools for industrial automation.
Mobile means business
Back when using an electronic device for work meant working on a desktop or a laptop PC, the device was generally provided by the employer. The technology was administrated in a controlled manner, typically with no personal software allowed. At the time PCs were the only practical method, since useful mobile technologies were not available or were in their infancy.
Yet over the past several years companies have noticed increasing numbers of employees using their own mobile devices in their jobs, so much so that the trend has been dubbed "bring your own device," or BYOD. Employees have good reasons for wanting to use their mobile devices in business: they are easy to use, familiar, powerful and offer capabilities not available through PCs.
But new opportunities can also introduce new quandaries, and the BYOD trend is no exception. Company and employee concerns about using these devices at work are real: network security, privacy, who pays for the device′s data plan and so on.
Despite these concerns, the transition of personal devices into business settings has become more natural than ever. The rapid growth of this trend shows us something important: the power of COTS mobile devices to make a positive business impact. Mainstream smartphones and tablets create new opportunities to simplify our jobs and streamline tasks, and employees don′t want to do without them.
Commercial Off-The-Shelf
COTS as a concept didn′t originate with mobile devices, but it has been a key factor enabling the BYOD trend. The term was popularized in the mid-1990s when the U.S. military, instead of designing and building their own hardware and software, began looking first for technology and products designed and built by commercial firms and offered for sale to the general market.
COTS products are attractive for several reasons:
Initial Cost: Development costs have been distributed over a broad market, making the product less expensive.
Availability: Products are readily available, and spares can be quickly acquired instead of stocked.
Integration: Products in the general marketplace often use common open standards, making interoperability easier.
Capabilities: Competitive pressures lead to more frequent product updates to add new features and support the latest technologies.
Associated Costs: Support and training costs are lower because the product is well known and familiar to employees.
These factors enabled the widespread increase of consumer mobile devices, which in turn spurred on BYOD in the industrial automation workplace.
Tying it together at the factory
COTS first impacted industrial automation more than 20 years ago, when consumer-based PCs first began to infiltrate the factory floor as human machine interfaces (HMIs). Today, off-the-shelf PCs are an integral part of industry and business. COTS mobile devices appear on track to be adopted by industry in a similar and even more aggressive manner. Mobile devices in typical office settings are used for email and light document viewing. They work well over common Ethernet and Wi-Fi networks, or sometimes even cellular networks. Sensitive banking and government data can pose a security concern, but overall mobile devices are very convenient.
Potential uses expand in industrial automation applications, but in these areas, companies use a variety of proprietary protocols and systems. While the proprietary nature of some industrial automation systems has slowed direct adoption of COTS mobile devices to some extent, controls engineers have found many indirect uses, such as:
Apps for calculations and drawings
Apps for looking up standards and codes
Built-in sensory tools for testing with field sensors
Cameras for documenting and troubleshooting
Because mobile devices are constantly used in their personal lives, some younger employees may be shocked when legacy equipment is not capable of performing basic smartphone-type functions. The reality is that COTS smartphones and tablets come standard with several key features and benefits:
Multi-gesture, high-definition touchscreens
Built-in industry standard wireless Ethernet (IEEE 802.11) and security protocols (WPA2 and TLS)
A large pool of developers familiar with mobile platforms and web-based development
Familiar look and feel, especially for younger engineers
In the most basic sense, mobile connectivity can make it easier for technicians to manage their company′s equipment, whether it is on a local site, distributed over a large geographic area or in another part of the world. It is relatively easy, for example, to see how water/wastewater and oil & gas industries with far-flung installations could use remote monitoring, but other industry trends are also in play.
The term "Industry 4.0" stands for the Fourth Industrial Revolution and points to the growing interconnectedness of sensors, actuators, machines and processes with each other and with the people who work with these components and systems. The increasing availability of industrial internet of things (IIoT) devices enables this movement.
IIoT devices include sensors and equipment able to supply large amounts of data and easily communicate it to other systems. While some future visions of interconnected automation see reduced human involvement, it is equally plausible that better links between humans and machines will result in more efficient design, monitoring and control of sensors and systems. Properly implemented COTS mobile devices are ideally positioned to enable this transition.
COTS mobile considerations
With mobile poised to play such a large part in the future of automation, it becomes important to look for the right features. Four main considerations are:
Environment
Safety
Security
Connectivity
For industrial applications, it may not be practical to use an unprotected COTS mobile device in challenging environments. The most obvious issues include extreme heat and cold, humidity, dirt, water and chemicals. Even locations that require climbing around concrete and metal structures will soon result in a dropped device. However, businesses can rig mobile devices to survive harsh conditions.
Some mobile devices for business are already built to military or commercial standards. Ruggedized products are better protected from the elements by offering scratch-resistant and break-resistant glass, and anti-shock housings. Protective cases for COTS devices are readily available and inexpensive, providing an economical way to upgrade inexpensive devices. For mounted devices, vendors offer a variety of stands and enclosures.
Safety impacts mobile usage in more than one way. While the most stringent flammable and explosive locations may still require specialized intrinsically safe devices, using mobile devices just outside these areas can enable personnel to work at a safer distance and keep cabinets closed. Some personal protective equipment such as gloves may hinder workers from effectively using mobile devices, but this is also true of fixed HMIs.
Security is an area where information technology (IT) and industrial automation (IA) roles often interact. Successful companies often leverage IT′s experience to secure Ethernet networks using a multi-layered approach, while allowing sufficient and convenient access for IA users to accomplish their work. The U.S. Industrial Control Systems Cyber Emergency Response Team (ICS-CERT) website, part of Homeland Security, offers many best practices.
For connectivity, mobile devices typically use one or more built-in standard wireless options. This means a facility may need to install or upgrade their networking infrastructure to some degree, although many locations are able to take advantage of business networks already in place.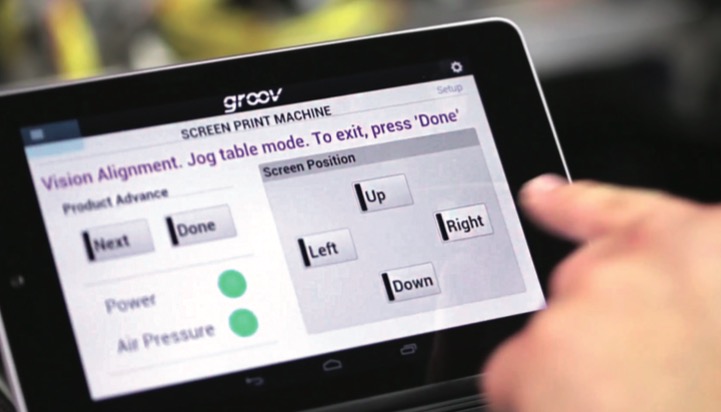 Automation systems can integrate mobile devices for easy remote system access, rich HMIs and diagnostics.
New tools drive the future
With COTS, smartphones and tablets on the rise in industrial settings, it is worth considering new automation technology designed to optimize the industrial experience. New technology implemented in the groov View HMI software and groov EPIC edge programmable industrial controller are each designed specifically to make connectivity, data handling and visualization easier for automation engineers.
With this technology, interfaces are built quickly using drag-and-drop objects from a built-in library, with simple accommodations for any size computing device. User permissions and encrypted security capabilities are standard. And built-in connectivity to a variety of control systems, legacy equipment, software, and online services makes it easier to obtain and share useful data.
COTS smartphones and tablets are already being used in industrial automation, and the trend will accelerate as they become the "new normal." Remote system access, rich HMIs and detailed diagnostics will provide convenience and cost effectiveness, helping businesses to be more efficient and competitive.
Benson Hougland, Vice President, Marketing and Product Strategy, Opto 22.