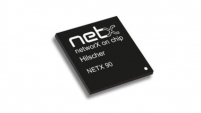 Chip connects devices to the IIoT
The latest member of the Hilscher netX family of single-chip network controller ASICs is the netX 90, which features built-in security and supports Fieldbus, Real Time Ethernet and IIoT protocols. The chip addresses the fact that a large proportion of slave devices in use today will have to be replaced and/or updated if cyber risk threats are to be countered adequately for cloud-based and Industrial Internet of Things (IIoT) applications. Not only does the netX 90 provide universal connectivity for all popular Real Time Ethernets (RTEs), it is "IoT-ready" with support for OPC UA and MQTT, and it can also easily interface to all modern sensor buses. "netX 52, its predecessor, was already a powerful interface for sensors and actuators," said Nico Mading, Hilscher netX Business Development Manager. "With netX 90 we´ve incorporated low-level drivers for even more sensor protocols, including encoder types such as BiSS and EnDAT 2.2, and our IO-Link capability has been enhanced too."
netX 90 is a dual processor chip with all the network connectivity common to Hilscher products, including easy firmware updating of protocols. It is divided into two halves: popular RTE and fieldbus protocols are supported on the network-facing side while a number of device-specific protocols (I/O, EnDat, Biss, and many other peripherals) are supported on the applications (slave-facing) side. In between are some common features such as on-chip diagnostics.
"A key benefit to the netX 90 is its added security," says Phil Marshall, Hilscher North America CEO. As well as secure boot procedures underpinning a software "chain of trust", there is hardware-based encryption technology built-in, and an architecture that enables designers to create IEC 62443-compliant layered security solutions. Never before has a slave interface offered so much, says Marshall. "This is truly a secure a ´system-on-a-chip´ solution for slave devices. We honestly believe netX 90 can support anything that IIoT and Industrie 4.0 can throw at it, including MQTT, OPC UA and even Time Sensitive Networking [TSN]. To our knowledge netX 90 is the first chip designed specifically for industrial devices that includes the security required for next-generation Industrie 4.0 capability."
netX 90 comes with a full eco-system of development boards, accessories and software. JTAG developer´s kits are available and there´s an SoC solution called netRAPID 90 featuring netX 90 mounted on a small PCB, for direct embedding onto a motherboard.
www.na.hilscher.com/fileadmin/user_upload/usa/news/Hilscher_netX90_White_Paper_2018.pdf