Giving wireless communication a lift
Shanghai Zhenhua Heavy Industries, a global leader in heavy machinery manufacturing and machine building, added reliable wireless connections at several port locations to connect their industry-leading Rubber Tired Gantry (RTGs) cranes and base stations for more reliable, efficient operations.
TO PROTECT THE VALUABLE MATERIALS and ensure their safe transport, China′s largest heavy-duty equipment manufacturer, Shanghai Zhenhua Heavy Industries, was looking to implement a stable and reliable communication solution between their port-cranes and the base station.
The manufacturer, formerly Shanghai Port Machinery Company (ZPMC), sought a robust wireless link between the various components of the operation to improve connectivity and efficiency and eliminate potential communication gaps during the critical loading and unloading processes.
Before goods are loaded onto a ship to reach their next or final destination, they must be carefully packaged in large shipping containers. Using heavy-grade industrial cranes, the shipping containers are lifted onto or removed from large cargo ships. Throughout this process, the ultimate level of precision is paramount. The materials stored within these large metal containers must withstand months of travel overseas and by land. If a container is damaged during the onboarding or unloading process, shipping companies are often liable for damages.
Housing seven of the top 10 largest shipping ports worldwide, China truly is the hub for international trade. In June 2018, China exported more than $216 billion worth of products. Because the country plays such an important role in the global trade market, shipping companies must take rigorous measures to ensure the seamless operation of material transportation.
The robust wireless link between the various components of the operation improved connectivity and efficiency while eliminating potential communication gaps during the critical loading and unloading processes.
Optimizing network communication
Providing 75 percent of all port-cranes used worldwide, ZPMC′s success is dependent upon producing solid equipment designed to handle bulk loading and unloading. ZPMC′s most popular crane, the Rubber Tired Gantry (RTG), can be found in 76 countries across the world. These high-quality cranes must lift and pile heavy cargo containers with an extreme degree of efficiency, often at a rate of 30 to 40 containers per hour. Any unplanned downtime or interruptions can bring an entire port to a stand-still.
In many industrial ports, RTG cranes travel along harbor-side tracks, exposed to changing weather conditions, industrial stress and constant movement. Since reliable communication was a top priority, the appliances used to monitor the RTG cranes also needed to withstand these harsh operating conditions. To achieve maximum performance, the solution had to offer ZPMC top-notch efficiency, safety and stability. By striking this balance, constant communication would be guaranteed between the RTGs, base station and office network tower. Meeting these requirements, though, would not be an easy task.
With the goal of continuing ZPMC′s legacy as a manufacturer of high-performance and safe cranes, the industrial company opted to work with Belden, a partner well-known for delivering quality, industry-standard networking components.
"For us, downtime is not an option, and despite some concerns about the reliability of wireless technology - we knew it would be key to enhancing overall performance," said Ms. Xiayun Xu, sales manager for Shanghai Zhenhua Heavy Industries. "Our customers rely on us to bring them solutions that will meet exacting specifications for equally exacting applications - as with the RTG cranes. The only way we can meet those expectations is by working with partners that know both our business needs and those of our customers in China and across the world."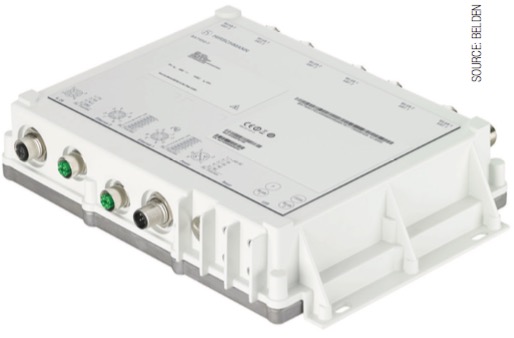 The massive port-container cranes use a reliable wireless network architecture to maximize safety and security.
Putting it to the test
In this application, ZPMC tasked Belden with providing wireless technology that could deliver signals that would routinely travel between 700 meters to one kilometer. Additionally, all components of the application had to meet IEEE′s 802.11n wireless standards.
Since the proposed solution had to work both in theory and when put to the test, the project would involve extensive support throughout the installation and application process. Maximum performance levels were a must, meaning the wireless solution used had to be industrial-grade to ensure reliable operations in its sometimes-harsh operating environment.
To provide a solution that would accommodate the manufacturer′s evolving needs, Belden employed a cost-effective strategy using various access points and wireless technology. The primary device implemented in the solution was the BAT450-F industrial wireless local area network (LAN) access point. This high-performance access point was chosen for the project as it enables reliable and fast data transmission - up to 450 Mbps - in stressful industrial settings.
With ruggedized features to meet IP65/IP67 ratings, a compact design with industrial M12 sockets and the ability to operate under extreme temperatures, the BAT450-F was the optimal solution to reliably meet the high-performance standards in this harsh environment. The solution was paired with ClearSpace wireless technology to eliminate radio interferences and guarantee stable wireless connections over long distance. Hirschmann′s operating system, HiLCOS, also added a rich set of redundancy protocols and best-in-class security features to the BAT450-F family to ensure a stable communication.
In the end, ZPMC not only gained a valuable partner, but a future-proof solution that would evolve with the facility′s needs. Through local support and using products that were approved for application in China, the manufacturer installed a trusted and cost-effective, quick and simple solution to maximize uptime and performance.
Ute Decker, Strategic Partner Marketing and Training Manager, Belden.