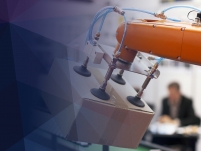 Maplesoft appoints new CEO
Effective January 1, 2019, Dr. Laurent Bernardin, Chief Scientist and current Maplesoft COO, has been appointed President and CEO of Maplesoft. Bernardin succeeds Jim Cooper, who is moving on to become the full-time CEO of DigitalEd, a company Maplesoft spun-off in early 2018.
As senior Maplesoft executives, Jim Cooper and Laurent Bernardin have worked closely together for more than 15 years. During this time of transformation, Cooper will continue to act as an advisor to Maplesoft, working closely with Dr. Bernardin to ensure a smooth transition.
Dr. Bernardin has led Maplesoft's research and development efforts across Maplesoft's portfolio of mathematics and engineering products and services. During his tenure as Chief Scientist and COO of Maplesoft, Dr. Bernardin has spearheaded many important technology shifts that have resulted in substantial growth for the company. "I'm thrilled to be taking on the management of an organization that I've worked for and believed in for many years," said Dr. Bernardin. "Maplesoft has an exceptionally talented team of people, a track record of innovation and success, and development plans that will continue to revolutionize our products and solutions. I'm delighted to be at the helm as we move into an exciting future." Dr. Bernardin continued: "On behalf of everyone at Maplesoft, I'd like to thank Jim Cooper for his tireless dedication to Maplesoft over the time of his leadership."