Gateway includes Ignition Edge
ORing: This all-in-one industrial gateway enables IIoT applications from the edge to the cloud. The IGMG-P83244GC+-D4G gateway has numerous features, including Ignition Onboard and Ignition Edge Onboard. The industrial-grade design is compliant with requirements of IEC 61850-3.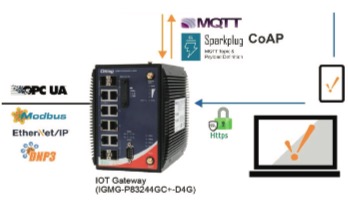 The new gateway has built-in 8-port Gigabit Ethernet with 4x10/100/1000Base-T(X) and 4xGigabit SFP Combo ports. The web-based Ignition platform can be used for human-machine interface (HMI), supervisory control and data acquisition (SCADA), and the Industrial Internet of Things (IIoT). Node-RED is also onboard, along with support for MQTT and other protocols. The Gateway is AT&T-certified and can be purchased with a bundled SIM card and LTE data plan
ORing develops own-branded products for industrial settings. The company has extensive experience in switch and wireless product design. ORing′s products have been deployed in surveillance, rail transport, industrial automation, power substations, renewable energy, and marine applications.