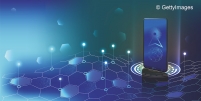 Water treatment monitoring app
EnWat GmbH manufactures and services technology for the chemical-free preparation of drinking water. To improve processes and cut the costs associated with maintaining customer facilities, EnWat uses an app that Siemens´ experts from the MindSphere Application Center in Alpharetta have developed. Thanks to this app, 90 percent of site visits that were previously performed are no longer necessary. The app is now ready for rollout to other companies.
With no central control system and no uniform monitoring, maintaining customers facilities had proven to be expensive and time consuming for German company EnWat. The company´s CEO, Klaus Strätz, thought a digital solution might be the answer, so he submitted a use case for the MindSphere Open Space Challenge in 2018. Within the challenge, different teams compete to create digital solutions for a host of issues. For the EnWat entry, a jury of experts found a winner in the concept from the Siemens MindSphere Application Center (MAC) in Alpharetta, Georgia. The result is Water Treatment Monitoring (WatMon), a MindSphere-based app. It collects data from distributed systems via secure channels and analyzes it with advanced algorithms. The app offers workorder management, which enables easy planning and tracking of maintenance activities.
While Water Treatment Monitoring was designed for EnWat, the solution is also suitable for a range of applications where a central analysis of decentralized assets is necessary. The app is now available in the MindSphere App Store.
new.siemens.com/global/en/products/software/mindsphere.html