Edge gateway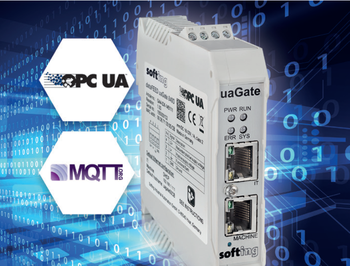 Softing: The new uaGate 840D gateway allows users to access the complete data from SINUMERIK 840D machine tools via the OPC UA standard, and use it directly in Industrie 4.0 applications.
The SINUMERIK 840D sl CNC controller from Siemens is used in a variety of machine tools for implementing milling, turning, grinding, nibbling and punching technologies. Here, a central requirement is the further processing of both the control data as well as the NC and drive data within an integrated overall application. In the context of increasing digitalization, the use of open and standardized communication technologies is becoming increasingly important.
So far, however, only the data from the integrated SIMATIC S7 controller could be reused outside the machine tool, while the NC and drive data could not be accessed from outside. Softing′s new uaGate 840D gateway now closes this gap and for the first time provides access to the complete machine tool data. This allows important spindle and axis data, such as torque and power consumption, to be read out and processed outside the Siemens world using the OPC UA and MQTT communication technologies.
Together with the associated alarms, this data for instance becomes available for condition monitoring, predictive maintenance, data logging or analysis tasks. In addition, this gateway allows to generally integrate the SINUMERIK 840D sl CNC controller into Industrie 4.0 applications.