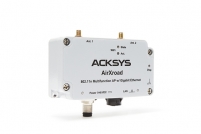 All-in-one WiFi for onboard networks
The new AirXroad from Acksys is an all-in-one WiFi solution designed for onboard networks, including access point, client, router repeater and mesh.
AirXroad is designed to turn mobile industrial equipment like AGVs, bridges or cranes, as well as buses, construction equipment and other vehicles into truly connected equipment. Applications include M2M communications, remote I/O, command control of bridge cranes, cranes, mobile trolleys, rotating machines, and more. This WiFi solution can also be used for remote displays on onboard HMIs, and for data offloading at bus depots (SAE, video monitoring, passenger counting, passenger information).
AirXroad features an aluminum enclosure and a rugged shock and vibration proof connector technology. The compact size of only 115 x 64 x 34 mm makes it easy to integrate in confined spaces. AirXroad routing and filtering features, as well as the management suite Acksys WaveManager and WaveViewer, ease the deployment of new fleets of vehicles. AirXroad has an operating temperature of -40°C to +70°C, is shock and vibration proof, has IP66 protection against dust and water, and fulfils the ECE R10 EMC standard for onboard electronic devices.
www.acksys.fr/en/product/60-airxroad/