CAN bus deployment integrates industrial communications
CAN Bus provides both high-performance and high-security that can be used for common applications that require strict stability and safety, including the aviation industry, vehicular use, medical instruments, military industry, railways, robotics and critical control systems.
CAN IS A SERIAL BUS CONTROL PROTOCOL that features high flexibility and integration capabilities. Allowing workstations to be added to existing networks without needing to modify or adjust the hardware or software, it also provides high-level security and efficient control in real-time.
In the past, an RS-485 interface relied completely on the software mechanism. The determination of packet accuracy and prevention of packet collision was performed by the software program. In contrast, the CAN hardware features automatic error detection and priority determination. The security of network packets is checked by the hardware, which can complete multiple error checking operations in a very short time. Consequently, the transmission of a large number of network messages is more reliable and more efficient.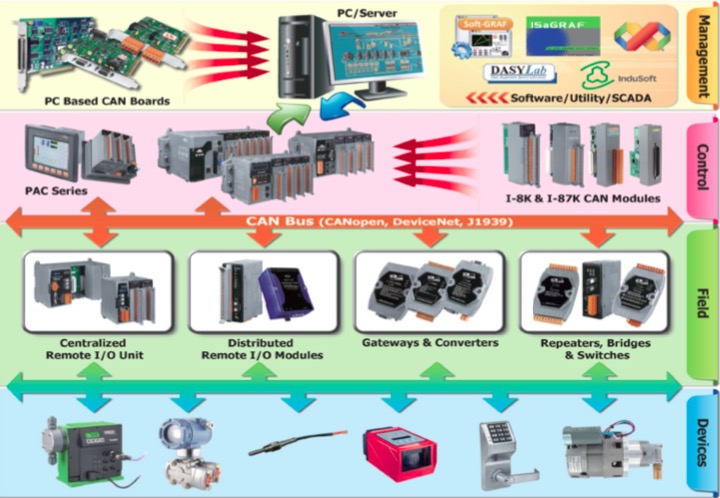 A highly varied selection of CAN controllers, software and modules create solutions for a variety of application needs.
Multi-master support
The CAN Bus supports multi-master operation, making it the most efficient serial bus. Any device on the CAN network can actively send packets at any time. Such as the heartbeat packets from the device, real-time alarm packets, or other information.
This feature makes it more outstanding than other serial buses. CAN Bus utilization rate is very high, reducing unnecessary polling and removing the need to waste time waiting for acknowledgment packets, thereby speeding up the transmission of information and decreasing communication energy.
The CAN Bus is a serial communication bus system. That has high-level data integration capabilities, even in harsh environments that have extensive electrical noise interference. It also provides high fault tolerance and error correction abilities. The Bus itself features multi-master electrical characteristics, and its open architecture creates flexibility.
To keep pace with the ever-increasing sophistication of industrial technology and the pervasiveness of industrial automation, major equipment manufacturers and system integrators alike have adopted the CAN Bus as their core communication system. In the industrial sector, the CAN Bus is generally regarded as an integral component to the stability and security of any system.
In real industrial settings, a wide range of communications interfaces, including RS-232, RS-485, Ethernet, and CAN Bus, to name a few, are used by the majority of automation applications. To create a heterogeneous system, it is necessary to take into consideration the various interfaces, together with their distances from the Master device and the speed at which they operate, meaning that the combined communication performance and cost is difficult to estimate. To complicate matters further, integration issues and stability concerns are both very real and common. To resolve these difficulties, numerous types of converter and gateway devices are available on the market including those made by ICP DAS.
From its many years of experience, ICP DAS has produced hundreds of high-quality CAN Bus products. The CAN Bus converter can manage a range of transmission interfaces, meaning that more complex network structures are within easy reach. The ICP DAS CAN Bus converter serves as a solid foundation upon which many basic components can be built, including COM, USB, and Ethernet communications. ICP DAS has developed a series of DeviceNet/CANopen/J1939 products, including PCI interface cards, Fieldbus converters, PACs, gateways and remote I/O modules.
The technology provides complete hardware solutions to satisfy a wide variety of CAN-based applications that can effectively solve issues related to data acquisition and calculation, transmission distance extension, network topology limitations, communication interface transformation, and noise resistance.
ICP DAS also supplies a wide range of software tools, which can help you to develop complicated and customized control and monitoring systems more easily and quickly, including utility, APIs, demo programs, OPC, ActiveX, and third-party drivers. OEM/ODM services for specific projects help customers complete complex CAN-based projects.

Transparent communication functionality adds CAN communication functions to traditional UART devices.
CAN Bus to UART Converters
Technology benefits:
Allows users to expand the communication functions of the CAN Bus on the host computer or PLC.
Transparent communication functionality, adding CAN communication functions to traditional UART devices.
Optical coupling isolation on the CAN side for protection.
The I-7530-FT module is designed for the fault-tolerant CAN Bus (ISO 11898-3).
The I-7530A-MR module supports Modbus RTU communication functions.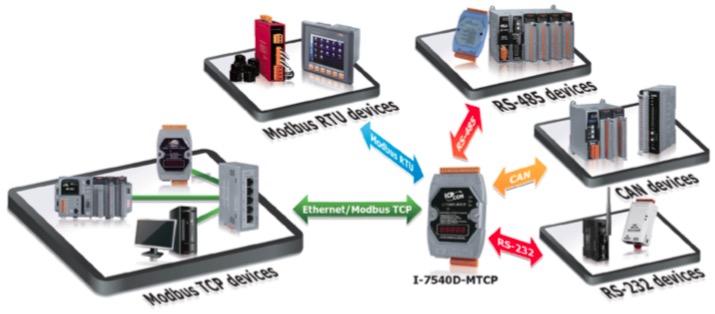 CAN communications over a local area network or the Internet creates support for remote monitoring and control.
CAN Bus to Ethernet or Wi-Fi interface converters
Technology benefits:
Provides multiple sockets to support the CAN Bus communication function in a local area network or the Internet, meaning that users can then perform remote monitoring and control.
Supports transparent communication functionality, allowing the range of CAN communication to be extended.
Module supports both the Modbus TCP and the Modbus RTU protocol.
The ECAN-240 module contains two CAN communication ports, providing a wide variety of functions.
Module is compatible with 802.11 b/g wireless transmission standards can transmit CAN data between the CAN network and the WLAN network.
USB to CAN Converters
Technology benefits:
CAN device easily powered and controlled via USB on a PC for on-site usage.
Optical coupling isolation on the CAN side for protection.
Supplies APIs for use on various platforms to make secondary development easier and more efficient providing you with the flexibility to perform data collection and processing from the CAN Bus network.
Module support for high-speed USB connections and two built-in CAN ports.
Modules provide time-stamp functionality for each received CAN message, meaning that the time calculation for the CAN message will be more accurate.
CAN and Fiber Converter or Bridge
Technology benefits:
Fiber optic communication is not only fast but also more resistant to interference from noise.
Multimode fiber converter can be used in signal isolation and signal reconstruction applications.
Optical coupling isolation on the CAN side for protection.
A single-mode fiber bridge allows two CAN network operating at different Baud Rates to exchange data with each other, and extends the communication range of CAN Bus.
Module support for up to 60 km of fiber, meaning that long-distance communication is no longer difficult.
The CAN Bus has been adopted in a wide range of industries, including aviation, electric vehicles, solar energy, wind power, elevator systems, building fire protection systems, environmental monitoring, warehouse automation, and redundant control systems.
CAN Bus Applications
Battery exchange station for electric motorcycles: The battery exchange station uses the PISO-CAN200U module to monitor the charging information, including the battery temperature, SOC, and charging current, etc., for all batteries. It can record the time the battery has been in use, as well as the number of charge/discharge cycles for each battery, and then calculate the remaining battery life and provide a battery health score, so that the motorcycle owner will only receive a battery that is in good health, rather than a battery that is about to fail or is in an unstable condition. Typically, the motorcycle owner will exchange batteries at the exchange station if the battery still has residual power. This system also offers a smart charge approach based on the actual amount of power consumed. Bad batteries can be directly recycled.
Production/inspection of LCD panels: LCD glass plays an essential role in the entire production process of LCD panels, and the yield of glass substrates is even more important. The design of this system focuses on checking whether the glass has bubbles or cracks. A robotic arm uses a Beckhoff PLC based on the DeviceNet communication interface together with a self-developed control program. The PISO-DNM100U controller is a perfect selection for use as a DeviceNet master device, utilizing only a small amount of CPU resources to achieve real-time control requirements, thereby improving product yield and system stability, together with excellent scalability.
ABS/ESP and Train-aided radar systems: The I-7540D-WF controller can be used in conjunction with ABS/ESP system data and assisted driving radar functions. Mobile devices such as the iPad/iPhone (iOS), Android, and others can be used to connect to the system via Wi-Fi, and the controller will transform the information provided by the CAN Bus signals and forward the data to an ABS/ESP or assisted driving radar system.
IC Inspection Machines: An IC inspection process is necessary for good quality control. Though PLCs are cheap and stable, IC inspection is a difficult task for a PLC. If you use a camera on a PC in conjunction with a PISO-DNS100U to perform the IC inspection, you can then employ a PLC to control the mechanism used to reject defective ICs. After completing the inspection, the PC writes the result to the PISO-DNS100U. Because the PLC is used as a DeviceNet master, it can easily retrieve the information from the PISO-DNS100U via a DeviceNet network.
Energy Storage Systems: This system improves the usage efficiency of electrical power. During off-peak time for electricity use, unused electricity is stored in batteries. During peak time, these batteries then supply power to the electricity grid. In this system, two I-8120W modules are utilized, with a single VP-25W1 device inserted in each subsystem. The first is used to obtaining the status of the battery, and the other is used to transmit the data to the XP-8341 module, which then transmits the status information to the PC via the Ethernet and controls the charge time using a breaker.
Technology report by ICP DAS.