International IEC 63171-6 standard for Single Pair Ethernet
The T1 Industrial Style interface introduced by HARTING in 2016 has been the official SPE interface for industrial applications since January 23, 2020. This sets complete standards for IIoT networks based on SPE.
THE IEC SC 48B STANDARDS COMMITTEE FOR Copper Connectors published IEC 63171-6 on January 23, 2020. It describes the T1 Industrial Style SPE plug-in face and is the common strong connection for the SPE Partner Network and its members. T1 Industrial is the future interface for single pair Ethernet applications in industry. This standard is supported and integrated by the SPE relevant standards ISO/IEC 11801-3, ANSI TIA 1005-x and IEEE802.3cg.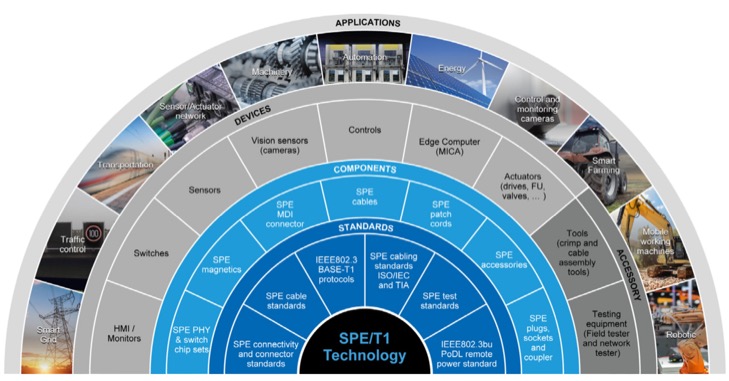 Single Pair Ethernet Ecosystem.
The IEC standardisation committee SC 48B published IEC 63171-6 as an international standard for Ethernet interfaces using only single pair wires. The T1 Industrial Style mating face described in the standard was included in standardisation by HARTING in 2016 and is now the internationally standardised default interface for SPE networks in M3I3C3E3 environments (industry).
IEC 63171-6 is included as a complete standard document with all specifications and test parameters in ISO/IEC 11801-3 for cabling and represents the specified standard interface. It is still possible, however, to use cabling components other than in IEC 63171-6, but these are not compliant with the standard and may pose a risk of functional loss.
For this reason, ISO/IEC JTC 1/SC 25/WG 3 started an international selection process in 2018, at the request of IEEE 802.3, which gives a recommendation for a SPE Media Dependent Interface (MDI). As a result of this choice of over 20 national standardisation bodies, a mating face has prevailed for industrial applications.
For industry and industry-related applications (M2I2C2E2 and M3I3C3E3), the mating face is set according to IEC 63171-6. This mating face is based on the proposal from HARTING T1 Industrial.
This result has been confirmed by TIA TR-42 and IEEE802.3cg. The T1 Industrial plug-in face supported by the SPE Partner Network in accordance with IEC 63171-6 is the standard interface for a standardised M3I3C3E3 end-to-end connection in single-pair Ethernet networks.
The founding members of the SPE partner network (HARTING, TE Connectivity, HIROSE, LEONI, Murrelektronik, Würth Electronic and softing IT network) as well as the companies igus, DEHN, HELUKABEL, Molex, Amphenol ICC, Lütze, ESCHA, Perinet, EKF and Zheijang which joined after the SPS 2019, support this common standard IEC 63171-6. Single pair Ethernet is the infrastructure basis that makes IIoT and Industry 4.0 possible.
View details on website at: https://single-pair-ethernet.com/en
News report from SPE Industrial Partner Network.