Industrial Internet Consortium details upcoming priorities
IIC announces new LTE for metro testbed, a working agreement with the 5G Alliance for Connected Industries and Automation and software best practices for developing and deploying IIoT solutions.
THE INDUSTRIAL INTERNET CONSORTIUM has announced a series of initiatives including a new LTE for metro testbed, a working agreement with the 5G Alliance for Connected Industries and Automation (5G-ACIA) and a compilation of testbed that offers best practices for developing and deploying IIoT solutions.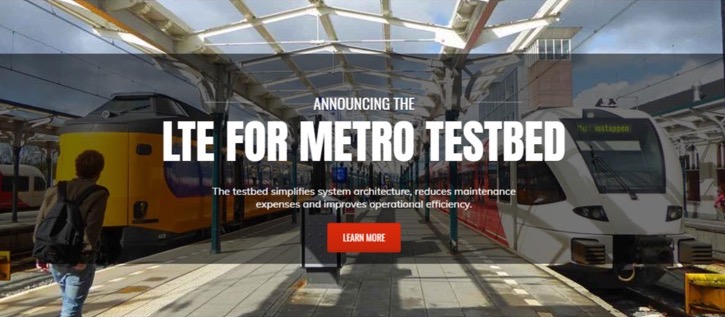 The testbed will establish and validate a profile for the use of LTE (Long-Term Evolution) in mission critical metro environments, so as to support the multiple types of services (critical and non-critical) in a metro system, replacing the existing non-standard multiple types of Wi-Fi networks.
LTE for metro testbed
The first testbed for the rail transportation industry, the LTE for Metro Testbed shows the feasibility of adapting LTE for Metro technologies for the urban rail sector.
"The LTE for Metro Testbed will serve as a benchmark and technical resource for future urban rail communications," said Dr. Richard Soley, Executive Director, IIC. "The testbed is part of the IIC Intelligent Transport Systems (ITS) initiative, in which IIC members are working on best practices and technologies to help guide the transportation industry."
Within metro systems, multiple types of wireless communication services are used for train control, and for management between devices on a moving train and facilities on the ground. The services include Communication Based Train Control (CBTC), Passenger Information System (PIS), CCTV monitoring, trunking communication and Train Control and Monitoring Systems (TCMS). Multiple wireless technologies support the different services. To guarantee critical service, two WiFi-based networks carry critical and noncritical services respectively, operating with vendor-specific extensions. They are not standardized or interoperable.
The IIC LTE for Metro Testbed plans to replace existing non-standard networks with a standard single-technology-based network. LTE for Metro technology features high bandwidth, great mobility and multi-service Quality of Service (QoS) capabilities, making it a prevailing trend for train-to-ground wireless communications. LTE for Metro technology has been tailored to metro railway requirements and meets the needs of the urban rail industry for service functions, performance and reliability.
IIC and 5G-ACIA
Under its new agreement, the IIC and 5G-ACIA will work together to align efforts to enable interoperability, prevent fragmentation, and in particular to maximize synergies of 5G for the Industrial Internet.
Areas of alignment and harmonization include use cases and scenarios, requirement modeling and specification, networking best practices and architecture patterns, technology co-existence and interworking, connectivity and communications security. Joint activities will happen between the organizations on leadership level to ensure complementary approach and identify synergies, as well as on concrete deliverables targeting the mentioned areas of mutual interest.
"5G represents a key technology for the factory of the future and for achieving unprecedented levels of flexibility, versatility and productivity," adds Andreas Müller, Bosch, and Chairman of 5G-ACIA. "We are excited to work more closely together with the IIC and to make sure that the different building blocks coming out of the two organizations seamlessly fit together. Only through such concerted actions it will be possible to unlock the full potential that 5G can bring to the factory floor."
"Networking is a key enabler of Industrial IoT, and with the emergence of 5G, we have a versatile platform to support many industrial use cases," said Jan Höller, Ericsson, and IIC Liaison Officer to 5G-ACIA.
Software best practices
A new report written for developers, owner- operators and decision makers, addresses various aspects of creating, acquiring and protecting software for IIoT systems. It also provides practical and actionable best practices for recognizing, addressing, managing and mitigating risks and their sources, and includes numerous use cases.
"You cannot talk about the trustworthiness of today's systems without an in-depth understanding of the trustworthiness of the software in these systems," said Mark Hermeling, one of the authors of the report and Senior Director of Product Marketing at GrammaTech, Inc.
"This concisely lays out the topics to consider when reasoning about the trustworthiness of software, during the entire lifecycle of the system, from inception to disposal," he added.
"Systems depend on software to function in potentially hostile environments that are inherently untrustworthy," said Simon Rix, one of the authors and Security Evangelist from Irdeto. "As a security practitioner, I like the practical nature of this as it presents techniques and methodologies to ensure that software is protected and not a target of attacks, thereby enabling successful business objectives in hostile, untrustworthy environments."
"Software is an essential part of almost all modern systems," said Frederick Hirsch from Fujitsu, and co-chair of the IIC Trustworthiness Task Group. "Ensuring that software is trustworthy is essential to assuring the trustworthiness of these systems, to make them appropriately secure, safe, reliable, resilient and privacy protecting."
News by Industrial Internet Consortium.