Work out and exercise during coronavirus isolation
As the coronavirus continues to spread worldwide, people hesitate to go to the gym where they share equipment, locker rooms, and towels. But avoiding gym germs doesn′t mean that you have to stop exercising. High-tech equipment allows you to work out from the comfort of your home.
TO TELL THE TRUTH, there are plenty of low-cost and no-cost options if you want to work out at home. You can do burpees, squats or lunges, and you can turn a broomstick with two jugs of water into a homemade barbell. But you can also use the coronavirus as an excuse to get yourself the latest and fanciest fitness equipment. Here are some suggestions.
Peloton bike
Peloton was launched in 2012 to bring immersive and challenging workouts into people′s lives in an accessible and efficient way. The Peloton bike promises to bring the community and excitement of boutique fitness into the home.
Essentially, it is a spin bike with a carbon and and aluminum frame and a weighted flywheel in the front. Weighing in at 135 pounds, it′s a pretty solid construction. Affixed to the front of the bike is a 22-inch touchscreen with a camera, microphone and speakers. The display shows your stats like cadence, resistance, output, overall exertion level, and heart rate.
More importantly, it also enables you to participate in training classes that are streamed from Peloton′s New York City studio. There are five live classes every day and you can view over 5,000 classes on-demand. These classes vary in terms of instructor, intensity, length, style, or music. We understand that it is not uncommon for several hundred people to be participating in a class at the same time.
Relative achievements of the participants are shown on a leaderboard on the display. This brings a competitive element to home work outs. On a normal stationary bike you pedal along lonely, while on the Peloton you are competing against other riders.
This means you have people to motivate you to go longer or sprint faster. A study published in the Journal of Social Sciences found that participants gravitate to the exercise behaviors of the people around them. So, working out with a group of ambitious, like-minded people makes it more likely to take advantage of your time on the bike.
Amazfit HomeStudio
The Amazfit HomeStudio takes a similar approach. You train at home, but you are not alone as you can join virtual classes.
The system′s three major components are a 43-inch HD screen that acts as a smart mirror, a sound system with JBL surround-sound speakers, and a treadmill, which can reach speeds of up to 12mph. The belt is comprised of 55 rubber-coated aluminum slats, designed to provide a balance of comfort and support. For hill training, the belt can be set to an incline of up to seven degrees.
The smart mirror display includes a 3D time-of-flight camera. The Amazfit computer uses the camera images to analyze your posture and technique.
To join a training class, the smart mirror connects to an online library via Internet. There are currently 1,000 classes across a wide variety of exercises. These go beyond treadmill work outs and also include yoga, sculpt and stretching. The side rails of the treadmill are strong enough to serve as a bodyweight training barre.
Mirror
If you like the idea of interactive work outs but don′t want your living room to look like a gym, you may want to take a look at Mirror. Mirror is like Amazfit without the treadmill.
The life size 40-inch full HD 1080p display with 178° wide viewing angle is mounted in a carbon steel frame, and indeed looks like a normal wall mirror when not in use. Under the shiny surface sits a Quad core processor, dual-band Wi-Fi, 2 x 10 watt stereo speakers, an omnidirectional microphone, and a 5 megapixel front-facing camera.
Dual-band 802.11 A/B/G/N Wi-Fi connects the Mirror to the Internet so you can attend one of more than 70 weekly live classes. Here you can join other Mirror members and get expert instruction and live feedback from certified instructors. You can also access a library of 10,000 on-demand classes or schedule one-on-one training sessions with a personal trainer.
The classes cover around 20 different genres from pilates and yoga to kickboxing and weight training.
Hydrow
Running, cycling or stretching are all fine, but maybe you are looking for a somewhat more exclusive work out?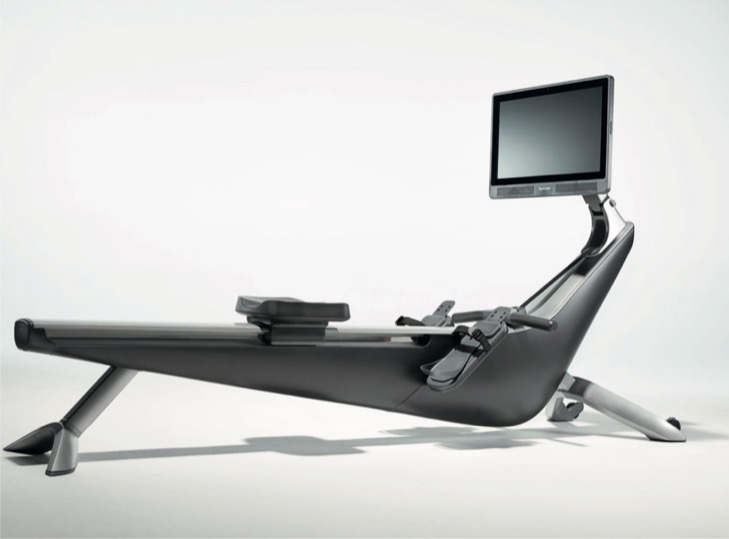 There are no indoor polo or equestrian simulators on the market yet, but rowing is typically considered a rather elitist sport. The Hydrow rower promises an immersive experience that lets you feel the river and the power of a team.
You can imagine yourself as part of the Oxford or Cambridge crews competing in the legendary Boat Race on the river Thames, without leaving the comfort of your home. That home should be spacious, because at 86 x 25 x 4 inches the Hydrow is not exactly a compact machine.

There is a "just row" mode where you′ll get a view of the water without any instruction, and there are hundreds of prerecorded workouts. The trainers are expert rowers, including Olympian Aquil Abdullah or US National team member Grace Luczak.
The live and on-demand rows are all filmed out on the open water. So while you may be sweating inside your apartment on a cold winter evening, at least the instructors had a beautiful day out on the water.
Leopold Ploner