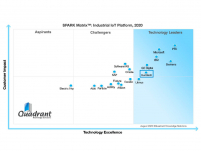 IIoT platforms ranking 2020
Quadrant Knowledge Solutions IIoT Platforms research includes detailed competition analysis and vendor evaluation with the proprietary SPARK Matrix analysis.
Industrial Internet of Things (IIoT) platform includes an integrated software suite that helps industrial organizations to monitor, manage, and control the connected devices via applications built on the platform. IIoT platforms may provide capabilities to support various industrial use cases, including asset tracking & monitoring, predictive maintenance, operational visibility & control, and others to support the complex industrial requirements of the large asset-intensive organizations. The key functionalities of an IIoT platform include connectivity, application enablement & management, device management, data management & processing, analytics & visualization, integration, security, and user interface for users as well as developers.
The SPARK Matrix includes ranking and positioning of leading vendors with a global impact. The positioning is based on the vendors' performance in various performance parameters on the categories of Technology Excellence and Customer Impact. The Industrial IoT (IIoT) Platforms SPARK Matrix evaluation examined vendors including Actility, Altizon, Atos, Electric Imp, Eurotech, Exosite, Flutura, GE Digital, IBM, Litmus Automation, Microsoft, Oracle, Particle, PTC, SAP, Siemens, and Software AG.
https://quadrant-solutions.com/market-research/spark-matrix-industrial-iot-iiot-platforms-2020/