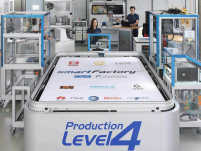 15 years SmartFactory Kaiserslautern
In 2005, seven companies founded the technology initiative SmartFactory KL, in Kaiserslautern, Germany. 15 years later, more than 50 member companies and research institutes are working here to develop future production methods. The development work carried out at SmartFactory KL soon became known as Industrie 4.0, and has become a synonym for the digital networking of production machines.
The whole concept was inspired by the Smart Home idea, remembers Prof. Detlef Zühlke: "If we can network the devices in the home, why can't we also network the machines in a factory?" The technological advances of the digital transformation enabled Zühlke to turn his vision into reality: the Internet of Things appeared, DFKI provided a description of cyber-physical systems, the federal government's digitalization strategy was named in 2011 after the Industrie 4.0 concept from Kaiserslautern. A first Industrie 4.0 demonstrator introduced at the Hannover Messe in 2014 was a key milestone.
Since 2019, Prof. Martin Ruskowski stands at the helm of SmartFactoryKL. He has carried out a detailed analysis of the Industrie 4.0 experience to date: "We found that in current industry practice, despite all the automation of equipment, not much has actually changed in the structure of production management and the original vision of autonomous production modules had not yet been implemented." Considering this and the technological advances, such as in artificial intelligence, Ruskowski feels that the term Industrie 4.0 requires an upgrade. This is called Production Level 4, and represents a greater flexibility in production, maximum autonomy, and production resilience. It redefines the role of human operators while building the new capability-based architecture that envisions a bot-controlled structure and encapsulated production steps.
As a practical first step, the idea was implemented with selected member companies. The new, modular scalable demonstrator shows the way to European-wide networking of autonomous production plants within the planned GAIA-X network. "We consider manufacturing as autonomous and modular, and crossing spatial boundaries. The demonstrator in Kaiserslautern will play a key role in the European Cloud project Gaia-X.," says Ruskowski.