Realtime Ethernet: VARAN two years on
Back in the summer of 2006 we presented a feature on Sigmatek?s realtime automation bus,VARAN. Over the last 18 months, the company has brought its ideas forward finding considerable support in the process. It has declared the technology as an open resource, setting up the Varan Bus User Organisation (VNO) in 2006. Capable of implementing deterministic Ethernet with nanosecond precision, the protocol has the distinction of not requiring any form of 1588-style centralised clock synchronisation. With the automation giant Mitsubishi coming up with a strikingly similar proposal for realtime Ethernet, we asked Robert Diosi to revisit the Varan concept with a technology update to this radically different and intriguing system.
The Varan bus (Versatile Automation Random Access Network) was developed with the goal of combining the best features of the various bus systems presently available. Great value was placed on high performance, easy implementation, low cost connection and most of all, high reliability.
The Varan bus was first introduced to the public at a VDMA presentation in Frankfurt back in January 2006. The response from machine manufacturers convinced Sigmatek to declare the Varan bus as open technology. The open umbrella group VNO now maintains the rights for the Varan bus, taking responsibility for the supervision and continued development of standards. Machine and equipment manufacturers as well as component suppliers convene at a single table to contribute their ideas and concepts.
Operational principles
The Varan bus uses a Manager-Client relationship in which the manager initiates all communication and the respective client replies immediately. Adherence to this tight relationship avoids the problems of data collisions on the bus.
Furthermore, the protocol is executed entirely in the hardware. This removes the burden of communication and management tasks for the real time Ethernet bus from the CPU or PLC. This allows the PLC to use the processing power for the control and regulation tasks for which it is designed.
The network management tasks are delegated to relatively inexpensive FPGAs located in the manager and client devices. Varan bus modules can be implemented for the same costs as field bus connections. Each participant is synchronised to a jitter level of less than 100ns. This renders the use of distributed clocks unnecessary.
Deciding how the Varan bus protocol should appear was relatively simple: Because Ethernet physics is used as the transfer medium, the use of standard Ethernet protocols was also considered in the first attempt. It was quickly discovered however, that the overhead required for standard Ethernet protocols was not an effective solution for a hard realtime bus system capable of cycle times in the sub-millisecond range.
The protocol had to be reduced and the overhead lowered so as to achieve a higher capacity of available bandwidth. The Varan bus data frames reduce the overhead to 6 bytes (max. 15 bytes) contrary to standard Ethernet frames requiring a minimum overhead of 26 bytes.
The length of the user data in the Varan frame is assigned a maximum of 128 bytes for I/O, regulation and control data. This allows requests to be repeated in the same cycle when an error occurs ? which means that at the end of a bus cycle, all data is valid. With long standard Ethernet frames, this type of data security is not possible. By closely defining/assigning different task priorities, standard Ethernet frames can be transmitted in the system as well without affecting realtime Varan frames. In the task with the highest priority ? the isochronous task ? the real time Varan data objects are transferred. When all these have been dealt with, the asynchronous task commences in which data objects with a lower priority are transferred. The task with the lowest priority ? administration ? is responsible for the transfer of standard Ethernet frames. This operation also cyclically scans the Varan bus network for new participants, i.e., hot-plugging, allowing the user to add or remove participants during operation. In addition, the Varan bus allows asynchronous direct access to all bus participants at any time.
The length of the standard Ethernet frames which needed to be accommodated represented a particular design challenge under Varan.

Essence of realtime: length of all data frames is restricted to allow a two-way data exchange within a single system cycle
With the lowest cycle times or in the presence of a large amount of isochronous data, not enough time was left for the administration task to completely transfer a standard Ethernet frame. This requires, at maximum extension, 122Ás (1550 bytes). The problem was solved by dividing large frames into small packets with a maximum of 128 bytes and then sending them in sections. The time available for the administration task is therefore optimised and more participants can be processed at lower cycle times.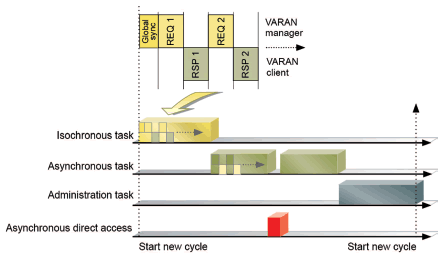 Programming and accessing clients
The entire Varan bus network appears to the Varan bus manager as a large memory space. The manager administers the entire bus memory area which can contain up to 65,536 participants. At start up the network is scanned for new participants. When present, new stations log on to the manager and each is assigned its own linear address range of 65,536 bytes. The physical memory is always located on the client side.

Distributed computing: Varan architecture is microprocessor-like in memory handling
The manager always knows which client starts at which address offset. This allows programming using simple read/write instructions.
For example, consider a client that provides measured values. In order that these values can be processed in the application, a single instruction is called as in? ?read a number of n bytes starting from address X in the Varan bus?. At the very latest, all measurement values are consistently available in the application for further processing by the end of the bus cycle. Because the Varan bus manager automatically repeats the command in case of an error, even when the packet is destroyed, data is always current and valid. The number of retries can be configured. Additionally, the instruction set includes combined read/write commands and broadcast instructions.
On a higher protocol level, a complete mapping of the DS301/302 CANopen profile is implemented in the Varan bus in cooperation with CiA (CAN in Automation).
SDOs and PDOs are simply mapped in the client and manager memory components which allows existing development work to be reused and porting of the field bus to the realtime Ethernet with minimum labour in the shortest possible time.
The electronic type plate integrated in every Varan bus station (client) should also be seen as a special plus point. This electronic type plate comprises, among other data, the manufacturer?s name, device identification as well as the version and licence number such that each Varan bus participant clearly identifiable. The type plate can also contain customer-specific files, for instance product documentation in the form of a PDF, connection diagrams, etc. Device identification is assigned/controlled by the VNO user organisation which ensures that components with identical device identifications are functionally compatible and exchangeable.
Network configuration
Network topology can be linear, star or tree structured with fully automatic addressing of the entire Varan bus network. A special manager module from Sigmatek implements multi-manager structures. With this device, several independent Varan systems can be cascaded into a complete, synchronous operating network. Complete production cells may be automatically interconnected and fully synchronised with a jitter of less than 100ns. Even different cycle times may be accommodated. A DPRAM function permits definition of the data exchange over the Varan networks.
TCP/IP frames sent over a Varan network are automatically distributed to all connected systems. This enables continuous TCP/IP cross-traffic throughout the entire multi-manager network. The system immediately detects when an embedded network connection is disrupted to enable corrective action to be taken.
For realtime Ethernet bus systems, the availability of comfortable service and maintenance tools is an important requirement. There are several cost-free tools for the Varan bus that make remote maintenance, bus analysis as well as serial programming of Varan bus components possible and cover entire design process.
Cables and connectors
The Varan bus offers a network powering option for edge devices over the network cable. There are two distinct approaches to the VNO IP67 certification: For low-power peripheral devices (<2A), an 8-pin M12 connector plug is provided in which four pins are used for data transfer over the bus and two pins for GND and +24V. Two pins are reserved for expansion and additional signals.
For high power peripheral devices (<10A), there is a certified 8+4 power/Ethernet connector. Both connectors and the corresponding cable are Cat-5-compatible even at full capacity. The noise immunity corresponds to level 4 burst and ESD test according to EN61000-4. Both cables are available in a drag chain variation.
For electric control box installations (IP20), an industrial grade RJ45 connector is certified. Here, periphery devices can also be powered with up to 2A. For communication without integrated power lines, standard 4-pin M12 connectors for IP67 and RJ45 as Varan connectors for IP20 are also permitted.
Enterprise and legacy integration
Enterprise integration across all networks is obligatory for industry acceptance. So how does Varan accommodate vertical integration? Basically, a machine equipped with the Varan bus requires only one IP address, which significantly reduces network administration efforts. Comfortable servicing and maintenance for all Varan bus participants and firmware updates for the individual components can be done using cost-free software tools, which offer open interfaces for integration in data bases and process control systems.
Because the Varan bus supports standard Ethernet cross-traffic, each participant can be assigned its own IP address for communication over standard Ethernet.
Field bus systems such as CAN, Profibus or DIAS bus, are integrated using gateways that may be implemented in a Varan bus network.
The current situation
The VNO is presently creating various device profiles for simplifying implementation of the Varan bus components. Machines from Arburg, Krauss-Maffei, Billon and Demag were presented at the 2007 K-exhibition. Many other machines and devices are under development.
Several machines and facilities are already operating with the Varan bus. A package sorting assembly from Van Riet, for example, clearly demonstrates the qualities with capacity for this machine system increasing more than 80% after deployment. With a field bus system, up to 5000 packages per hour could be sorted. The current configuration with the Varan bus has increased the capacity to 9000 packages per hour. The maximum extension and cycle times could also be improved significantly; up to 1024 decentralised I/Os are now connected to the Varan bus with a cycle time of 200Ás.
Reference
Diosi R, Varan:Throwing out the Rule Book; IEB 09:2006 p10
Robert Diosi is with Sigmatek
www.varan-bus.net www.sigmatek.at