SPS/IPC/DRIVES 2010 Show Report
SPS/IPC/DRIVES 2010 emphasised green issues and security
Show Report - Live News - Product Highlights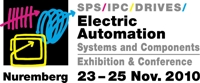 Welcome to our SPS/IPC/DRIVES 2010 Show Report. This exhibition is the largest event for designers, manufacturers, specifiers and end- users of automation and drives technologies. In 2010, the numbers of exhibitors and visitors were both significantly up over the previous year, raising hope for increasing growth throughout 2011:
SPS/IPC/DRIVES is the exhibition for electric automation technologies. Automation technologies and industrial Ethernet business has continued to grow during the economic crisis, and their crucial importance has been confirmed by the show's success in 2010. Based very close to the historic medieval city of Nürnberg in Bavaria, SPS/IPC/DRIVES covers components, complete systems and integrated automation solutions. Totalling 90,000m2, it is vast, encompassing ten large halls, plus the conference and other areas.
The space booked at 2010's event, held over three days at the end of November, matched the 2008 record, before the still on-going economic crisis. 1,323 exhibitors took part, compared with 2009's total of 1,238. Attendance was up almost 5% to 52,028 visitors. Moreover, the show is becoming ever more international: 10,147 visitors came from outside Germany, about a third more than a year ago.
SPS/IPC/DRIVES was genuinely newsworthy too. For example, automation manufacturer and EtherCat founder Beckhoff Group announced a new development agreement with Fertig Motors GmbH at its first day's press conference. The aim is to invest in the future development and production of Beckhoff's own drive technology to produce dynamic servomotors. The first of these should be available towards 2011's end.
More news came from signal transmission solution expert Belden, which announced that it is to acquire GarrettCom, the leading provider of advanced industrial networking products and smart grid solutions. The acquisition extends, says Belden, its 'leadership position as an industrial networking solutions provider' by adding a recognised leader in hardened industrial Ethernet switches, routers, converters, serial communications and security software.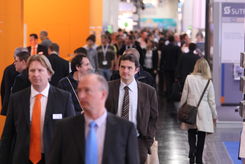 SPS is one of the most dynamic meeting places for the automation industry
---
Live News
---
Product Highlights
Here are some of the new products and solutions introduced at SPS/IPC/DRIVES 2010.
com.tom RADIO 2.1 Starter Kit
For divided systems or environments without network infrastructure, mobile communication is the simplest way of realizing remote operations and maintenance. The communication mechanism of the com.tom devices is designed for trouble-free use of all mobile networks to the com.tom WEB Portal. For an economical and simple test of the system, Beck IPC offers a starter kit for an easy and quick link-up to monitor and control your systems. In addition to the com.tom RADIO 2.1, equipped with several communication interfaces (such as GSM/GPRS modem, Ethernet and via digital I/Os In and 4 Out for 24 volts) the starter kit also includes all required cabling, plugs, switches, adapters, antennae as well as an SMD card. Programming is performed with the com.tom WEB-PLC, a web-based, graphic editor solution for simple SPS control functions. Only standard browsers are required, a graphic editor solution is implemented on the com.tom WEB-Server. As an option, Beck IPC offers a SIM card with a low M2M tariff for direct link-up via GSM/GPRS.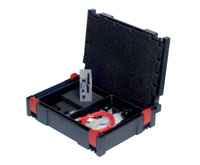 The New Starterkit com.tom RADIO 2.1
---
Beckhoff to develop its own drive technology
Beckhoff surprised with the announcement of a major new development agreement in the future development and production of its own drive technology. Fertig Motors GmbH, which is cooperating in a joint venture with the Beckhoff Group, will co-develop and produce highly dynamic Beckhoff servomotors. The first of these products will be presented at the end of 2011. Hans Beckhoff, Managing Director of Beckhoff Automation: "We have always specialised in hardware and software, and naturally we have extensive know-how in drive technology. However, our knowledge will now be decisively deepened with the development of our own motor series, especially in the area of highly dynamic magnetic mechanics and the associated control algorithms."
One of the new products presented at the show was the BK9055, which couples EtherNet/IP with the modular Beckhoff Bus Terminal system, which offers over 400 different signal types. The "Compact" Bus Coupler series is characterised by slim housings and cost-optimised design.

The BK9055 "Compact" Bus Coupler allows the inexpensive connection of the Beckhoff I/O system to EtherNet/IP networks.
---
Flexible network connection for intelligent automation devices
Belden has added a new embedded Ethernet module (EEM) to its Hirschmann product range. The new module – which is available as a Profinet I/O device, EtherNet/IP adapter device or EtherCAT slave controller – grants Ethernet access to intelligent automation devices, or enables them to be integrated in network management systems. All models of the EEM are equipped with a switch for two external Fast Ethernet ports, and one internal port to the host CPU.
During the show Belden announced its plan to acquire GarrettCom. According to Belden, GarrettCom's hardened networking products complements the existing portfolio of Hirschmann brand solutions and will enable Belden to address the growing needs of customers across a more diverse set of end market applications. GarrettCom sells its products into power utilities, surveillance and security, transportation, specialty industrial automation, telecommunications, and similar demanding harsh-environment verticals.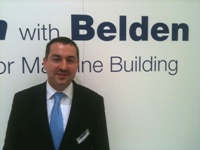 Belden Sales Director DACH Laureano Sposato: "The acquisition extends Belden's leadership position as an industrial networking solutions provider by adding a recognized leader in industrial grade switches, routers, converters, serial communications, and security software. "
---
HMI operator panels for Ethernet
New from Brainchild Electronic were SmartPanels that are HMI operator interfaces. Scripts, scheduling, alarm management, real-time trends presentation, bar graphs, historical trends and more can all be shown, and there is also recipe management, security and many languages for end users. Many PLC drivers are supported, and these HMI feature WinCE 6.0 and high resolution LEDs. Other features include Standard Ethernet, USB host, two serial ports, and optional SD slot, audio I/O, 128MB flash and 128/256 MB SD RAM. These panels, says the company, provide extensive connectivity to EtherNet/IP, Profibus-DP, ProfiNet, DeviceNet, CANOpen, EtherCAT, CC-Link, ControlNet and CompoNet.

---
CC-Link: The Non-Stop Open Network
CC-Link was introduced as an open network ten years ago, and is now one of the world's leading choices for open networking with over seven million nodes installed worldwide. "The Non-Stop Open Network" neatly describes the compelling range of productivity benefits a CC-Link installation offers both end-users and OEMs. These include a range of features to ensure common shop-floor problems such as power failures and noise have no impact on overall operation, thus maintaining production in a "non-stop" manner. CC-Link is also the first open network to offer gigabit (1000Mbit/s) Ethernet performance down to the field level. So not only is performance maintained, but it is maintained at the highest speeds available. A final benefit of the network is its dominance in the Asian market, making it the technology of choice for companies seeking to expand their business in this key global market.
CC-Link Partner Association: Hall 6, Booth 6-435

---
IEC 61131-3 development system
In Hall 7, visitors could see CoDeSys from 3S-Smart Software Solutions. CoDeSys is the leading hardware independent IEC 61131-3 development system under Windows for programming and creating controller applications. Used worldwide to program embedded devices, it contains both textual and graphical editors that compile into binary code for the most important industrial 16- and 32-bit CPU platforms. These are then executed by the corresponding runtime system CoDeSys SP. Once the programming tool is connected to the runtime system on the target device, the programmer has a comprehensive debugging functionality and needs no external tools to debug applications. Configuration tools for easy connection to CANopen or EtherCat are fully integrated, and the required protocol stacks are available as libraries. Download CoDeSys free from www.CoDeSys.com
---
PROFINET IO module for National Instruments CompactRIO
Comsoft announces an enhancement of the product family fort he National Instruments CompactRIO Programmable Automation Controller (PAC). The cRIO PN module for the first time provides a direct connection to PROFINET IO for CompactRIO users. The new cRIO PN module operates as PROFINET IO device and integrates a 2-Port-Ethernet Realtime-Switch. It independently processes the PROFINET IO protocol without loading the host controller. Furthermore, it features acyclic read/write services and supports conformance classes A (NRT), B(RT) and C (IRT). Based on the ERTEC 200 controller the process data exchange with th cRIO host controller is made through SPI Bus. The maximum length of input/output data amounts to 1024 Byte each. Furthermore, the cRIO PN module integrates 4 LEDs for diagnosis and status information purposes. The cRIO PN module is programmed in LabVIEW language from National Instruments. The easy-to-use VI interface provides detailed examples incl. source code.

---
Ethernet/IP IO-Link Master Controller
Comtrol showed for the first time its new IO-Link Master, an 8-channel IO-Link for Ethernet/IP, Modbus TCP and Profinet backbones. The ruggedized design features an IP67 housing, a wide operating temperature range of -40 to +74°C, M12 connectors and a supply voltage range of 9-48 VDC.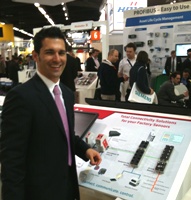 Comtrol President Bradford Beale is obviously happy with the visitors reaction to his new IO-Link Master
---
Controllers and Ethernet RTU products
CSE-Semaphore's T-BOX line of controllers and RTU products – including the LT 'all-in-one' Ethernet RTU - provide web-enabled, multi-communication remote automation and monitoring. Each T-BOX package brings an integral web server, push communications and reporting via email and SMS text messaging to monitoring and control applications. Mobile phones, PCs or PDAs enable real-time access anywhere. With a broad range of communications protocols for SCADA networks and end devices, this product provides remote gateway functionality. To help with remote asset management, all models also provide alarm management, intelligent data logging and programmable automation in packages suited to industrial and outdoor installations.

---
Unigate ASI
Unigate Gateways with integrated ASI-Master from Deutschmann Automation connect automation components with AS-interfacewith all marketable Fieldbuses and Industrial Ethernet systems. The Gateways for DIN-rail mounting comply with the ASI specification (3.0, M-4 Master) and also support the new POWER 24-technology, with which ASI-networks can be operated with normal 24V-industrial power supplies instead of expensive special power supplies. Unigate ASI is available for Profibus and soon it will be available for MPI, DeviceNet CANopen, LONWorks, Modbus TCP, Profinet, POWERLINK, EtherCAT, Ethernet/IP, Ethernet TCP/IP and RS-based protocols, such as Modbus RTU and Modbus ASCII. The Gateways use the complete transmission rate of the respective bus and they support all speeds.

---
Unmanaged and Managed Switches plus Media Converters
In the intention to increase the Industrial-Ethernet business share from presently 30 to 70 percent eks Engel, specialist in high reliability fiber optics technology, exhibited its new Industrial Ethernet product line consisting of unmanaged and managed switches plus the e-light media converters, especially developed for decentralized use in the field level of industrial networks. These Fast and Gigabit Ethernet devices in stainless steel housing, for top hat rail or wall mounting, cover the temperature range from -30 to +75°C and input voltages from 12 to 60 VDC. All managed versions support a fast ring redundancy and PoE.
The switches and media converters in the e-light line are based on various standard boards that can be used in different equipment in multiple varieties. This allows the company to develop customer-specific solutions within a few months that are differentiated through the number of ports, design of the optical connections, type of fiber, management functions, IP protection class and special certifications.

---
Easy, secure, Internet remote access for PLCs
Talk2M and eWON are innovative, user-friendly products that help manufacturers sustainably gain productivity by avoiding unplanned, recurrent on-site travel. eWON's equipment is an opportunity for companies to make their machines "Internet enabled", so manufacturers can keep their machines up-to-date and attractive on the competitive market as well as take full advantage of the Internet to offer new services to their customers. For many companies, maintenance and support is recognized as a key competitive advantage. eWON's products are easy to use, they don't require an IT specialist to operate them. They are truly designed to help OEM and system integrators reduce their warranty and support costs, improve remote diagnostic and product management, create new operation and service revenues and become a carbon neutral organization. "With our products, you can literally connect and talk to your machines via the Internet. It's very much like using Skype, but with machines. You create your own community of machines which are available at any time to better serve customers" explains eWON's Serge Bassem.

---
First switches with Fast Track technology
Harting presented the first managed industrial Ethernet switches with Fast Track Switching (FTS) technology, which is one of the truly clever recent introductions. FTS is not just another new Ethernet protocol intended to make Ethernet usable for automation technology applications. Instead, it supports all IEEE 802.3-based Ethernet protocols, and ensures that the necessary requirements that automation technology places on performance and determinism are fully met. The integration of the Profinet stack makes the switch a Profinet Conformance Class B Device, which, like other automation devices, can be planned and configured using automation tools. The FTS switch line, some of which were shown working on stand in a real Profinet network, were enhanced at the show by two 10-Port switches: FTS 3100-A with 10 copper ports; and 3082-ASFP with eight copper ports and two slots for SFP modules. FTS switches also support functions such as VLANs, RSTP for redundant topologies, LLDP for topology display and all common management functions.

---
Fastest method of supporting PROFIenergy
There was lots of 'green' at SPS. Reflecting this, HMS Industrial Networks supported the car manufacturers' Green Automation Initiative with an embedded Anybus-CompactCom PROFIenergy communication module. Its use can save up to 40% on automotive manufacturing plants' electrical energy consumption. CO2 emission is also reduced.
This compact flashcard sized module provides automation device manufacturers with a simple way of integrating energy control functionality into their devices, compliant with the PROFIenergy standard. This allows a central controller to switch complex automation systems comprising automation devices from various manufactures easily and safely into standby mode during production breaks and standstill times. The PROFIenergy server is implemented in the Anybus-CompactCom Profinet I/O communication module firmware. The module acts as Profinet IO device (conformance class B) in the Profinet network. Profinet installations in line topology are possible without needing expensive external switches.

---
New Generation of Industrial Security Appliances
Innominate is presenting its next generation of industrial security appliances with the first devices from its new mGuard Field Line and mGuard Factory Line product portfolio. Robust metal housings enhance these DIN rail-mount devices along with several internal innovations. SD memory cards can be easily used for pluggable configuration storage. A buffered real time clock and a Trusted Platform Module have been integrated, enabling encrypted VPN connections of the highest security. The devices are based on the new, future-proofed mGuard core2 platform which has been designed for a broad portfolio of variants including the integration of emerging network technologies and transmission media with uniform device management. Thus, besides the initial launch of pure Ethernet devices, secure cellular radio routers based on mGuard technology will be offered in the future, too.

---
Programmable head transmitter with wireless transmission
Jumo is expanding its Wtrans system for sensor signal conditioning with the new programmable and cordless head transmitter with wireless transmission. The new Juno Wtrans B transmitter model has a universal measurement input for resistance thermometers, resistance potentiometers, thermocouples and mV signals and can measure temperature and liquid level, as well as other process signals. The flexibility of the head transmitter is underlined not only by the 24 retained resistance thermometer/thermocouple characteristics, but also by customized linearization with up to 40 value pairs or by the use of a 4th order polynomial. Under these conditions, there are considerable potential stock management savings to be made for plant builders and converters, as the model can be used for diverse applications.

---
IO-Device protocol development kit
Molex introduces the Brad IO-Device protocol development kit version 2.2 for PROFINET that enables OEMs to develop and market their own branded PROFINET IO devices. Fully-compliant with PROFINET IO version 2.2 specifications, the Molex protocol stack supports conformance Class-B and has already been integrated on customer system platforms and successfully PNO-certified by the PROFIBUS User Organisation.
Molex (Hall 10, Stand 230) demonstrates the IO-Device stack's trouble-free portability by running it on an Apple iPad tablet PC connected to a Siemens S7-300 controller. The iPad application simulates a Molex IP67 PROFINET I/O device where it is possible to start and stop the stack, read inputs and write outputs digital value, and generate alarms.

---
New generation of Power over Ethernet (PoE) Plus Switches
One of the highlights at Moxa is the next generation of Power over Ethernet (PoE) Plus Switches, which offer great power supply redundancy and high usability in automation networks. Another highlight is the NPort A Series of device servers, which feature the lowest power consumption in the world as well as surge protection, and user-friendliness.
Moxa's V2000 series embedded computers with Intel Atom processors offer a reliable solution for data communication and management in harsh environments that require network redundancy, data security, and non-stop reliability. This powerful computer joins Moxa's VPort series IP camera solutions and dual-RF 802.11n wireless access points to create a complete video surveillance solution for harsh automation environments.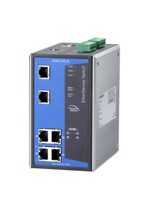 The the EDS-P506A-4PoE switch is aimed at power-hungry PoE-enabled devices such as PTZ cameras and long distance wireless access points.
---
PoE for I/O applications
The N-Tron Industrial Power over Ethernet (iPoE) Series products are designed to transmit power and data over an Ethernet network. 802.3af compliant, these have been designed for PoE capable devices where running an AC power feed is not feasible. The 100-POE4 is a mid-span injector that allows an end user to power a PoE camera, wireless access point, or any other PoE capable device. Centralised battery backup is available.These devices are each housed in hardened, metal, DIN-Rail enclosures, and are designed for use in Ethernet I/O applications, industrial data acquisition and control. The company also displayed its N-Tron 100 Series. Providing extended functionality to industrial Ethernet networks, the 102MC-FL is an unmanaged transparent media converter that converts 10Base-FL full duplex fibre to 10Base-TX.

---
NI launches high-channel-count expansion chassis
National Instruments showed its NI 9157 and NI 9159 MXI-Express RIO chassis and NI 9148 Ethernet RIO chassis, which in addition to the existing NI 9144 EtherCAT chassis, extend the company's offering of high-channel-count expansion chassis on a variety of buses. The products combine the benefits of field programmable gate array (FPGA)-based hardware and C Series I/O to applications requiring hundreds, or even thousands, of channels.
Each expansion chassis contains a Xilinx FPGA that is programmable with NI's LabVIEW FPGA Module, allowing flexible high-speed, customisable I/O timing, inline processing and control. The NI 9148 8-slot Ethernet expansion chassis adds flexible distributed I/O to RIO systems. With standard CAT 5 Ethernet cabling, it communicates with NI CompactRIO, real-time PXI controllers, the NI industrial controller or any networked Windows PC. I/O expansion to an existing network is said to be simple.

---
New editions of ODVA networks specifications
ODVA announced at the show that it will publish new editions of the ODVA networks specifications, updating the EtherNet/IP, DeviceNet, CompoNet and ControlNet technologies, and the CIP Safety extension to the EtherNet/IP and DeviceNet networks - 44 specific enhancements in all. This ongoing evolution will help end-users to fully use their networks for the growing range of industrial applications.
Among the developments is 'QuickConnect', a new, easily deployable, timing sequence that connects devices within 500ms using EtherNet/IP. ODVA has also introduced a new service for EtherNet/IP networks called 'Address Conflict Detection' (ACD). This improves ease of use for EtherNet/IP users as the trend toward larger systems has increased system problems resulting from the accidental introduction of devices with duplicate IP addresses. In addition, CIP Safety now includes a Safety Analog Device Profile with capability for dual inputs.

---
RT Ethernet comms standard supports FDT
User organisation Sercos International (SI) announced the availability of the extension of the FDT specification for the Sercos III real-time solution. This is said to be the first high performance real time (RT) Ethernet communication standard supporting FDT technology for the insertion of field devices into different software environments. Sercos' MD Peter Lutz commented: "The FDT/DTM specification for Sercos III is another important milestone for Sercos III to become a general purpose real-time network for automation technology. The combination of these two open standards reduces time-to-operation and increases the investment security."
Also released was the energy profile specification for Sercos III. This helps to reduce the energy consumption of machinery and equipment during continuous load at standstill, through dynamically adapted process dependent consumption, taking into consideration partial load operation, and by disconnecting components not required to safe energy status.

---
Controllers enhanced by Profibus, Profinet and telecommunication services
The Siemens Industry Automation Division has added new Profibus, Profinet and telecommunication services to the communication functions of the Simatic S7-1200 controllers. New CPU firmware enables communication with Profinet IO devices. With two new communication modules, the Simatic S7-1200 can be operated as a Profibus master or slave. Three new telecommunication components are available to users when they want to access the controller remotely from a PC or programming device.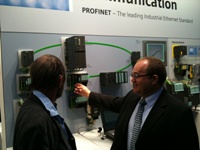 IEB editor James Hunt speaking to Ewald Kuk, Siemens head of Product Marketing Industrial Communication. The exclusive interview will be published in the next issue of Industrial Ethernet Book
www.siemens.com/industryautomation
---
Varan speaks EUROMAP 75
The real-time Ethernet bus system Varan has been included in the recently defined EUROMAP 75 specification from the European committee of plastic and rubber processing machines. This specification simplifies communication with all the sensors used in plastic processing. In addition to the actual machine profile, the connection technology has also been defined in the EUROMAP 75 specification. Measuring amplifiers with Varan technology, which support the EUROMAP 75 profile, are already operating successfully in plastic processing machines. The engineering costs are reduced significantly, since Varan uses standard FPGAs that allow the direct integration of EUROMAP 75. The linearization and processing of the sensor data is performed in the FPGA. Therefore, an additional micro controller is not required.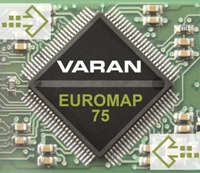 Varan has been included in the recently defined EUROMAP 75 specification from the European committee of plastic and rubber processing machines
---
New Ethernet controller with SD card slot
The new 750-880 Fieldbus Controller processes PLC programs faster than other Wago controllers. The controller's expandable memory via SD card (up to 8 GB) provides additional storage space for user data and formulations. Furthermore, the memory card can be used for data backup or commissioning support. The IP20 controller is also available for an extended temperature range from -20°C to +60°C, allowing reliable operation in industrial environments under extreme temperatures. Two Ethernet interfaces provided by an integrated switch simplifies networking in line topology. The integrated PLC (programmable to IEC 61131-3) is capable of multitasking. The IP address can also be set via DIP switch, which simplifies commissioning. The controller supports standard network protocols as well as Modbus/TCP and EtherNet/IP.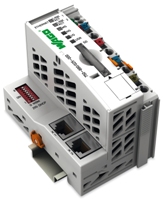 The new Wago Ethernet controller comes with 1 MB of data memory and features an SD card slot for up to 8 GB of extra memory.
---
Multi-axis positioning with EtherCAT
Those wanting high-accuracy multi-axis motor positioning and synchronisation tasks inside modern machines needed to look no further than the Zub Machine Control AG stand. The company's MACS4-DSP motion control module, with its integrated motion control logic, looks after the standard interfaces for incremental and absolute encoders. It can, therefore, be used as an intelligent motion control slave module or as a stand-alone control solution. CAN, USB, EtherCAT are the industrial links for any data exchange with PLCs, PCs, servo amplifiers, frequency converters or I/O extensions. Development tools are free, and they enable extremely efficient programming and online debugging. Also from Zub at the show were the MACS4-DC6 six-axis motion-controller for high-accuracy low-cost, positioning of up to six small DC motors, the MACS4-DC3 small motion control solution for integration into technical equipment, the DSA-E2 servo amplifier offering high power in a compact (30 x 100 x 112mm) housing - all with EtherCAT and other interfaces.

---