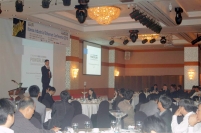 First Korea Industrial Ethernet conference
The first Korea Industrial Ethernet Conference took place on October 21st, 2010, in Seoul. Approximately 140 participants followed the invitation, including representatives from many well-renowned Korean companies such as Kia Motors, Samsung, LG, and Posco.
A number of lectures addressed various aspects of the implementation of Powerlink and openSafety and presented reference projects as well as hardware components. Sanghoon Kim, Director of Cooperation at Hankyung National University, took the opportunity to announce the founding of a Powerlink training center for technological education and practical training. Lecturers further included members of the EPSG and several leading manufacturers of automation components such as Hilscher Korea, Phoenix Contact, and B&R. "I am impressed by the strong interest in Powerlink", said Oh Seung Mo, managing director of ICN. "Engineers and users seem to be particularly interested in Powerlink as an open technology." Specific requirements of customers and users have been becoming more and more important for manufacturers.
The conference, jointly organized by ICN and the Powerlink User Group Korea, was supported by the KGCCI (Korean-German Chamber of Commerce and Industry), the Austrian chamber of commerce, Tuev Sued, and the EPSG.